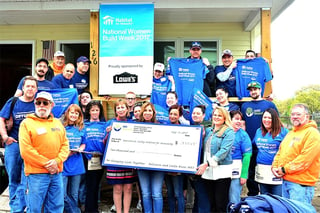 We are proud to share that on Thursday, May 11, the WEI team spent the day in Lawrence, MA, volunteering our time, strength and grit with the Merrimack Valley Habitat for Humanity organization. This is the second year that WEI has worked together with Habitat for Humanity through WEI's corporate responsibility and sustainability program, WEI StepsUp. The program gives all WEI employees four paid hours each month to volunteer with organizations that support the surrounding community. Each employee is offered the chance to donate up to 48 hours per year doing charity work and approximately 30 WEI employees were on site for the day, including WEI's co-founder and VP, Leslie Rosas.
Habitat for Humanity is a worldwide nonprofit organization that seeks to provide housing for everyone across the United States and within 70 other countries it has a presence in. These houses are built for families living within 30-60% of the median income range and in order to qualify for a Habitat for Humanity home, all adults in the family must volunteer hundreds of hours to the nonprofit. They also have to take courses on topics such as condo management, budgeting, finances, and home care, since these skills are necessary and typically unknown for many of these first time homeowners. Once the house is complete, it will be ready for families to move into for no more than 30% of those families' annual incomes.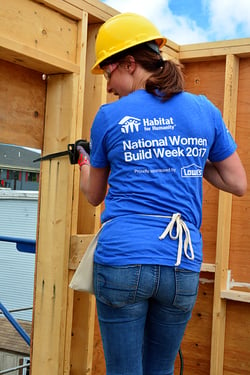 This year was particularly special for TWO reasons.
1. WEI employees worked alongside Merrimack Valley Habitat for Humanity during the Habitat's National Women Build Week. This is a movement sponsored by Lowe's to promote women learning and practicing construction skills while dedicating time to a bigger cause in the week leading up to Mother's day.
2. Last year WEI volunteered to help build a two-family home for local veteran families on Phillips Street in Lawrence, MA. Last year's efforts came full circle as our team was able to see the home nearly finished, and the families are expected to move in by the end of the 2017 summer. This was a great reminder of the impact and value our team was able to make for two local veteran families.
WEI employees met that morning at the Phillips Street location with Merrimack Valley Habitat for Humanity's Director of Marketing and Volunteerism, Jennifer Hilton. Representatives of the Eagle Tribune, a news publication covering the Merrimack Valley area of Massachusetts and Southern New Hampshire, were interviewing volunteers throughout the day as well to learn about the project. Before WEI's employees broke out to different sites for the day, WEI presented Habitat for Humanity with a $2,000 donation. Massachusetts State Senator Barbara L'Italien was also onsite for this donation.
About half of the volunteers headed over to Merrimack Valley Habitat for Humanity's warehouse in Lawrence, MA, after check-ins, since its lease was ending. It purchased a new warehouse across the river, so having extra hands from the WEI team helped in facilitating the moving of all Habitat for Humanity's tools and supplies over to the new storage facility. They also assisted in building shelving units for the new warehouse.
The rest of the WEI volunteers, primarily those with carpentry experience, headed over to Mason Street in the Lower Tower Hill neighborhood in Lawrence, MA, to work on building a traditional two family townhouse style home. It's slated to be ready for two lucky families to move into in the Fall of 2018.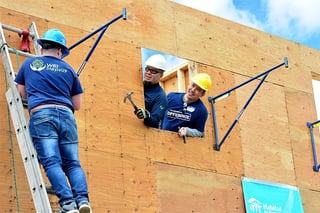 Making a difference in the world begins with a state of mind; through WEI StepsUP, all of our employees are aware of their actions and take noticeable steps daily to better our community. WEI StepsUp volunteered this past February while giving back to the community supporting local organizations such as Lazarus House Ministries, Inc. and Progress Clothing.
As part of the WEI StepsUp initiative, WEI employees have also donated time supporting organizations such as the Salem Boys and Girls Club, Bellesini Academy, Toys for Tots, and Nashua Children's Home.
For more information about our community outreach efforts, follow the hashtag #WEIStepsUP on Facebook, Linkedin, and Twitter, and click below to visit our WEI StepsUp page today.