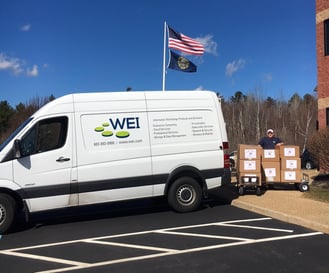 We're proud to announce that our February clothing drive was a huge success! The WEI team collected 40 total boxes of new and gently used clothing items benefitting local organizations such as Lazarus House Ministries, Inc. and Progress Clothing, both based in Lawrence, MA. The clothing drive was part of WEI's robust community outreach program and sustainability initiative, WEI StepsUP. Through WEI StepsUP, all WEI employees are able to donate 4 hours each month to volunteer at local non-profit organizations—all of which support the health and growth of our community. Each employee is offered the chance to donate up to 48 hours per year doing charity work.
Through our February clothing drive, there were two different organizations that received clothes - Progress Clothing and Lazarus House Ministries' Thrift Shop. Over the course of the month the WEI team collected all types of clothes—from toddler and children's clothing, to adult clothing, accessories, and professional attire. The WEI team collected 40 boxes, including:
9 boxes of professional clothes including 9 suits, 136 blouses, 45 pairs of pants and several ties and shoes
31 boxes of everyday clothes, shoes, jewelry, coats, hats, mittens, socks and much more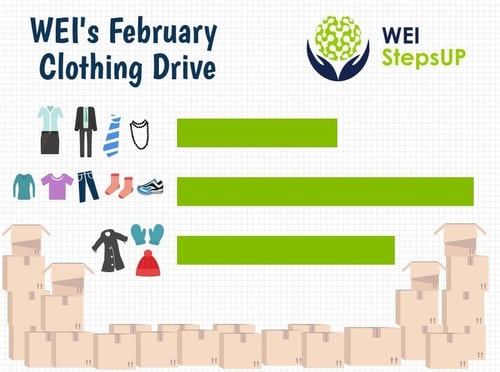 The professional clothes donated helped out Progress Clothing in Lawrence, MA, while the rest of the clothes went to Lazarus House Ministries, Inc. for use in their thrift store. Lazarus House's thrift stores are a hub of activity and help benefit the greater community; for those who cannot afford to purchase items, such as victims of arson or floods, and for those who are making the transition from homelessness, items are provided free of charge at their three thrift stores. Everything in each thrift store is donated by individuals, businesses, churches, synagogues, schools, civic groups and other generous organizations.
Lazarus House is a 501(c)3 nonprofit organization that helps to heal, clothe, feed and provide hope for anyone who comes through their doors. Their philanthropic thrift store is designed to raise funds and provide much-needed services for local job seekers.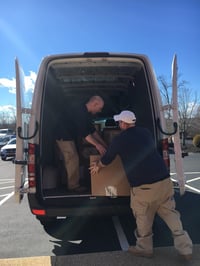 WEI regularly sends team members to serve as volunteers during lunch at Lazarus House to lend a helping hand in the soup kitchen. This helps our employees get involved and helps them grow from a perspective of understanding the world, and the importance of sustaining and growing our greater community.
"The size of the collection far exceeded our expectations. And the sorting and organizing of all items was truly astounding!" said Marcy M. Furse, Coordinator of Volunteers for Lazarus House Ministries, Inc. Since opening its doors as an emergency homeless shelter in 1983, Lazarus House has been working toward breaking the cycle of poverty in Massachusetts's Merrimack Valley region. According to the Lazarus House, "We offer hope, love is what drives us, joy is our reward." Visit www.LazarusHouse.org for more information.
The recipient of donated professional clothing, Progress Clothing, is an organization that sets out to become an element of change in the economic atmosphere of the Lawrence, MA, community by working to lessen the adversities that come along with being an unemployed and low-income community member. It helps promote financial self-sufficiency by providing economically disadvantaged individuals with job preparation, clothing and support services.
Making a difference in the world begins with a state of mind; through WEI StepsUP, all of our employees are aware of their actions and take noticeable steps daily to better our community. For more information about our community outreach efforts, contact us today.