WEI is thrilled to share the news that we were named the Aruba 2018 East Region Partner of the Year!

[click to tweet]
The award recognizes the achievements of leading channel partners and distributors for Aruba, a Hewlett Packard Enterprise company, in the areas of sales, expertise in delivering Aruba solutions, and commitment to customer service.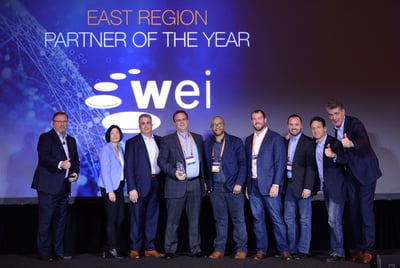 WEI has been committed to investing in Aruba's full solution products such as IntroSpect and ClearPass, as well as being dedicated to bringing on board top talent who are well versed in Aruba's offerings. This award demonstrates WEI's commitment to helping our clients adapt to a new style of the digital workplace: mobile, portable, social, app driven and connected at all times. WEI's networking team of engineers have extensive experience with the following Aruba solutions:
Aruba ClearPass Policy Manager
Aruba Mobility Controllers and Access Points
Aruba Next Generation Access and Aggregation Switches
Aruba Location Services, with the Meridian Mobile App platform, Bluetooth Beacons, Asset Tags, Sensors and Analytics
Regarding WEI's award, Jim Harold, Vice President of North America channels for Aruba, said, "As organizations wrestle with enhancing the user experience and ensuring business resilience as they continue to adopt mobility, cloud and IoT, they need not just access to industry-leading intelligent edge solutions, but also expertise in how to deploy these products to solve real-world challenges. We congratulate WEI for being named a 2018 Aruba Top Channel Partner and thank them for their dedication to their customers' success."

"We are honored to have been distinguished as the 2018 East Region Partner of the Year by Aruba. I attribute this honor to my dedicated team members and to the success and trust of our valued clients and customers," said WEI Founder, Belisario Rosas.
This award is a great honor for WEI, a true testament to our dedication of putting the customer's needs first through understanding their unique organizations and offering the best solutions available on the market, like ClearPass and IntroSpect. We are grateful for the opportunity to work with Aruba, and look forward to our future partnership with them.
Are you experiencing challenges with implementing a digital workplace? Want to learn more about the security features that are built-in to Aruba solutions? Contact us today to find out how WEI is helping our clients deliver 24x7 secure connectivity with Aruba solutions. Also, Check out our blog post about what makes life at WEI so special!