In today's digital world, the technology you deploy in the enterprise can make or break the productivity of your business. The blending of work life and home life is becoming more intertwined, and users wants to be able to do the best version of their work on the devices in which they feel most comfortable using. This growing popularity and favoritism of Apple® products really isn't new per se, but there's been an influx of questions from IT professionals regarding the best strategies for integration and management of Mac, iPhone, and iPad in their established IT environment.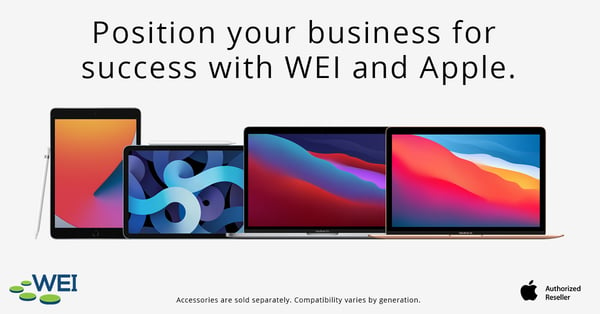 We spent some time collecting our thoughts on the critical steps an organization can take to position them for success when offering and managing Apple products across the enterprise, and we hope you will find these tips helpful as you address your own Apple device management strategy.
Questions to ask before integrating Apple products in your enterprise
Let's start at the top with key questions to ask when initially considering offering Apple as a choice for your business. These questions will be instrumental to the design and/or refinement of your Apple strategy.
How tightly integrated do these devices need to be within the organization?
Your business is unique, as is your IT environment and your IT processes. A marketing agency may require Mac™ throughout the office and for remote workers, a retailer may be interested in utilizing iPad™ for store management apps or iPhone™ for quick checkout and returns, while a healthcare organization may only seek to augment their mobile strategy with iPhone and iPad for more accessible patient care. All these scenarios require a unique approach and discussing them with key stakeholders will be important in determining your requirements.


How will the addition of these devices benefit performance and productivity?
Where are you seeing an abundance of support tickets? Can Mac or other Apple devices circumvent these common issues? In a global survey of those who use Mac for work, 70% of respondents experienced 2 or fewer issues on their Mac within the last 12 months, and half of those reported zero issues in 12 months.



How widely available do Apple devices need to be throughout the enterprise?


Will only specific employees need to utilize Apple devices, or should they be available to every employee? Are there any unique job requirements that would be better served if the work is done on Mac? Do you manage a distrusted enterprise or large campus? Consider the implications of device use at your branch offices and data center locations.


Where and how are users connecting to the network?
Are all users on-premises or does the enterprise support a large remote workforce? Do most employees connect over wired networks, or is it all about wireless? How many different devices could be connected to the network at the same time by one user? Should some apps get restricted access based on user location or will they require two-factor authentication for access? These questions fuel great conversation that can help you fully understand how your users will connect and their unique requirements.


How important is VPN support? In regulated industries, compliance can be a defining factor in determining which devices gain adoption within the enterprise. That's why it's also a good idea to examine the elements of compliance that need to be upheld, and factor them in when creating an Apple deployment strategy.

3 Success Factors for your Enterprise Apple Device Management Strategy
Success with Apple in the enterprise is twofold: you have to keep users happy and productive, as well as the IT team managing and executing the strategy. To ensure your enterprise can effectively utilize Apple, we have shared our top three factors for success below.
Prioritize the Most Important Integration Points
When implementing Apple in the enterprise, it is critical to have a firm plan in place and a deep understanding of the integration points where Apple devices and your enterprise will intersect.
Authentication is one of, if not the most important integration point when implementing Apple in the enterprise. One key method to ensure all technology, including Apple devices, align with your enterprise's global security and compliance standards is to adopt authentication tools and techniques that accommodate a broad set of use cases while still offering granular access control. This requires the ability to authenticate based on user, device, or application, and to enforce policies for Apple devices whether they are being used on-site, via VPN, or even in airplane mode.
Device provisioning and management is another important integration point and is often an area of challenge for IT organizations due to the sheer volume of devices that must be managed for enterprise-scale businesses. However, there are a number of mobile device management (MDM) solutions that can help simplify the process and help ensure the successful integration and utilization of Apple in the enterprise. Ask us for advice here, we've helped a number of our enterprise customers deploy different MDM solutions that align with their unique business.
Consider the Skillsets of Your IT Staff
When planning your Apple device management strategy, it's important to consider the impact of the required processes on your IT staff. Depending on the skillsets and workload of your IT team, as well as the scale of your Apple device deployment, you may need to hire specific staff to manage the Apple devices used throughout your enterprise.
A good rule of thumb for staffing is to ensure you have enough capacity to manage Apple devices throughout their entire lifecycles, from the early stages of purchasing and provisioning, to ongoing maintenance and updating.
It's also critical to consider working directly with an Apple Authorized Reseller that can take on many of the deployment and management aspects, as well as the repeated tasks, so you can free up your staff for more specialized troubleshooting or innovative projects.
Plan For Lifecycle Management
Overall, managing Apple devices is not all that different from Microsoft, Google, or Linux operating systems. However, there are several key differences that can require additional planning when compared to other devices, and lifecycle management is one of them.
The following areas all have minor differences that must be considered when utilizing Apple, and developing a plan for full lifecycle management will set you up for success.
Purchasing -

The procurement process could be slightly complex for those who do not have experience procuring Apple products for business, and to reduce costs and simplify acquisition, many enterprises work with an Apple Authorized Reseller. Having a specific vendor for Apple can also simplify the institutional ownership process for those devices, as well as the Apple device enrollment process. As an Apple Authorized Reseller since 2012, we highly recommend collaborating with us during the procurement and deployment process. We have tried and true best practices engrained in our processes and we transfer that knowledge directly to your team.

Provisioning and Maintenance - In addition to the wide array of third-party MDMs available to simplify the provisioning process, you can also make provisioning a part of the purchasing process and involve your Apple Authorized Reseller in the process. The right partner can take on delivery of all Apple devices and configure their access levels, OS versions, settings, and application sets for the users who will ultimately receive them. Did we mention we can ship them directly to each user complete customized and ready to go right out of the box? We do this regularly for several of our largest enterprise customers, and from what we hear, our customers really appreciate this extra level of care.



Secure Repair -

This is a subject even those outside IT have experienced. Apple device repair may not be as simple and straightforward as it is for other devices. It's the security aspect that requires a different level of care. It's the job of IT to

develop and enforce a repair service level agreement that provides the following assurances:

A warranty provider of repair services

Device lockdown during transport

The ability to audit for compliance and enforce custom security measures

Secure disposal of components and devices, including wipe clean service

Rapid provisioning and delivery for loaner devices during service

Stocking replacement devices so they're ready when needed
[Get the full picture of how WEI can help with Apple in our Service Brief below]
Where are you running into challenges? How can we help?
Despite the unique considerations that must be taken into account when implementing Apple at the enterprise level, it is not nearly as intimidating as it may seem. And once implemented, Apple devices drive productivity, collaboration, and creativity throughout the enterprise. Overall, the key to Apple device implementation success can be summarized in a simple word: planning. And you'll benefit from partnering with WEI regardless of where you are in your Apple device management strategy. Ask us how we can augment what you're already doing, increase efficiencies, and reduce operational costs throughout the lifecycle. Contact us here to start a discussion.
Next Steps: Explore more about Apple! Our eBook is jam-packed with best practices, tips for improving efficiencies, and additional points to consider when planning your Apple or Mac as a Choice program. We invite you to download a copy below and share it with your team.