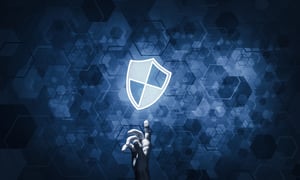 Today's enterprise networks are no longer centrally located and are increasingly geographically dispersed, especially as mobile devices and Internet-of-Things (IoT) technologies have been adopted. Software-as-a-service (SaaS) applications and cloud computing have further complicated matters.
For IT security, these diversified attack surfaces present new avenues for attack and unique challenges when it comes to securing them. To address these challenges, many enterprises are utilizing segmented networks.
Traditional segmentation is facilitated through firewalls, virtual local-area networks (VLANs), and intrusion prevention systems (IPS) to separate each segment. However, these routes all have their drawbacks and typically only focus on north-south traffic, or traffic which is moving from the client to the server. Microsegmentation takes things a step further and monitors east-west traffic, which is already within your network and is moving between internal servers.
In the following article, we'll discuss the top three benefits of microsegmentation and how you can get started improving network security across your enterprise.
1. Reduced impact of a successful cyberattack
Should the worst happen and a cybercriminal makes their way into your enterprise network, microsegmentation will reduce the impact of the attack by trapping it within the initial attack surface. As a result, other processes will be unharmed by the attack, and it makes it easier for IT to react accordingly. As an additional benefit, deployment of new devices is simplified as new computers or systems are automatically protected by being segmented from the rest of the network.
2. Containment is simplified
Perhaps the most significant benefit of microsegmentation is breach containment. Because all data is inspected and filtered before it can move on to the rest of the network, the attack cannot move laterally and other applications, systems, and devices are unaffected.
3. Compliance made easy
Ensuring certain types of sensitive data, like customer information, is secured is a primary focus of IT security groups. With microsegmentation, ensuring this data is safe is made easy thanks to the ability to cordon off environments and apply specific or additional security measures that are necessary to be compliant with data regulations.
Get started with microsegmentation from Fortinet
While microsegmentation offers numerous benefits, it can also create additional security concerns if implemented without taking the proper precautions. Through flexible access control, integration between different pieces of the security infrastructure, evolving trust valuations and other key areas of concern, IT can ensure microsegmentation will be a benefit to enterprise security, not a detriment.
For this reason, Fortinet suggests a holistic approach, which ensures proper access control policies, while also allowing for the incorporation of dynamic evaluations of trust and without negatively impacting performance.
If you're ready to apply microsegmentation architecture to your network, consider Fortinet's FortiGate next-generation firewall (NGFW). With it, enterprises can enact a zero-trust security policy which will scan traffic and prevent malware from moving within your network. Additionally, Fortinet NGFW's can identify malware attacks and block them before they gain access to your network.
Are you interested in Fortinet's microsegmentation solutions?
Fortinet offers comprehensive and holistic security solutions for the largest enterprise, service provider, and government organizations in the world. From NGFWs for microsegmentation to email security, Fortinet ensures security without compromising performance. Recognized in 2019 in the Gartner Magic Quadrant for Network Firewalls report, Fortinet continues to empower its customers and help them stay ahead of evolving security challenges through intelligent security solutions.
NEXT STEPS: Now is a great time to review your enterprise security strategy. Check out our helpful guide to be sure your enterprise is equipped with the right security solutions as we brace for what's in store this year from a cybersecurity and network security perspective. Click below to download a copy of our eBook, an IT Leader's Guide to Enterprise Security in a Digital World.