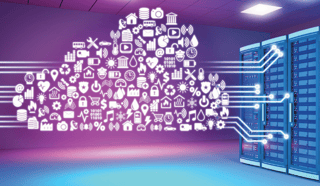 It is a truly amazing world in which we work today. While the flow of capital is still essential for businesses to grow, materialize, and sustain them, it is ideas today that feed the global economy. Today's businesses rely on innovators and visionaries. The delivery method for these ideas and revolutionary concepts is IT. IT is a part of nearly every business today because they depend on one or more essential apps to either communicate with their customers or manage their business. Just as the flow of capital is attracted to the most fluid and efficient markets, customers, and business transactions, tech stacks are attracted to those businesses with the most innovative, efficient, and flexible apps and technology. Those that can simplify and streamline the transaction experience will have an advantage over their competitors. In order for your business to make the most of any web related advantage, you need an adaptable ecosphere that is conducive to the constant evolution of those apps through DevOps.
In the traditional data center, that ecosphere used to be the data center, but it was anything but adaptable. It was a hardware centric, slow moving and inflexible. A monolithic structure is growing extinct due to technological Darwinism that has brought about the hybrid model of today. Hybrid IT brings with it a new world in which workloads are attracted to the best hosting solution regardless of location. Today, that ecosphere is called the Tech Stack. It is the underlying layer that supports your applications and web presence. In other words, it is the layer that supports your business.
So what is the tech stack? Like IT itself, it is comprised of seemingly everything including software languages, APIs, frameworks, software tools, hosting platforms and people. It is in fact, a collection of resources, all managed as a single unit. The Tech Stack is comprised of a backend (server-side) that works behind the scenes to drive your applications and a frontend (client side) that hosts the web application that engages your users.
Characteristics of a hybrid IT tech stack
So what are the essential characteristics of a tech stack in a hybrid world?
Flexibility – In order to be agile, you need the ability to build, deploy and run your applications regardless of location and infrastructure.
Scalability – Thanks to the consumerization of IT, your customers and employees alike are accustomed to accessing their applications regardless of time and location. You need a tech stack that allows you to scale your applications quickly and efficiently.
Reliability – In order to deliver high application-service levels you must have integrated systems that work predictably and without disruption.
Consistency – You need to deliver the same experience to your users every time, regardless of environment, location or failover.
The size and scope of a tech stack is different for every organization and application.
A tech stack can provide your hybrid environment, as is the case with HPE Azure Stack that provides a central management repository to manage all of your applications regardless of whether they reside in Azure or on-premises. Azure stack allows you the ability to host applications in Azure that require scalability and redundancy, while retaining some assets on-premises for proprietary or compliancy reasons.
A tech stack can be an environment of micro services that collaboratively support a single application. Containers are a type of tech stack today that have become the microcosms to run your applications and all of the underlying services that supports them. Applications can be packaged and moved with ease rather than traditionally installed. Docker and Server 2016 are popular container offerings today and AWS CloudFormation offers the same approach, in that stack resources are treated as a single unit. One of the key principles behind this technology is that the isolation boundary resides at the application level rather than the server level. Containers can operate with a minimal amount of resources and once created, can be deployed to different environments. When the application is no longer needed, the stack can simply be deleted. Breaking up the large monolithic structures of yesteryear into these small microcosms allows for unprecedented scalability and growth.
Unless you have all of your applications and associated resources hosted in the public cloud, your enterprise still requires an infrastructure. However, today's supporting infrastructure is not like the data center of old. Just as so much of your business is managed through an API today, IT is managing on-premises enterprises through the API as well. Highly specialized proprietary hardware is now being replaced under the idea of commoditization through the incorporation of software-defined storage and hyperconverged integrated systems. Within these systems, all facets of the data center – compute, storage, networking and virtualization resources, are tightly integrated into a single commodity hardware box.
Aim for tech stack simplicity
There is one common thread to the approaches to the tech stack of today—and that is simplicity. Hybrid IT introduces new levels of complexity into the enterprise. That is why the management platform is so critical, allowing internal IT to easily manage the tech stack itself. Conducting an evaluation to determine if your tech stack is ready for the hybrid IT environment is important for all enterprises that are just now transitioning to this new model. For siloed organizations, the guidance of an experienced consultant can generate huge payoffs down the road. You may only have one chance to make that first impression to a new customer or business partner. Make sure you have the right tech stack to deliver.
Next Steps: Prepare your enterprise to be as successful as possible by reading our white paper, "Overcoming the Challenges of Implementing a Hybrid IT Model."