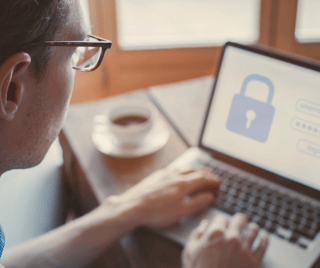 Your household provides comfort and peace of mind because everything you need is in one place. To safeguard assets and sense of well-being, some of us may have installed a security system – whether it be locked gates, cameras, or smart locks. However, you noticed there's been a rise in break-ins and burglaries in your neighborhood. Unfortunately, criminals are growing bolder and more skilled, which means bolstering your own security and safety measures.
Now think of data as the valuable possessions inside your home, and the security system as data protection measures. In a similar way that home burglaries are getting more frequent, there has been a surge in data-related disruptions and threats in recent years. Like burglars, cybercriminals have evolved sophisticated techniques, such as ransomware and malware, which pose a significant risk to your data security.
The Challenge With Data Security
These days, data is spread across various platforms in the digital environment, ranging from edge to cloud. This dispersion poses a challenge comparable to safeguarding valuables hidden in different rooms or spots within your home.
Businesses encounter this challenge with cybersecurity: how to secure data across diverse environments and ensure seamless integration. IT and security teams must adapt to new threats and safeguard data wherever it resides. Often, a CISO is overseeing an environment comprised of legacy security technology that operates independently from other elements within the environment's surface area, leading to major inefficiencies and increased blind spots, especially with cloud adoption as popular as it is.
Meet Your Ideal Data Security Solution
Just like apps that consolidate home security monitoring, Hewlett Packard Enterprise (HPE) GreenLake for Data Protection plays that same role for businesses. Providing a comprehensive data protection solution from edge to cloud, this solution ensures the following:


1. Integrated security measures into your enterprise's system architecture. HPE GreenLake for Data Protection conducts data risk assessments, identifying and addressing cybersecurity gaps beyond firewalls. It helps unify data security efforts for consistent practices across your business's IT landscape.
Additionally, HPE's Advisory and Professional Services provide expertise to automate and scale your data security journey without unnecessary complexity or cost through:
Streamlining operations and reducing risk with a single console for on-premises virtual machines and cloud-native workloads.
Protecting your data from ransomware with rapid recovery through a fully orchestrated failover and failback solution within seconds.

2. Resilient cloud-based options for continuous data protection. HPE GreenLake for Data Protection provides a simple, strong, and seamless cloud experience to tackle cyber threats and data growth by transforming traditional storage into cloud-native data services.
The key benefits of HPE's continuous and secure data protection include:
Comprehensive enterprise data protection from edge to cloud, globally.
Encrypted backups that safeguard data from various cyberattacks, including ransomware.
Support for long-term data retention, mobility, immutable backups, and data resilience testing.
Enhanced cybersecurity awareness, cloud security, data protection, risk assessment, and threat identification.
By entrusting HPE experts with the task of safeguarding your enterprise data, you gain a smart and cost-effective solution to protect your data.

3. Quick backup and data recovery. While no cybersecurity plan guarantees absolute immunity, HPE offers specialized services for avoiding and recovering from ransomware and malware incidents within minutes.
Disaster Recovery with Zerto: Powered by customer data platform (CDP) technology, this collaboration enables rapid recovery from attacks and restores data to its pre-attack state within minutes. Moreover, it also supports data and workload migration and backup and recovery for various workloads, including on-premises, cloud-native, and SaaS environments.
HPE GreenLake for Backup and Recovery: This service provides continuous, encrypted data backup with precise granularity, ensuring fast and effective recovery. With this level of protection, recovery from attacks that threaten data deletion or modification can be comprehensive.

4. Scalability and cost-efficiency to deliver uninterrupted operations. HPE's portfolio of Enterprise Security and Digital Protection Services complements your existing data security program without replacing it, providing broad-spectrum security. This integration offers:
Operational efficiency through automation and a consumption-based model, providing an affordable disaster recovery solution.
Seamless integration for ransomware prevention, quick data recovery, and long-term data retention while eliminating complexity and hardware overprovisioning.
Guaranteed data integrity and availability across locations and hosting platforms.
HPE GreenLake's portfolio of cybersecurity services provides consolidated protection across multi-site deployments without adding complexity to your infrastructure.
Final Thoughts
Just as you secure your valuable home assets from burglars and unwanted visitors, your data also needs protection. HPE GreenLake for Data Protection provides scalable, continuous, and secure solutions to boost your data security strategy at any stage of your enterprise's cybersecurity journey.
It's time to act to secure your data against global threats and maintain operational continuity. Contact our security experts at WEI for a comprehensive data protection assessment and explore HPE's solutions for today's edge-to-cloud world.
Next steps: Click below to read HPE GreenLake Provides The Full Spectrum of HPE Solutions.