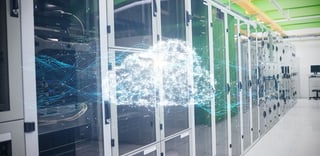 To build a lasting house, you must first build a strong foundation. Without a strong foundation, you cannot build whatever you desire on it. The same principle can be applied to a data center. A data center requires a well-designed and stable infrastructure that offers the required agility to accommodate dynamically changing technology environments. Ultimately, this ensures greater longevity.
Meaningful Intention From Day One
Your company isn't driven by technology, but by conducting good business. Your company's mission statement, its goals, and objectives also derive around the intentions of the business. Shouldn't your data center be driven by those intentions as well? Your competitors have access to the same technology as you. The differentiator today is how your technology is implemented so that it maximizes the full business potential of your organization. In today's digitally transformed world, your applications are the tools of business. Maximum resiliency of your network infrastructure is critical for the success of your business operations.
Intent-based networking (IBN) utilizes artificial intelligence, machine learning, and orchestration to ensure that the data center remains true to the intentions of the business. Juniper Apstra is an IBN software-enabled solution that uses automation to prescribe and perform routing tasks and policies so that every component and dependency is on the same page. Should the data center color outside the lines of business intent, Juniper Apstra alerts team members and performs automated remediation if applicable, to ensure that things return as they should.
Purposeful Configuration
Nobody enjoys the process of manually configuring network devices, yet legacy networks rely on this ancient and mundane practice. Ultimately, this action opens the door to human error. Early attempts at automating these tasks were utilizing the same networking approach that required network engineers and administrators to specify configuration as a series of sequenced actions that told devices what they should do. Instead, IBN uses a declarative networking approach that defines the desired result.
Juniper Apstra takes business outcomes described by humans and converts them into configurations that are automatically generated and deployed to their rightful location. Because the system knows the desired outcome for each specific configuration, it continually works to maintain those outcomes through whatever challenge may present itself. Call it configuration with a purpose that is void of fat fingering and neglectful configuration errors that plague manual configuration deployments.
The Main Challenge With Traditional Data Center Implementation
In many ways, the traditional data center was a labyrinth of technology complexity that was comprised of shortcomings. Inefficient design processes made data center management highly reactionary because of elongated time periods required to implement or scale technology. The proprietary nature of legacy data centers resulted in vendor lock that restricted the ability of enterprises to adapt their technology to changing business conditions.
Eventually, these proprietary systems created silos that restricted workflows and required highly specialized skill sets that are now proving difficult to find and retain. IT teams lacked the necessary visibility to truly understand what was happening in a data center that boasted so many moving parts and interdependencies. Even when visibility was attainable, it required IT teams to swivel between multiple admin consoles, creating critical gaps in monitoring abilities.
Day Zero Cost
What does all this have to do with Day Zero costs? Well, everything. According to a recent study by Forrester that examined the economic impact of Juniper Apstra, companies that used Juniper's IBN data center solution experienced significant cost savings. That's because scoping and design time were reduced by 60% thanks to the reduced number of FTE hours required to design and prepare for these mammoth projects. This means a faster time to market for your data center and an accelerated ROI. Forrester estimates that the average organization using Juniper Apstra could implement a new data center in half the time of their existing data center, and realize a Zero Day savings rate of $73,000 in the first two years.
Future Dividends of Juniper Apstra
Many investors love stocks that pay tangible dividends because of regular return on investment. It's the same with Juniper's IBN approach. By ensuring that every infrastructure device is configured correctly the first time through step-by-step validation, your Juniper Apstra design will continue to pay dividends across the full life of the data center. Enforced and automated validation leads to greater stability and uptime, which means that your mission critical apps are operating more. The Forrester study cited a reduced implementation time by as much as 83%. Additionally, there are the benefits of managing a multivendor solution environment from a single admin console as well as the decreased reliance on IT teams to monitor and troubleshoot the network infrastructure.
Conclusion
Data center efficiency, stability, scalability, and resiliency begins on Day Zero, which is why an IBN approach from the very outset of your next data center project is so critical. Juniper Apstra incorporates AI, network orchestration and machine learning to ensure that every step involved in your next data center implementation is purposely intentioned and validated so that it works for the benefit of your business from beginning to end.
Next Steps: Download our FREE whitepaper to learn how Juniper Apstra relieves the pain points mentioned above, staying the course with your network, and how to achieve cost savings across your network's lifecycle.
How Juniper Networks IBN Alleviates Data Center Pain Points, Reduces Costs