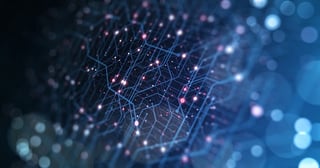 Enterprise technology vendors bombard IT leaders everywhere with messaging that emphasizes the value or added value that their solutions provide. However, value is an open-ended term, and as a consequence, eventually loses its effectiveness.
On the other hand, measured value is a whole other matter. The ability to assign a quantitative value to a respective solution allows for more informed decision making. That's why Juniper Networks commissioned Forrester Consulting to conduct a Total Economic Impact™ (TEI) study to examine the potential return on investment (ROI) that an organization might realize from a Juniper Apstra deployment.
Juniper Apstra is an intent-based networking (IBN) software-based solution that automates and validates everyday processes that make up the design, deployment, and operational stages of a large data center. The stages are often referred to as Day 0 through Day 2+. While it certainly works with other Juniper Network switches and products, it is vendor agnostic, thus providing deployment and management agility for those that utilize it.
In its study, Forrester interviewed four separate enterprises and then aggregated the collected data into a single composite organization. This organization utilized two major production centers, employed 7,500 people, and earned $3 billion in annual revenue. Prior to their Juniper Apstra implementations, all four organizations struggled with the typical challenges faced by many enterprises today:
Inefficient design processes

Overreliance on manual configuration tasks

Endless event tracking

Perpetual system updates that absorbed too much time away from understaffed IT teams
Day 0: Design Cost Savings
Time is money, especially when quantifying the time spent for an elongated IT project. The Forrester study showed that Juniper Apstra reduced the number of FTE hours required in the design phase of a new data center by 60%. By shrinking requirement scoping and design time, Forrester was able to quantify a savings of $73,000 within the first two years. Much of these savings were due to the preconfigured templates that designers can utilize without any preparation on their part. After all, you don't want your high-priced engineers creating their own templates.
Day 1: Deployment Savings
Deployments never seem to go as smoothly as expected. Thankfully, Juniper Apstra can ensure that the deployment of your data center goes as planned. That's because every device configuration is validated before deployment to ensure that the results match the intent of the configuration. Configurations are automatically generated so there's no opportunity of fat fingering a device. Juniper Apstra also ensures that all cabling is in place correctly.
To sum up Day 1, Apstra eliminates all the "gotchas" that usually plague deployments. And all those "gotchas" represent real, precious dollars. The Forrester study estimates that implementation time can be reduced from 24 hours to 2 hours, per device, equating to a cost savings of $72,000 over the course of three years.
Day 2: Operational Savings
The brunt of savings takes place once the data center is operational, $448,000 to be exact, according to the study. Much of these savings is due to the reduced reliance on senior-level engineers that data centers have traditionally depended on to remain running. Forrester estimates that organizations can expect a 60% reduction in FTE hours, equating to nearly 2,500 labor hours less per year for their composite organization. That's because so many actions can be automated with the Juniper Apstra platform. No more script writing or swiveling admin consoles to multitask!
Tool Replacement Cost Savings
IT teams have traditionally used multiple third-party tool sets to manage the data center. Forrester assigned a license cost of $80,000 as the average annual license cost per tool. On average, Juniper Apstra replaces two legacy tools that also provide far more functionality. In addition, IT personnel don't have to be trained in future third party tools and managers don't have to spend time procuring them. All of this constitutes a sizable expected savings rate of $358,107 over a three-year period.
Creating Real, Measurable Value
The Juniper Apstra intent-based networking solution is an example of the commitment that Juniper has toward creating real, measurable value for its customers. This is substantiated by a study conducted by IDC in which they interviewed companies worldwide that have deployed Juniper products and technology solutions in their data centers. Organizations that participated in the study had just over 5,400 IT users on average and hosted 100 business applications. In addition to non-quantitative benefits such as greater agility and reliability, IDC calculated a savings of $51,121 per 100 internal application users, constituting a $2.77 million savings on average. Study participants experienced a 361% ROI over 5 years, a 56% cost reduction in operational costs and an 11-month payback period.
Conclusion
While value may be a relative term, the measurable value that Juniper delivers with their product line is substantiated and quantified. Juniper Apstra is the latest example of how intent-based networking is revolutionizing how companies design, deploy and manage the modernized data center today. Of course, cost savings should never be the sole reason to decide on a technology solution. The value of Juniper Apstra goes far beyond any quantifiable formula.
Juniper Apstra ensures that the intent of your data center matches your business intentions so that your data center performs as first envisioned. With Juniper Apstra, you can realize the power of intent along with the cost savings of automated analytics. Find out more about this powerful combination by contacting a WEI IBN expert today.
Next Steps: Download our FREE whitepaper to learn how Juniper Apstra relieves the pain points mentioned above, staying the course with your network, and how to achieve cost savings across your network's lifecycle.
How Juniper Networks IBN Alleviates Data Center Pain Points, Reduces Costs