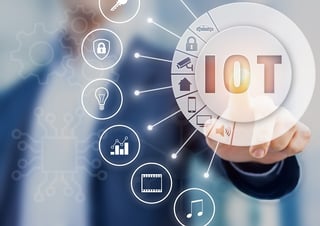 When we talk about upgrading wireless infrastructure to the latest Wi-Fi 6E standard, it is instinctive to focus on client computing devices and smart phones. That's because organizations want to optimize the user wireless experience for their employees and customers, and understandably so. However, for a growing number of enterprises, there's another critical component to their wireless environment: IoT (Internet of things!). Organizations are integrating a growing fleet of IoT devices to take advantage of cutting-edge technologies. In 2022 alone, the global IoT market is expected to grow 18% to 14.4 billion active devices. If you're only looking at optimizing the wireless experience for users, do not ignore IoT's half of the equation!
Wi-Fi 6E Offers IoT Exclusivity
A primary benefit of Wi-Fi 6E is the exclusive access it provides to the newly approved 6 GHz bandwidth frequency. It has four times the bandwidth capacity of 2.4 GHz and 5 GHz and supplies 1,200 MHz of extra spectrum. In all, this nearly doubles the amount of delivered throughput to clients that support the new wireless standard. Its not just the increased bandwidth that Wi-Fi 6E provides, however. It is the ability to separate your most critical user and IoT workloads so they don't have to compete with noisy legacy wireless devices.
Imagine for a moment all the IoT enabled technology solutions that are parachuting into the healthcare industry. Already, the average hospital utilizes 10 to 15 medical devices for each patient. That constitutes as many as 350,000 devices per hospital and we have barely witnessed the tip of the iceberg. Eventually, longtime surgeons will use augmented reality to rehearse complex surgeries and Software-as-a-Medical-Device (SaMD) systems will monitor critically ill patients. These are clearly the types of systems you will want operating within one exclusive frequency.
Of course, it works both ways too. Many legacy and current IoT devices don't require a great deal of bandwidth to function. This makes them ideal candidates to remain within the 2.4 GHz band, completely separated from Wi-Fi 6E enabled user devices and critical sensory devices. All of this is no problem for Juniper Wi-Fi 6E access points such as the Juniper AP45 and Juniper AP34 routers. These tri-band access points support 2.4 GHz, 5 GHz, and 6 GHz so they can handle the newest wireless stations on the market, while ensuring backwards compatibility with older devices that still serve their purpose.
The Need for Battery Life Extension
According to an EU funded study, 78 million batteries that power IoT devices will be dumped every day throughout the world by 2025 if nothing is done to improve a battery's lifespan. Many IoT devices rely on batteries. Not only is a diminished battery life bad for the environment, but it also proves expensive to constantly replace them. The Wi-Fi 6E standard is helping aid this issue with its Target Wake Time (TWT) feature that reduces power consumption by empowering access points and wireless stations to negotiate their wake-up times to receive and send data. This not only saves power and promotes extended battery life, but it also reduces network congestion and prevents scheduled overlap in highly concentrated station environments.
Juniper IoT Assurance
While there are multiple companies today that provide Wi-Fi 6E solutions, only Juniper offers Mist IoT Assurance. Juniper Mist IoT Assurance is a cloud-based service that makes it easy for IoT devices to connect using a Multiple Pre-Shared Key (MPSK) mechanism in a secure fashion. Managing and securing the connection process for IoT devices has always proved challenging since the bulk of these devices are headless, meaning that they lack a GUI interface and operate without a keyboard or mouse. This hinders the ability to onboard, segment and manage IoT device credentials at scale. Juniper is changing all of that.
Unlike traditional solutions, its onboarding process doesn't rely on MAC addresses. This makes it ideal for devices that utilize client MAC randomization. With its automatic PSK expiration that works in conjunction with automatic key rotation, organizations can now keep PSKs regularly rotated without the risk of service disruption regardless of deployment scale. Juniper IoT Assurance is 100% API programmable so you can easily integrate it with your preferred mobile device management solution to further streamline the provisioning processes for your fleet of IoT devices. Other features include location management and the ability to assign traffic policies based on PSK identity.
Soon, Juniper is expected to include built-in tools that will give customers the ability to create custom self-provisioning PSK portals that automatically generates PSKs according to user identity. Automatic client device provisioning will also be further simplified with QR codes or automatic Wi-Fi connection URLs without the need to install anything.
And Let's Not Forget Marvis…
Like other Juniper Mist solutions, your IT team can use natural language queries to communicate with Marvis. Marvis is a virtual network assistant that can perform help desk functionality at your verbal command. Marvis is always there working for you to determine the root cause of plaguing problems and perform automated remediation to solve them. Its one more example of how Juniper is simplifying the management process of highly scaled IoT environments.
Conclusion
Wireless isn't just about servicing user devices. Today, you need a wireless solution that provides equal functionality for IoT devices as well. Similarly, if you're contemplating upgrading your wireless infrastructure to Wi-Fi 6, you're missing out on the full set of capabilities available today with Wi-Fi 6E. Juniper and Wi-Fi 6E together is the complete solution to maximize your wireless enterprise.
Next Steps: Download our new white paper, "Future-Proof Your Wireless Network With Wi-Fi 6E" to discover what critical capabilities your wireless network infrastructure is currently missing. This is information that every network administrator should read!