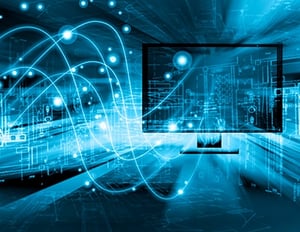 In case you missed it: HPE announced some major news for the IT industry with the acquisition of Plexxi, a software-defined network provider, and will be rolling out its new product offerings at the end of this month. What does this acquisition mean for enterprises?
What is Software Defined Networking?
Software defined networking is characterized by an architecture approach that splits the different processes within a data center to add flexibility and virtualization to the network. As InfoWorld explains:
This typically means separating the management of the control plane of network devices from the underlying data plane that forwards network traffic. Using a software-defined system to control this disaggregation brings many benefits, including increased network management flexibility and being able to more easily implement fine-grained security policies.
Software defined networking (SDN) is an example of a solution that fits the hybrid IT model because it enables network admins to leverage the power of automation to manage resources with cloud-like capabilities.
What Does the HPE Plexxi Acquisition Mean for Enterprises?
During the last eight years, Plexxi has worked to bring organizations ways to update their networks to fit a modern approach as leading provider of software-defined data fabric networking technology. This technology has enabled enterprises to modernize their data centers and hybrid cloud through its software-defined data fabric.
HPE is a leader in the IT industry for its products and services that support enterprise networking, storage, and security. This acquisition further solidifies its dominance in the industry, using Plexxi to strengthen its SDN offerings for hybrid IT.
As enterprises move to a hybrid IT model, where they run their workloads on a combination of traditional IT infrastructure as well as private, managed, and public clouds, they require movement between every facet of their infrastructure depending on the availability resources. HPE will integrate Plexxi's SDN technology into its SimpliVity hyperconverged infrastructure, which will result in an offering that incorporates compute, storage, and data fabric networking within a single service with a single management interface and support system. For its Synergy offering, Plexxi's software-defined network will form the foundation of a composable rack, which extends the network fabric.
This expansion will allow a wider range of use cases across the data center and private cloud for mid-size and large enterprises. For workloads requiring optimal capacity, Plexxi will also increase network agility to a composable infrastructure where resources are brought together seamlessly.
HPE is hopeful to empower enterprises with a cloud-like experience within the data center. In its press release on the acquisition, the organization stated:
Plexxi's technology will extend HPE's market-leading software-defined compute and storage capabilities into the high-growth, software defined networking market, expanding our addressable market and strengthening our offerings for customers and partners. By seamlessly combining Plexxi's next generation data center fabric with HPE's existing software-defined infrastructure, HPE can deliver a true cloud-like experience in the data center. Through this acquisition, we will deliver hyperconverged and composable [infrastructure] solutions with a next generation data network fabric that can automatically create or re-balance bandwidth to workload needs. This will increase agility and efficiency, and accelerate how quickly companies deploy applications and draw business value from their data.
HPE gaining Plexxi in its line of Hybrid IT solutions will enable enterprises to better align IT operations and capabilities with the evolving needs of the business. The quicker and easier it is for enterprises to control, access, and derive insights from their data, the potential for new revenue and profits increase. This new level of flexibility allows organization to more easily adapt their network to their changing needs as they grow and as technology evolves.
As you can see, this acquisition is a positive step for HPE and will help the company stay among the top industry leaders when it comes to enterprise IT. Do you have additional questions about HPE attaining Plexxi or how software defined networking can help your organization? Our networking and data center experts at WEI can help answer your questions and help you understand how these solutions will function in your existing environment. Contact us today to start a conversation.
Next steps:
Learn more about Hybrid IT in our white paper, Overcoming the Challenges of Implementing a Hybrid IT Model