Writer's note: Every Thursday in November and December, this blog will highlight the SDN solution, Cisco ACI. As market acceptance and adoption increases for SDN, IT professionals can count on WEI to fairly evaluate the market leading SDN solutions available today.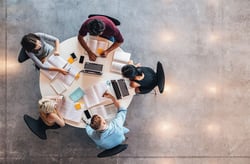 Software Defined Networking, SDN, is a true buzzword in IT circles today. It is promoted as the panacea for the great challenges that face IT today. This technology can lead organizations into the
digital transform
ation
that is occurring on a global scale and that is disrupting entire industries and organizations of all sizes. The
premise of SDN
is simple, transform the rigid data center into a fluid agile software defined framework that will give organizations the agility and flexibility to instantly react to conditions, and implement automated deployments based on real-time resource demand.
The concept of SDN was first introduced in 2011 and called OpenFlow 1.1, and is still a young technology in its infancy and going through the maturing process. Yet despite its relative newness, many IT professionals are looking at SDN as an answer to the frustrating gauntlets that so many networking teams face today such as:
Protocol complexity – Protocols have been repeatedly introduced over the previous decades which are created to solve a specific problem. Unfortunately, this plug-the-hole mentality usually does not take into consideration the complexities that the "fix" creates.
Manual configuration – Networks are too dependent on manual configuration which requires a great reliance on scripting language skills and the IT personnel who create them. Manual configuration is also prone to the introduction of errors into the production environment. It's also too time consuming and distracts IT personnel from focusing on projects that create value.
Inability to scale – IT has grown accustomed to the practice of over provisioning for far too long. The practice of buying for tomorrow rather than today has proved an expensive one for organizations. What's more however, is that the traditional bare metal network requires undo man hours of planning and coordination to expand. Even with the rapid adaptation of virtualization, the server provisioning process is still limited by the scalable shortcomings of the network infrastructure itself that is required to support additional virtual endpoints.
Vendor dependence – Vendor lock-in and the high costs associated with traditional network equipment is the leading reason why organizations are moving or considering SDN. Being locked into proprietary solutions can be very costly as product life cycles can take years to respond to customer needs.
Four reasons why SDN is NOW required for IT organizations
These shortcomings have been an inherent part of IT since its beginning. Here are four major reasons why SDN is so imperative for solving the challenges above.
1. The consumerization of IT
The enterprise is now being driven by its employees who are demanding that organizations allow them the flexibility of BYOD and insistent on meeting the expectations they have come to expect from their personal lives; especially when dealing with responsive organizations such as Amazon, Facebook and Ticketmaster.
2. Cloud Computing
What gave consumers the high expectations of IT was the public cloud, which gave Amazon and other companies the ability to be so responsive to their needs while maintaining competitive advantage.
3. Changing traffic patterns
The traditional client-server traffic load that followed the trajectory north-south winds has now been altered to an east west flow thanks to all of the websites that are now dependent on multi-tiered application structures.
4. Big Data
Big Data needs big bandwidth and processing centers, putting huge stress loads on today's traditional data centers.
So how does SDN conquer these challenges? It does so by offering degrees of simplicity, scalability and automation that were never dreamed of a decade ago. Imagine the power of a potential limitless scalability, giving users the power to provision services on demand, in real time, just as they are accustomed to elsewhere. Imagine the simplicity of devices being configured not by manual means, but by automated software controllers which deliver configuration policies during the provisioning phase. Imagine a networking ecosphere that can also automatically disengage services and resources in equal fashion. Imagine your IT team being released of the burdens of supporting manual configuration tasks and having the time to direct their energies on valued added projects.
Now imagine that the full power and capability of SDN can be delivered in one technological package. That package is Cisco Application Centric Infrastructure or ACI. ACI is more than just a panacea. It is a reality that can transform your datacenter and liberate it from the challenges that plague it today.
New to Cisco ACI?
Get a brief introduction to Cisco ACI in this video, which also highlights automation and security.