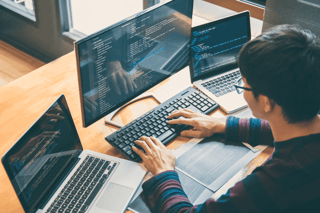 To advance business growth and forward-thinking digital strategy, organizations consistently invest in IT infrastructures. As businesses across all industries strive to meet their goals for increasingly varied applications in a demanding market, a growing need emerges to validate and upgrade the underlying infrastructures. Testing only your applications will not be enough to defend your infrastructure from a variety of risks. Infrastructure testing is a vital step in staying ahead of the ever-increasing IT complexities, but is your business doing this frequently and effectively enough? Read on to learn about the importance of infrastructure testing and why our team recommends it.
What Is Infrastructure Testing?
Software Testing Help tells us: "Every software requires an infrastructure to perform its actions. Infrastructure testing is the testing process that covers hardware, software, and networks. It involves testing any code that reads configuration values from different things in the IT framework and compares them to intended results." Even more, this critical process can help prevent failures in your interconnected systems that may lead to downtime or data breaches. Ultimately , it ensures that every part of your process is acting as intended.
Another way infrastructure testing can be used is to confirm an organization is complying with necessary security policies while also avoiding vulnerabilities and hacking techniques that can exploit networks or steal data.
The Benefits Of Infrastructure Testing
The infrastructure testing process can bring numerous operational and security benefits. When you confirm that any vulnerabilities are identified and corrected before a cyberattack hits, you can be protected from fiscal and reputational damage. Making sure your IT infrastructure is up to date facilitates a more stable and reliable system that end-users and internal processes can and will benefit from.
A successful infrastructure testing process also helps reduce the number of production failures, leading to less downtime and financial loss. This reduction includes the cost of lost business during the time systems are offline and the expenses created by identifying and fixing the issue.
Infrastructure testing also presents an opportunity for IT administrators to review what legacy items still exist in their environment. For example, support for VMware vSphere 6.7 is ending in October 2022 and enterprises who delayed an upgrade the past two years are now staring at a hurried upgrade process. Hardware virtualization platforms like VMware vSphere 7.0 (now vSphere 7.0.3 as of this writing) is known by many system administrators for its improved stability, performance, and usability. By having a more reliable environment, your company can also give end-users and developers confidence in your system, which allows for simpler scalability. This also means reduced times for development cycles, which helps organizations react quicker to a changing environment.
Mark Gabryjelski, WEI's influential tech expert practicing VMware for 22 years, shares his thoughts on the benefits of infrastructure testing:
"The ultimate perfect environment is for you to buy some servers (in an infrastructure scenario) and put them into use. Then you would buy the same make and model and build a test environment. You can go through the validation of your organization yourself and do these upgrades in an environment that does not run production workloads. That can provide your organization with validation that the processes are correct, and that the software operates the way you expect it to operate during and after the upgrades."
How Often Should You Run Infrastructure Testing?
In order to meet the demands of high-performance apps, you need to regularly conduct infrastructure testing. In general, you should consider running these any time there are infrastructure-related changes to a system such as the development of new patches, updates to your operating system, or security fixes.
We once again turn to Mark, who has experience with hundreds of implementations and integrations, to share this example:
"Just because you buy and implement the system doesn't mean you should leave it alone for three years and then upgrade it once in a great while. Imagine if we had done this with our cars. Four years later after buying my car, I show up at the dealership and tell them that something is wrong with it, and they look at me and say, 'Well you've driven 100,000 miles, how many times have you changed the oil? How many times did you do a tire rotation?' If we treated our automobiles the way we treat some of the infrastructures I've seen, it would just be absolutely horrible for those who own the vehicles. We need to treat our IT infrastructures and maintain them the same way we would maintain something like our automobiles."
Conclusion
If you use hardware virtualization platforms like VMware vSphere, it's vital to make sure you upgrade to the latest updated version (7.0.3). Administrators who run unsupported legacy platforms increase their risk of security breaches and high expenses. Devoting time and resources early to an effective infrastructure testing system can ensure all company networks are safe and able to cope with constant changes.
WEI can assist you in system upgrades if you don't have the time or resources. Contact us to get started today.
Next Steps: Learn more about what Mark has to say about VMware vSphere 7.0.3 along with the importance of infrastructure testing in his recent interview below: