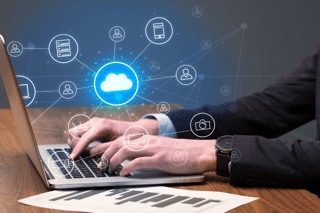 Network-as-a-Service (NaaS) solutions are becoming popular for businesses of all sizes, providing them with a cost-effective and efficient way to quickly provide networking capabilities. HPE GreenLake for Aruba is one such NaaS solution that helps organizations overcome challenges such as complexity, bandwidth constraints, and security concerns. For these reasons, enterprises should consider NaaS solutions as part of their overall IT strategy so they can enjoy the many benefits this innovative technology has to offer. Read on to learn more about the advantages of HPE GreenLake for Aruba.
Benefits Of HPE GreenLake For Aruba
As an IT leader, understanding and leveraging the latest technological advancements is essential for driving success within your business. HPE GreenLake for Aruba is a unique offering comprised of both services and solutions developed by Aruba and delivered by certified Aruba partners and their teams of Global Services experts. This automated delivery platform provides the means to take on the day-to-day challenge of network operations from your networking team.
Here are a few ways HPE GreenLake for Aruba gives you the agility needed to adapt and maximize network capabilities:
Predictable budget

–

With a fixed monthly fee, you can enjoy financial flexibility throughout your network's lifecycle.

Customer Experience Management

(CEM)

– This benefit

provides continuous improvements for customers, helping to ensure Aruba's networks run smoothly and meet the needs of everyday users while also being prepared for future demands.
Enhanced reporting

–

You can gain IT efficiency to help reduce and simplify network tasks with workflow automation, KPI alerting, and reporting. This will help you get the most out of your technology investments.

With HPE GreenLake for Aruba, you can get your network up and running quickly and efficiently, maximizing the power of your IT infrastructure. This Network-as-a-Service solution accelerates operations at every stage in the lifecycle so you're always ahead of the game.
HPE GreenLake Versus HPE GreenLake For Aruba
HPE GreenLake provides organizations with the power to modernize their networking and storage capabilities from edge computing all the way to cloud services. HPE Greenlake for Aruba, however, is Aruba's Network-as-a-Service solution under the HPE GreenLake brand.
Network solutions are unique in their architecture; single-tenancy and distributed systems make them stand out from other data center products. Diverging from HPE GreenLake, HPE GreenLake for Aruba offers:
Convenient three or five-year subscription plans, making it easier than ever to stay up to date with the latest technology.

Unparalleled flexibility with the ability to flex up and down as needed, without any metering or monitoring.

Access to unique rebate opportunities that are distinct from other HPE GreenLake services.

Benefits from comprehensive CEM capabilities that provide actionable insights on network management and device inventory.
For businesses looking to expand their footprint into new markets or provide additional value to added services for customers, these solutions can be incredibly beneficial in unlocking new revenue opportunities.
Core Value Proposition For Partners
The flexible offering allows partners to expand their services and access new incentives, resulting in increased annuity, margins, and profitability. To further boost the growth potential for partner enterprises, Aruba has developed HPE GreenLake tailored toward NaaS capabilities.
HPE GreenLake for Aruba is an attractive choice for partners due to its various benefits, including:
A comprehensive portfolio

–

Aruba offers a wide range of networking solutions, from powerful switches to secure systems and SD-WAN technology. Their portfolio ensures that customers can find the perfect product for any need they have.

Partnership incentives

– Aruba's HPE Partner Ready Vantage program is a terrific way for partners to reap rewards as they transition their business into an as-a-Service model. Not only will partners receive rebates, but Aruba also provides Centers of Expertise so each partner can maximize their strengths during the journey toward NaaS.

Flexibility

– Partnering with Aruba offers an exciting opportunity for those just starting out. Established partners can build upon Aruba's solution and create their own branded services, getting them to the market with increased speed.
This is a unique opportunity to provide customers with the ability to capitalize on several advantages, such as improved budgeting control and minimized operational risks. This shift toward a NaaS model allows organizations to acquire desired outcomes quickly while paying only for what they need.
Final Thoughts
NaaS is the ultimate option for organizations looking to capitalize on the latest networking technologies without having to invest a large amount of capital upfront. Unlike a traditional purchasing model, the NaaS model allows customers to pay for services monthly. This model provides customers with the ability to prepare for modernization, keep up with rollouts, and scale services more proactively.
If you're looking for a comprehensive solution that takes away the stress associated with running a complex network, while offering scalability and cost savings along with access to cutting-edge technologies, then look no further than HPE GreenLake for Aruba. With this solution, managing your networks has never been easier or more efficient. Contact us today to learn how your business can start reaping the rewards of this powerful Network-as-a-Service solution.
Next Steps: Read our whitepaper titled, "Why Aruba NaaS is the Next Big Thing and Why You Need It" to learn more about what NaaS can do for your business.