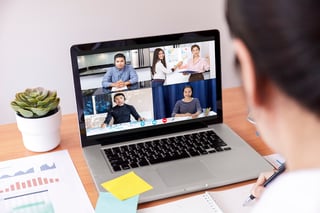 The emergence of remote and hybrid work opportunities serves as one of the biggest lasting changes the COVID-19 pandemic has brought to our lives. This popular option saves money for both the employer and the employee while helping many workers find the work-life balance they were looking for. Unfortunately, working from home has also brought with it a host of technological conundrums, particularly when it comes to cybersecurity.
In celebration of Cybersecurity Awareness Month, we identify the security challenges that come with a remote workforce and new technologies that are paving the way for a more secure future.
What Makes Remote Work A Cybersecurity Challenge?
Before delving into the solution, we need to understand the problems facing IT security professionals. With the number of teleworkers expanding, many businesses have turned to wide area networks (or WANs) to facilitate the sharing of information between devices.
WANs connect users across a wide geographical area, but many enterprises have found that the increased amount of remote workers has strained the system, creating bottlenecks that severely reduce end-user performance. This decrease in productivity can result in critical costs to your business, especially when compounded across all teleworkers. In this day and age of analytics-driven business decisions, higher levels of inefficiencies are concerning for enterprise leaders.
To help alleviate this growing issue, organizations have turned to software-defined WAN (SD-WAN) solutions. Here are a few of the major benefits of this technology:
Improved Responsiveness – With information no longer traveling through narrow channels, data moves more freely between members of an organization's team.
Simplified Architecture – Because SD-WANs are based in software, many creators have opted to make them more accessible. This allows enterprises to leverage connectivity tools in a way that works for their business.
Increased Access – SD-WANs are a growing market. In 2018, Network World declared that 2018 would be the "Year of the WAN." In the four years since, the options for businesses have grown exponentially.
Unfortunately, SD-WANs introduce another problem as they provide direct connections to internet resources. This bypasses the aforementioned bottleneck issue, but in doing so also removes the protection traditional architectures provide.
This is especially concerning when most remote workers are using their personal devices to connect to SD-WANs. This means that enterprises might unwittingly expose themselves to cybersecurity threats. Add the element of human error, and this becomes an IT leader's worst nightmare.
Creating WAN Technology With IT Security In Mind
If the transition to SD-WAN is going to be successful, there are some major developments that creators will need to implement. Fortinet has identified these key requirements that SD-WAN solutions will need to incorporate in the near future:
Integrated Security and Compliance. Robust security technology needs to be integrated from the beginning. This includes secure sockets layer (SSL) and transport layer security (TLS) traffic inspection.
Application And Path Awareness. SD-WANs must interface with next-generation firewalls (or NGFWs). Currently, many SD-WAN solutions do not offer TLS 1.3 decryption, meaning that hidden packets can pass through unnoticed. It is critical that NGFWs examine all traffic that passes through the SD-WAN.
Automation. To reap the benefits of this new technology, developers will need to ensure NGFWs don't interfere with the qualities that make software-defined WANs so efficient. There's a sensitive balance to maintain here.
Multi-Broadband Support. Integrated cybersecurity protocol must be able to access the public internet to offer the maximum amount of WAN availability.
Ease Of Access. As part of building SD-WAN into security from the beginning, connectivity and cybersecurity features will need to be accessible from one console.
Conclusion
Cybersecurity Awareness Month is a great time to turn our attention to the pressing security problems facing today's professionals. Whether your enterprise employs remote workers or is back in the office full-time, it is important to protect your data with the most up-to-date technologies.
To fully realize the benefits of a secure SD-WAN, your organization will require a thorough assessment. Contact WEI today to better understand the benefits of relying on Fortinet for an integrated, comprehensive, and secure SD-WAN solution.
Next Steps: Learn more about Fortinet cloud security options by downloading our latest tech brief, "Achieve Digital Acceleration With Adaptive Cloud Security."