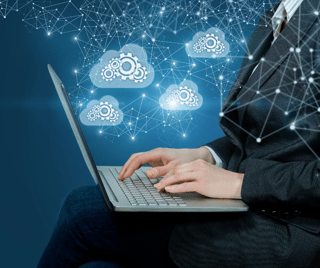 As customer preferences, business operations, and enterprise competition evolve, IT leaders must ensure their data storage solutions meet customer needs. For that reason, an enhanced security and data recovery strategy is required for thriving in today's fast-paced digital economy. One method to achieve this objective is implementing unified storage, which consolidates all data into a single, scalable platform and mitigates potential threats. This allows businesses to replace ineffective data storage systems and deploy a simplified, efficient solution that minimizes downtime and streamlines operations.
We've identified how important unified storage is to address data security threats and enable faster recovery time. However, integrating a comprehensive data storage solution is overwhelming without the necessary guidance and tools. So, how do you start implementing unified storage into your operations?
When considering the implementation of unified storage, organizations have two main options: a web-based sandbox or rolling out on-prem. Each approach offers distinct advantages, and businesses should choose the option that best aligns with specific needs and business objectives.
Web-Based Unified Storage With Nutanix Test Drive
The easier of the two options to implement unified storage is leveraging web-based sandboxes with supported functionality. This approach allows organizations to seamlessly integrate the advantages of the service into their current IT infrastructure with minimal preparation.
Nutanix offers a Test Drive feature that allows users to simulate the entire process of creating S3-compatible storage within a sandbox-like environment. This feature accurately reflects the organization's current data structure – including an option to present storage as iSCSI to physical machines – and provides access to powerful analytics and data management tools in real-time. Nutanix's software-as-a-service platform also offers improved reporting capabilities. The web-based sandbox approach reduces upfront costs and provides a risk-free environment for organizations to explore the benefits of unified storage.
If your team is looking for a way to articulate the functions and justify the investment for a storage solution, the Test Drive approach is an excellent choice to demonstrate the benefits of unified storage to upper management.
Rolling Out On-Prem
If your organization already knows the value of unified storage but wants to reduce license costs, another option is to adopt an on-premise solution. This approach combines the advantages of the service with simplified deployment and eliminates the need for additional virtual machines. However, it's important to note that you cannot run your usual VMs, including loading a SQL server.
Nutanix provides an on-premise implementation that enables enterprises to streamline their storage infrastructure, helping to cut back the costs associated with multiple systems and maintenance. This service leverages enterprise-grade features such as high availability, data deduplication, snapshots, and cloning to ensure the security and accessibility of stored data. This on-prem software also supports sharing and distribution among IT teams within a terabyte range, allowing them to explore the powerful features and capabilities of this service firsthand. This process provides stakeholders with a direct, tangible encounter with the benefits of unified storage solutions.
Final Thoughts
Nutanix stands out with its unwavering commitment to top-notch security measures, earning a place in WEI's list of impressive security and recovery technologies. With unbeatable customer support, businesses can expect fully secured data, maximum performance, and cost efficiency.
As a valued partner of Nutanix, WEI's team of experts provide the essential guidance and comprehensive assessment processes to ensure your enterprise's journey toward unified storage is a success. Contact us today to learn how Nutanix's innovative solutions empower your businesses to streamline operations, reduce costs, and achieve your IT security goals.