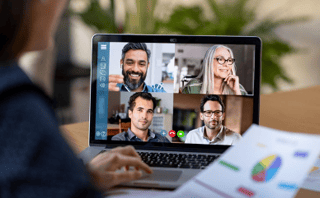 The COVID-19 pandemic has forever reshaped the way we work. At the onset of the pandemic, companies were forced to rapidly transition to working from home. A year and a half later, it appears remote working won't be fading away anytime soon. One recent study found that 87% of professionals hope to continue working from home, even after the pandemic is over.
As a result, the pandemic has also impacted talent recruitment and retention. Employers are having a difficult time attracting and retaining high-quality employees and a
majority of CEOs
are coming to the conclusion that a
hybrid model
of work is the most effective solution. With this model, employees can decide whether they want to work from home or work in the office.
However, once enterprises decide to utilize a hybrid work model, the next problem is ensuring users have the technology they need to be successful.
Keep reading to learn three reasons why investing in cutting-edge, modern technology will successfully guide your business forward in the new era of remote working.
1. Improves Employee Experience
Having up-to-date technology, like modern desktops and laptops, empowers the remote workforce to be productive day in and day out by making work easier and more enjoyable. Giving your team the right tools will allow them to reach their full potential by accessing resources and staying connected to their team members, whether they are working remotely or working in an office.
Additionally, having the right tools boosts employee retention. When you make a great first impression on new hires by offering the latest and greatest technology, their productivity is strong right away. This also strengthens the company culture and improves employee morale. When it comes down to it, offering a positive employee experience starts with providing team members the tools they need to do their work technology is a huge part of that.
2. Modern Technology Ensures Business Continuity
When you invest in modern technology, you get the peace of mind that comes with knowing your employees in the office and remote aren't being bogged down by slow and bothersome systems. Additionally, you don't have to worry about little things like hardware or software incompatibility and inconsistent internet connectivity.
Having modern technologies allows every employee to access internal resources and applications. If you're worried about unauthorized logins or if an employee accidentally downloads a virus, invest in modern PC lifecycle management platforms (MPCLM) that enable IT to manage machines remotely. You'll be able to ensure your remote workforce and in-office employees are always working productively when you invest in new desktops and laptops alongside modern IT tools to keep your business connected.
3. It Allows Your Remote Workforce To Innovate
Modern technologies offer a variety of benefits, but the most important by far is innovation.
By ensuring your remote workforce has the tools they need to succeed, you empower your team to reach their full potential at work every day. Through these modern technologies, you enable your team to have real-time connectivity and collaboration, which allows your team to brainstorm, test and implement new ideas faster than ever before.
This, in turn, speeds product development and reduces time to market, which offers your enterprise a competitive advantage in the marketplace. Additionally, it helps your team find meaning in their work and focus on high-value activities, further boosting engagement and output. Empowering remote employees is the key to success when growing your company and allowing them to have the technology to guide them is absolutely essential.
Dell's Technology Solutions Can Help You Find Success
It boils down to this: Choosing which desktop and laptop devices will power your operations is the most important decision you can make for your remote workforce. With Dell's wide range of models and excellent specifications you can't pick incorrectly. Partnering with an organization like WEI can also help with this decision and build a program that helps empower your remote employees.
Are You Ready To Transform Your Remote Workforce?
Dell is committed to helping enterprises transform the way they do business. To support this, innovation is at the forefront of all their solutions, enabling you to transform your infrastructure and accelerate the innovation you need to stay competitive. If you're ready to make the change now, contact WEI to begin building a custom solution for your business. We have expertise across all Dell systems and can help architect a custom solution to achieve your desired business outcomes.
NEXT STEPS: Download this executive brief to learn the TOP FIVE factors for driving digital innovation in your enterprise.