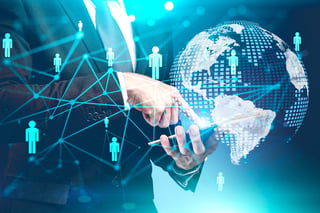 Judging by the vast increase in technology investments across the board, it is clear enterprises are not waiting to pursue their digital transformation goals. Whether it is AI, the hybrid cloud, or cybersecurity, these technology investments are being made by companies everywhere. It's worth noting, however, that we are also seeing increased investment in IT staff augmentation, too.
The push to a digital-first approach has created the opportunity for employees to work from anywhere. This rising trend toward favoring remote work has placed ever-growing demands on infrastructure and revealed additional needs and inadequacies around access, cybersecurity, backup/recovery, storage, solutions, skills, and staffing needs. With this focus on remote work, more than 40% of the IT workload is now projected to be handled externally, which explains why 82% of CIOs report IT staff augmentation to be a new priority for their enterprise.
Can IT Staff Augmentation Really Achieve Digital Transformation Goals?
In short, the answer is yes. Understanding your enterprise's specific personnel needs is critical to the success of your digital transformation initiatives, as digitalization isn't possible without the right expertise in place. Unfortunately, the competition for qualified IT talent who can meet business objectives makes acquiring and retaining key individuals highly challenging. This struggle makes IT staff augmentation a necessary and critical task.
Along with the competition for qualified employees, the increasing skills gap in IT makes the traditional approach of creating and filling full-time positions within an organization far too slow and reactionary. Because of these challenges, IT organizations are now actively diminishing their reliance on an internal full-time workforce and are instead looking outside their own enterprise for team members who can help with technology selection, implementation, integration, maintenance, and support.
IT staff augmentation as part of your digital transformation strategy provides an agile approach to hiring — one in which you can turn to outside vendors to supplement your internal IT teams with dedicated, specialized experts. Think of this approach as creating an on-demand workforce that quickly fills personnel voids within your own enterprise. Why should you consider IT staff augmentation? Reasons may include:
Increased labor capacity to meet a temporary workload
Access to specific and highly specialized skills
The creation of a bridge to hire as you assemble a permanent team
The ability to right-size your workforce for opportunities or obstacles
More and more, enterprises are placing a greater emphasis on IT staff augmentation to fill roles as they move forward with their digital transformation journey. The top three technology areas that are likely to see the greatest benefit from using outside vendors and consultants to fill roles within their enterprise are security, cloud, and emerging technologies. These categories traditionally have the toughest competition as they require a much higher level of expertise. However, other areas such as data analytics, networking, mobile technology, and data center development tools can also reap the rewards of implementing IT staff augmentation as part of their digital transformation strategy.
As technology evolves, the need for businesses to become more dynamic increases. These changes, while beneficial to your business, require new strategies utilizing emerging technologies and a skilled workforce to implement them. Gaining the experience of outside experts who have the solutions and personnel to reach your desired business goals is the answer that many enterprises are now turning to.
How Can WEI Help?
WEI is dedicated to developing long-lasting relationships, not only with our customers but with all the technology leaders in our vast partner ecosystem. While we have had tremendous success helping our customers navigate emerging technologies and their evolving business challenges, we're always looking toward the future. Our certified engineers are always learning to ensure we can do whatever it takes to see our customers succeed now and, in the time, to come. Contact us today if you are interested in IT staff augmentation solutions.
Next Steps: For a full look at how IT leaders are using IT staff augmentation, download our white paper, IT Leader's Digital Transformation Survey Update.