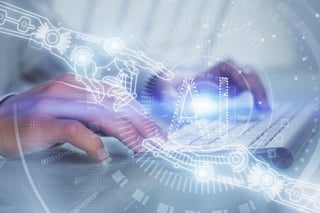 It is common practice today for artificial intelligence (AI) to be integrated throughout the components of the datacenter, but what if you could harness the power of AI for your enterprise personal computers (PC)s? Imagine a laptop that could learn how its assigned user actually works and adapt to it to optimize the user desktop experience. Now, that would be something! It also happens to be reality thanks to the world's first AI-based optimization software for workstations. AI-driving computing is available at the desktop level thanks to Dell's Precision Optimizer that learns and responds to the way each one of us works.
Dell Precision Optimizer AI Technology
Getting the most out of your digital workforce today is more important than ever in a hypercompetitive global world. Expanding efficiencies through small incremental steps throughout the workday can culminate in greater productivity on a surprising scale over time. The Dell Precision Optimizer platform does that by improving the critical areas of your PC such as application performance, battery runtime, and multimedia components. Here's a list of some of the AI-driven components that are constantly working for you:
ExpressResponse uses built-in AI to manage the speed and performance of your most utilized applications. It boosts application launch times and analyzes how each one consumes resources to identify optimization opportunities.
ExpressCharge continually regulates screen brightness, CPU performance, and Bluetooth resources to maximize your battery potential every day.
Context Sensing Technology that automatically detects your presence and wakes the system in time for you to log on. Of course, it also detects your exit as well and locks the PC to enforce enhanced security measures.
Waves NX Technology provides intelligent audio that can filter out background noise and prioritizes voice streams by adding brightness and clarity for conferencing and podcasting. Input audio signals are continually analyzed to ensure louder output levels without annoying feedback.
Each of these AI-driven enhancements culminate in experienced performance gains as high as 394%. By maximizing the performance of your PCs, you maximize the productivity and effectiveness of your digital workforce. The right tool in the right hands creates a powerful combination.

Expanding the Possibilities with AI, PCaaS
We live in extraordinary times when standard computer users have access to AI-driven technology to empower them. But here's something else to ponder – what if you could deploy and provision laptops to your remote employees regardless of where they were located without involving internal IT support personnel at all? In fact, let's take it a step further. What if your IT personnel never had to touch your enterprise PCs? Let's top that off with the ability to have a high-performance computer in the hands of all your employees with no upfront investments required and no hassles of ownership. It almost seems too good to be true!
Introducing PCaaS from Dell
It is true, however. Just as Dell now delivers the power of AI in its Precision Desktop series, Dell is revolutionizing the way in which organizations finance and support their enterprise computer fleets. Just like any "as a service" solution, Dell PCaaS releases the burden of ownership from you. Burdens such as financing the purchase of them, supporting them, updating them, securing them, and retiring them at the expiration of their life cycle. In exchange, you pay a predictable price each month for the culmination of services.
It starts with the direct receipt of a laptop by your employee regardless of location. The machines are provisioned with the exact software portfolio required by that designated user and it is ready for operation on day one. Most organizations implement a 4-5 year product cycle when it comes to PCs. That's understandable as it requires a substantial outlay for each refresh. Dell's PCaaS best device policy follows a three-year refresh cycle, which means that employees get faster access to technology as well as the responsiveness that new machines have out of the box.
Continued Support Throughout Post-Deployment
Once deployed, it is time for support where AI is utilized as well. Dell's AI-driven telemetry and predictive analytics help detect and resolve technical issues before they can become disruptive problems. When additional support is needed, subscribers get 24x7 priority access to Dell's ProSupport team that includes onsite visits the next business day. You can take it a level further by having Dell ProManage services become an extension of your own IT department. Let Dell-trained technicians handle day-to-day end user support and device management, which frees up your own personnel to focus on value added projects for the organization. Users can choose their preferred mode of assistance using the online service portal.
Because hardware issues are now handled by technicians that are specialized in the user's device, problems are solved faster, allowing work to presume more quickly. Even further, the advantages of a PCaaS program are evident at the end of the refresh cycle as the responsibility of disposal are saddled on Dell. No more paperwork or finding someone to cart off old hardware that no one seems to want anymore.
Once again, all these benefits culminate into real savings. According to a Forrester Total Economic Impact study commissioned by Dell, PCaaS customers experienced the following results:
A savings of 5.2 hours of support labor per device over its lifecycle.
A 20% reduction in device lifecycle costs.
Employees had use of devices 2 years newer than average.
Users received their devices faster by an average of five days.
Empower Your Enterprise With PCaaS. WEI can help.
PC as a Service is a whole new way of approaching the challenge of dealing with the product life cycles of your enterprise PCs. It might not seem conventional at first, but there's nothing conventional about the AI-driven Dell Precision Optimizer, either. If the combination of reduced costs, compressed product life cycles, and the latest empowering technology sounds good then find out more about Dell PCaaS by contacting WEI.
Next Steps: Discover the five critical ways modern technology enables remote work productivity by downloading our executive brief.