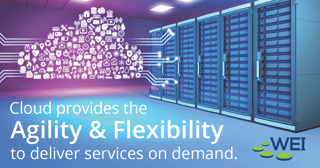 Greater levels of redundancy, scalability, and elasticity are a few of the many reasons why adopting a hybrid cloud solution can be advantageous for your company. We've recognized that many hybrid cloud benefits tend to align with an enterprise's digital transformation business objectives. With that being said, getting the most value out of this deployment is essential, which is why it is important to do plenty of research to avoid running into unexpected problems down the road. Three significant pitfalls that will be covered throughout this post that may arise throughout your deployment are:
Ignoring Hidden Costs
Overpaying for Storage
Treating all Cloud Providers the same
Read on to learn about three pitfalls that companies looking to deploy a hybrid cloud solution may encounter.
Ignoring Hidden Costs
Many times, providers will prominently promote how cheap it is to store seemingly infinite amounts of data in the cloud. This is when the background research is essential though, because these costs are often referred to as "cold storage." This form of storage is primarily designed for archive storage that isn't accessed often because it's designed for low cost, high capacity, and data durability needs, while leaving no extra room or capabilities for getting that information quickly.
That information can be accessed, but additional fees (often referred to as access or retrieval fees) typically arise, and unfortunately are not as cheap as storing that cold archive data. Transfer fees are also common place and are tied in along with those other fees. Expensive projects that aren't originally budgeted for cause nightmares within any organization, so it's a best practice to do your homework to find out about any additional fees that could be added on.
While providers are quick to advertise the low costs of storage on their cloud solutions, remember that accessing that data adds costs, including the need for backup capabilities, security encryption, and integration abilities. Ask for a detailed list of all associated costs to expect upfront and throughout various scenarios when your organization requires data access from the cloud.
Overpaying for Storage
When determining which package of storage capabilities fits your organization, understand the different storage formats and the intended purpose of each. Different types of data justify different storage formats, such as block, file, object, and tape. For instance, choosing block storage when only object cloud storage is necessary can be a costly mistake.
Another enticing offering is resource isolation, which ensures that while your data is being hosted in a multi-tenant environment, your data will not reside on any drives used by other customers. This is typically used for sensitive data and for data that has to comply with specific policies and regulations. While this is a great benefit if you wish to host sensitive data in a public cloud, there are significant costs associated with this level of security.
If the upfront costs are more expensive than you anticipated, question the credibility of this provider because the most dependable cloud providers do not do this- or perhaps that data should reside in an on premise private cloud.
Treating all Cloud Providers the same
Similarly to how no two organizations in a given industry are 100% alike, cloud providers vary just as much. The first step is to understand the services and support provided by potential cloud vendors. There is a big difference between those offering Platform as a Service and those offering Infrastructure as a Service, and how their support options align with your IT organization's needs.
While there are a number of public cloud providers that can operate within a hybrid model environment, your organization's requirements for data access and community can limit down the potential providers that align with your needs.
There are many factors to keep in mind when considering a hybrid cloud solution. Deploying and managing a hybrid cloud solution requires a diverse set of skills in cloud computing, cyber security, networking, and virtualization, as well as negotiation skills. It can be difficult to find someone with this vast array of skills. It can be even more difficult to find someone who has experience in migrating to and managing a hybrid cloud environment. It is for these reasons that finding an experienced IT solutions partner with a thorough understanding of the hybrid cloud and your organization's business and security requirements is essential for a successful hybrid cloud deployment.
Next Steps: For more information, contact WEI today and check out our white paper, "How Hybrid Cloud can launch your Digital Transformation."