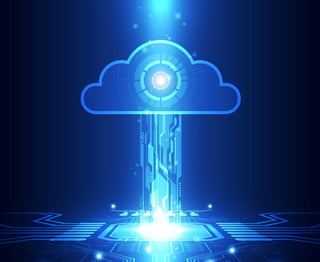 Enterprises are turning to a hybrid multi-cloud environment as a solution to the modern technology challenges they are faced with. However, if not expected, this shift can be met with challenges that cause dissatisfaction and contradict the value that can be gained from it.
Implementing modern enterprise technology such as a hybrid multi-cloud solution doesn't have to be difficult or expensive. It is a process you can roll out in stages, and by tackling the important uses first, getting started is easier to manage. Taking it one step at a time allows you to quickly establish a hybrid multi-cloud presence, build on your knowledge as you go, and keep costs in check. Keep reading to discover the three uses for hybrid multi-cloud in order of deployment.
Use One: Ensuring Business Continuity
The first, and possibly the most important, use for a hybrid multi-cloud solution is ensuring your enterprise's continuity of datacenter applications with a disaster recovery (DR)-to-cloud solution. A disaster recovery-to-cloud solution is a modern enterprise technology that satisfies distancing requirements, helps achieve SLAs, and simplifies your operations. There is no need for a secondary, geographically separated datacenter. This reduces your DR costs and complexity without sacrificing your enterprise's security.
The predictable, automated service restoration with a hybrid multi-cloud approach to DR minimizes downtime and reduces the overall impact a disaster can have on your enterprise. The ability to host DR operations on a public cloud — or multiple public clouds — allows you to avoid extended downtime due to localized disasters.
Use Two: On-Demand Elasticity
The next use for the hybrid multi-cloud is its ability to provide on-demand elasticity. During times of high demand for your enterprise's resources, I'm sure you, like most IT leaders, would like to use the cloud as an extension of your datacenter to support that fluctuation. But getting there isn't always easy as there are challenges that need to be addressed first. They include:
The need for multiple infrastructure management tools
Time-consuming, complex, networking systems and management
Inability to move applications as-is to the cloud
A consolidated software platform, such as what Nutanix provides, solves these challenges for private and public clouds, making the modern enterprise technology with a hybrid multi-cloud environment simple to deploy, use, and adapt. This allows you to size your datacenter for normal workloads and draws on the cloud during peak periods of use, providing you with the flexibility to scale up and scale down on your terms.
VIDEO: 3 Use Cases for Hybrid Multi-Cloud
If you are having difficulties watching this video, click here to view it in a new window.
Use Three: Lift And Shift
Building on the previous use, the ability to "lift and shift" falls right into place with a hybrid multi-cloud approach. There are a variety of reasons you may want to lift applications from your datacenters and shift them to the public cloud. The need to free up resources and ensure your enterprise's continuity of datacenter applications are just two reasons. If you have teams in different geographic regions, the cloud is the best way for them to access the information they need, which is done through lifting applications from the datacenter and shifting them to the cloud.
Nutanix And The Hybrid Multi-Cloud
Thanks to Nutanix's hybrid multi-cloud solutions, application migration is no longer a complicated and risky task. Migration to a public cloud typically requires specialized knowledge, skillsets, and unique tools for each cloud provider. Many applications must be re-platformed or re-architected to run efficiently on a public cloud, which is a time-consuming and costly process.
Because Nutanix provides the tools to run your workloads from a single control plane on any cloud with no application re-architecting, it enables your cloud to be more agile, more scalable, and — ultimately — more efficient and cost-effective. Nutanix reduces the cost of deploying and operating a hybrid multi-cloud environment while increasing the productivity of your team.
Next Steps: Contact us for a free 15-minute assessment of your current hybrid strategy and design. WEI's cloud experts can provide insightful analysis and expert perspectives on your current solutions.