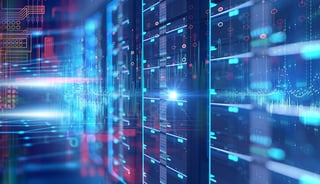 The common idiom, "Be as easy as one-two-three" is well embedded into our culture. It denotes that something is easy, simple, or intuitive enough to the point that it doesn't require a serious amount of skill or effort. In turn, having the capability to break complex projects into shorter, more digestible three-step processes is something that modern professionals desire.
Enter Juniper Networks and its acquisition of Apstra. Something that Juniper set out to achieve with their acquisition is taking on the mammoth task of creating a modernized data center and simplifying it. Juniper Apstra is a software-only, multi-vendor, intent-based networking solution that helps IT teams design and operate a modern day data center or campus fabric. Ultimately, it provides an organized means to help ensure that your project falls well within its projected window and meets your prescribed business objectives.
The Power of Intent-Based Networking
A lot of time is spent on advocating for the benefits of intent-based networking. Juniper Apstra helps translate business intent and technical objectives into policies and device configurations. This ensures that the data center is servicing the needs of your business. We are well past the era of technology wagging the tail of the dog. Business must drive technology today, and that starts with the data center. At WEI, we've talked a lot about the advantages of a network that is intent-based driven. Juniper Apstra is the only intent-based networking technology that is vendor agnostic for both hardware and device operating system. But you can't tell the full story of Apstra without mentioning how it breaks a data center project into incremental chunks comprised of these same three steps: create, validate, and deploy.
Everything Must be Validated
It is relatively easy to create something. The challenge is creating something that meets your initial expectations. If not, the creation process is wasted. That's where validation comes in. If your data center must match up with the objectives and needs of the business it supports, then every idea must be validated before it becomes implemented. For example, Apstra uses pre-condition validation to substantiate an initial request such as a new VLAN or security policy by examining all possible repercussions and whether the predicted result aligns with the initial intent.
Validation can also be extended into operations as well. For instance, is it okay to put a virtual host server into maintenance mode at this precise moment? Then we have post-condition validation, or what Apstra refers to as real-time expectations validation. Here, Apstra utilizes telemetry data and analytics to perform real-time validation checks to ensure that the proposed change achieved the desired result. In summary, every action affects the data center must first be validated before being deployed. It's then continually validated until an instance occurs that no longer matches the original intent for its creation, which constitutes a new change.
Rinse And Repeat
We are not alluding that designing, creating, or operating a data center is easy. Today's data centers are highly complex with many moving parts. And that's where the magic of Apstra is found – the solution breaks your project into standard phases with each phase comprised of specific activities. For instance, the end objective during the design phase is to create a blueprint. During the blueprint creation process, the necessary device and policy configurations are created automatically and then validated. Once validated, the designer can then commit them to the configuration at which time they are pushed out as an abstraction layer that is vendor neutral. Once the vendor models have been defined, Apstra will utilize zero-touch provisioning to configure all your devices while reducing the chance for human error.
The blueprint creation process is broken into multiple phases. You may want to begin by outlining your required leaf and spine switches and defining their ports. Next, you'll design your racks, detailing things such as subnet allocation schemes, layer 2 application segments and layer 3 routing domains. You can then make rack accommodations for your servers. Each individual rack can be saved as a template that can be used repeatedly to save time. Before a template is saved, Apstra reviews it to ensure that you have all ports accounted for and that every server has pre-conditioned connectivity. All of this is done using an easy-to-use graphical user interface that makes it simple to maneuver and manage.
The entire blueprint creation process is a constant cycle of create, validate, and deploy. This rinse and repeat process reduces the need for costly troubleshooting down the road once items are in place because everything has been properly tested beforehand. Think of Apstra as your test environment -- without the expense of creating one. Of course, there is bound to be a glitch or two, but the automated perpetual testing of the Apstra system will be detected and notify you.
Conclusion
When you build a data center, it is important to stay focused on the big picture. It is not about configuring devices, but rather configuring the entire fabric of your data center to ensure optimum operability. This is what Apstra does. It provides the disciplined simplicity that IT support teams yearn for today, and WEI can help your team realize this.
Next Steps: Whether you are responding to evolving workloads and performance needs or changing scalability and resiliency requirements, chances are your enterprise will undergo a data center migration at some point. Download our white paper, Simplifying Your Data Center Deployment And Management Strategy and learn:
The challenges of inevitable data center migrations

How to incrementally build and validate blueprints

How Juniper Apstra executes your intent

Apstra automated data center deployment service