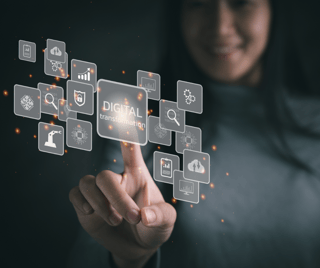 Enterprises face significant challenges when it comes to managing routine activities such as DDI (DNS, DHCP, IPAM), network reporting, and auditing efficiently and cost-effectively. Additionally, reliance on a handful of individuals with expertise in DDI management forces organizations to monopolize the valuable time of these experts, leaving less time for strategic projects.
While many businesses depend on Microsoft servers to provide DNS and DHCP services to ensure server functionality, these servers fall short when it comes to network-centric functions. These tools lack the ability to automate routine activities, provide centralized management, and simplify administrative duties for DDI. This is where augmenting your Microsoft server management tools with an IP Address Management (IPAM) automation comes is ideal. With DDI automation, IT organizations can scale up operations without investing in additional staff members, and senior-level engineering can better focus on other critical projects.
Adopting An Automated DNS, DHCP, And IPAM (DDI)
As organizations increasingly rely on technology to power business processes, there is a growing need to efficiently manage your DDI resources. Here are some compelling reasons why your enterprise should consider DDI automation:
1. Increased Productivity And Efficiency
Automating DDI eliminates the need for manual updates and reduces the potential for costly errors, allowing your IT team to focus on strategic initiatives.
In addition to completing regular maintenance tasks, automated DDI can troubleshoot and resolve network issues. With the help of this technology, network administrators will identify issues, as the system enables them to have complete and real-time visibility into the network infrastructure. This radically reduces the time required to resolve network issues.
2. Eliminate Configuration Errors
Manual configuration of DDI commonly leads to configuration errors, resulting in network downtime and user frustration. Automating these tedious and critical processes eliminates configuration errors by ensuring operations are consistent and accurate across the network.
3. Enhanced Security And Compliance
With a comprehensive DDI as part of your enterprise's arsenal, implementing role-based access controls is now possible. A quick scan of network utilization data in the IPAM system alerts IT administrators to the presence of unauthorized devices, thereby enabling them to limit illegal access and quickly respond to threats.
In the event of malicious activity, a centralized IPAM access provides complete visibility and control over network devices, guaranteeing that security policies are enforced and compliance requirements are consistently met within industry regulations.
4. Prepare For DNSSEC And IPV6
DNSSEC and IPV6 are crucial for ensuring the safety, security, and optimal performance of your organization's IT infrastructure. However, managing these technologies is challenging, especially for large businesses with complex networks.
Fortunately, DDI automation allows your organization to easily adapt to DNSSEC and IPV6 which facilitates the following:
Streamline DNSSEC deployment and management

Identify and mitigate security threats more quickly

Ensure accurate and timely DNS resolution

Simplify IP address allocation and tracking

IPV6 migration
Furthermore, your organization will be better prepared for scalability with the latest internet protocols and increasing demands of digital transformation.
Benefits Of Deploying Infoblox In A Microsoft-Based DNS/DHCP Environment
Wondering about improving the efficiency and security of your DNS/DHCP environment through DDI automation? This is where Infoblox NIOS enters the conversation.
Infoblox NIOS is the go-to network identity operating system, backed by two decades of customer satisfaction and continuous research and development. It is an innovative solution for Microsoft-based DNS/DHCP environments that provides various benefits such as:
Complete network infrastructure visibility

Real-time monitoring and troubleshooting

Centralized DDI management

Comprehensive support for DNSSEC and IPV6

Enhanced security and compliance

Reduced manual effort and operational costs
The latest NIOS 8.6.2, built on a reliable 8.x platform, caters to two critical priorities:
Multi-cloud integration

and automation

Deeper DDI visibility and control by providing centralized management access and ensuring configurations are consistent and accurate
Final Thoughts
With Infoblox NIOS 8.6.2, unifying multi-cloud integration and automation efforts is now realistic while also ramping up DDI visibility, user experience, and control. In partnership with Infoblox, WEI provides industry-proven advice and implements a comprehensive DDI solution for enterprises across all industries. Contact us today and access our free tech brief below on employing a modern, secure network.

Next steps: Legacy and multi-cloud complexities require DDI for reliable network infrastructure. Infoblox enables the importance of DNS, DHCP, and IPAM for network ops. Find out more in WEI's free tech brief, Powering The Hybrid Workplace With A Modern, Secure Network.