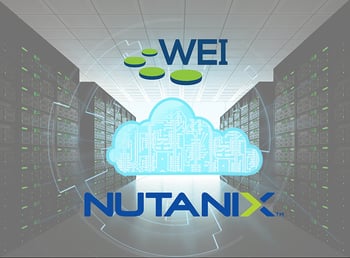 Let's talk about clusters and clouds. We often associate the word "cluster" with terms such as redundancy, resiliency or workload distribution. IT admins have traditionally turned to clustering bare metal systems such as firewall appliances, web servers, and virtual hosting platforms for years. When we consider the "cloud" we think about characteristics such as limitless scalability, elasticity, and simplicity. Of course, the infrastructure that supports these cloud environments is derived from clustered infrastructures, hidden underneath SaaS and IaaS platforms and are thus inaccessible to customers.
Extend Nutanix Clusters Into The Cloud
But what if you extend your clusters into the cloud? You could have then the best of both worlds. That is what Nutanix has delivered on, cloud-based clusters that reduce both the cost and complexity of today's most complicated hybrid networks. Think of their solution as a cluster on steroids. For instance:
In the same way that you are accustomed to firing up additional virtual machines within your on-premises HCI solution, you can now scale out, not only from a capacity perspective, but a geographical one as well. That's because you can burst added capacity across multiple clouds in order to meet unforeseen demands from multiple regions of the world.



What you giveth, you can also take back away. Idle machines cost money in an OPEX cloud model so Nutanix clusters let you spin down virtual machines and shrink capacities when demand fades in order to save money. Nutanix Clustering does one better than that, however. Not only can you hibernate VMs and their supporting resources, you can even hibernate the bare metal instances that support the cluster itself, saving you bare metal compute costs as well. Then simply resume these instances when they are needed again down the road. In other words, you aren't just right-sizing your VM capacity, you're also right-sizing your cluster infrastructure in real time as well. This is especially beneficial for dynamic workload environments, say for DevOps or seasonal-based businesses.
Watch how to hibernate VMs in this 2-minute demo from Nutanix
Nutanix cloud-based clusters take redundancy to the next level as well as you can leverage public clouds for high availability and disaster recovery even if your primary workloads reside on-premises. Your disaster ready infrastructure can reside in faraway geographic reasons to ensure ultimate redundancy.
Cloud Like, But Not Cloud Only
The Nutanix HCI stack is available on AWS and Azure bare metal instances, fully extending the power of existing on-premises Nutanix HCI clusters into the cloud. But that doesn't mean it is a cloud only solution. It also doesn't mean that you are reliant on any third parties as is the usual case with cloud-based services. Nor are you locked into any particular cloud infrastructure. Using the Prism Central management interface, internal IT remains in complete control of their own environment, calling the shots as they see fit. Admins can now manage any Nutanix node, VM or application within their ecosphere from a single pane of glass. This not only simplifies administration but also allows you to maximize your resources to your mission critical workloads rather than management tasks. All of this allows for seamless integration on a number of levels. Here are three Nutanix cluster use cases to consider:
It redefines the concept of "lift and shift" for applications. While lift and shift migrations might not involve a forklift, it often requires rearchitecting your applications in order to transition them to the cloud. By decoupling applications from their underlying platform, Nutanix gives you the ability to migrate on-premises applications to the cloud with minimal changes, thus saving you time and money.



Those applications that must be hosted by your on-premises Nutanix cluster can be modernized in cloud like fashion by allotting them direct access to native cloud services such as AI-based analytics and other advanced digital initiatives.
Not only are your applications completely portable now, so are your licenses. Current Nutanix customers can utilize existing Nutanix Capacity Based Licenses (CBL) and apply them to the cloud. Simply reduce or retire your existing on-premises clusters and apply them to the cloud. New customers hosting environments that have consistent workloads may want a commitment-based subscription plan while others may be better off with a pay-as-you-go structure.
A True Hybrid Cloud
There was a time when a network was comprised of a single data center. There was a time when an enterprise utilized a single cloud. Those days are long gone as businesses have evolved with the times, and so has Nutanix. HCI is no longer about on-premises hardware environments. Nutanix clusters are about incorporating all aspects of your hybrid cloud whether it be public or private clouds. Nutanix clusters operate in a borderless vacuum so that you can operate your applications and services in a hybrid estate that is void of confining perimeters. In the same way that the first Nutanix cluster solutions began busting up silos within the traditional data center, they're now doing the same for multi-cloud environments as well. Nutanix clusters offer you the freedom of the cloud in terms of performance and portability. Exciting, right? Maximize your hybrid cloud today by clustering everything into one extended platform.
NEXT STEPS: We've helped countless enterprise IT teams transform their business with Nutanix. Leverage our team's extensive knowledge by starting a conversation with us. Whether you're consider adopting Nutanix, or if you want to know how to get more value from your Nutanix environment, we're here to help. Contact us today.
---
Where are you in your journey to software defined infrastructure?
In this eBook you will learn about the benefits of software defining your infrastructure, why and how hyperconverged infrastructure (HCI) plays a critical role, and compare your journey to SDI against IDC's 7 essential steps for IT transformation. Click below to download your copy of the FREE eBook today!