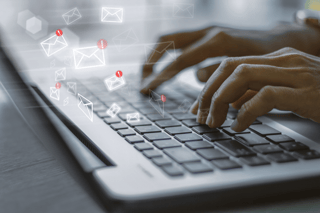 Email is a vital part of our lives, both for business and personal communications. However, this integral tool is increasingly vulnerable to malicious attacks by cybercriminals aiming to steal credentials, confidential data, or funds. To protect against these complex threats, companies need a robust multi-layered security measure in place when handling emails.
Fortunately, you can protect your business from the ever-present threat of cyber criminals by utilizing Fortinet's comprehensive email security solution, FortiMail. With its wide range of options and unmatched flexibility in deployment modes, it is an ideal choice for organizations or service providers to keep threats out while ensuring existing data remains safe.
Cloud-Based Email Security
Powered by the renowned FortiGuard Labs threat intelligence network, this solution provides multi-layered protection against spam, phishing attempts, malware infections, and zero-day threats. This offers your enterprise peace of mind knowing all emails are scanned for potential risks.
Fortinet also offers a variety of customizable solutions, from FortiMail appliances and virtual machines to FortiMail Cloud. These solutions adequately protect your organization's email, allowing you to choose the right deployment model and operation mode for your specific needs, whether on-premise or in the cloud.
Common Email Security Phishing Scams
Phishing is a malicious form of cyber-attacks that attempts to deceive users into giving away private information such as passwords, bank details, and credit card numbers. Cybercriminals have become increasingly advanced with their phishing attempts ranging from identity theft to malware installation. Here are a few common phishing scams to look out for:
Spear Phishing
Spear phishing is a highly targeted form of email attack in which hackers take the time to research and customize their messages with detailed personal information about an individual. This type of scam requires resources that can only be accessed by larger organizations, making it far more dangerous than traditional spam tactics.
Business Email Compromise (BEC)
BEC attacks are an important threat to be aware of for business email security. These use sophisticated techniques to impersonate senior executives and redirect payments into malicious accounts. By manipulating trust relationships between organizations and their customers or vendors, these attackers aim to steal funds from unsuspecting individuals.
Clone Phishing
This attack deceives victims into providing sensitive information. Scammers create fake emails which look legitimate and replace the original links or attachments with malicious versions to trick users. These fraudulent messages are often sent from addresses similar enough to the real sender's address, which makes the incorrect address appear valid at first glance.
Whaling Phishing
We've written about whaling in the past, but it has been a while since we touched on it. Primarily targeting employees at the senior level, whale phishing is where the scammer poses as a trusted party to encourage a user to open a malicious website or attachment. To be clear, a whaling attack is a spear phishing attack that focuses on a high-level manager or executive. Despite the differences, some security experts do not distinguish between spear phishing and whaling. We just did, so there's that.
How FortiMail Provides Protection
Wide-range Protection
FortiMail is your one-stop solution to combat email threats such as phishing, whaling, impersonation, and BEC attacks. It provides complete protection with flexible deployment options for on-premises, cloud, or hybrid environments – all backed by API support for Microsoft 365!
Email Security Fabric
FortiMail is an essential part of the Fortinet Security Fabric. It provides enhanced email protection through automated operations and workflow capabilities using shared Indicators of Compromise (IoC) across your IT environment to enable better intelligence-driven decisions that strengthen overall cybersecurity.
Consistent High Performance
Fortinet stands out among the competition, having been independently tested and proven to be one of the best email security vendors. This solution has an incredible AAA rating from SE Labs and a practically invincible 99.97% Spam Catch Rate from Virus Bulletin.
Powered By FortiGaurd Labs
Fortinet's FortiMail is powered by advanced threat intelligence and AI-powered Security Services like antivirus, virus outbreak protection, and anti-spam from the established security experts at FortiGuard Labs. In fact, FortiGaurd experts analyze threats and can protect against a staggering amount. This service enables:
319,000 phishing attempts blocked per minute.

595,000 malware programs neutralized per minute.

790,000 malicious website accesses blocked per minute.

30,000 spam events blocked per minute.
Conclusion
Cybercriminals constantly innovate their attack techniques to evade security measures, but Fortinet presents a comprehensive solution that consolidates and converges critical technologies. FortiMail is a single-vendor platform that is increasingly essential in the fight against modern cyber threats, as they become ever more sophisticated and difficult to detect.
If you're ready to implement FortiMail into your security efforts, contact WEI today. Our experts will help you identify which services are best suited for protecting your enterprise from potential email security threats.
Next Steps: Curious about what your business can do right now to make the most of your hybrid workforce? Download our Cloud Security Tech Brief to learn more about how you can improve the efficiency of your team.