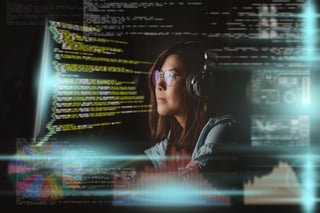 SD-WAN (software-defined wide area network) deployments are becoming increasingly common as businesses strive to improve their employee productivity and agility. However, many SD-WAN solutions on the market today are incomplete and do not provide the full range of benefits that businesses require. Issues like limited scalability, the lack of automation to simplify operations, lackluster cloud on-ramp, and cloud and SaaS integrations can result in a poor user experience that undermines the value of an SD-WAN deployment.
The reality is that dispersed workforces are here to stay. One study from Ladders projected that 25% of all professional jobs in North America will be remote by the end of 2022. So, if businesses want to provide an adequate environment for their remote workers, they will have to get a better handle on SD-WAN technologies.
The Future Of SD-WAN
While many enterprises see SD-WAN as the future of wide area networks, there are still areas where the technology needs to improve. It will also have to be adaptable in order to keep pace with rapid cloud adoption, the transition from regional to global deployments, business expansion, and the remote workforce.
Here are some of the main areas where SD-WAN solutions will need to grow in the coming years:
As the remote workforce continues to expand, SD-WAN solutions will need to include the ability to easily add or remove locations and users as needed, without requiring a complex IT infrastructure.

SD-WAN should simplify IT operations, not add to the complexity. Automation can help reduce or eliminate the need for manual tasks, such as configuration and provisioning. Additionally, SD-WAN should continue to offer a centralized and easily accessed control network where enterprise owners can adjust and monitor network activities.

Cloud On-Ramp And SaaS Integration.

SD-WAN should provide a seamless experience for users accessing cloud-based applications. It should also offer integration with popular cloud and SaaS platforms, such as Microsoft Office 365 and HubSpot

SD-WAN should include

built-in security

features to protect businesses from sophisticated cyberattacks. One suggestion IT professionals have made is to integrate next-generation firewalls (NGFWs) at the beginning of the process. This allows businesses to easily monitor and potentially quarantine suspicious activity.
By choosing a complete SD-WAN solution that offers these features, businesses can improve employee productivity, agility, and security.
Integrating Security Into SD-WAN
One of the biggest obstacles to wide-scale SD-WAN integration is the lack of unified operations that integrate networking and security features. As ransomware cases continue to rise around the country, many enterprises are understandably concerned about implementing a software-defined system.
We've compiled a few of the most important features industry professionals will need to keep in mind as we facilitate the transition from WAN to SD-WAN.
Consistent Protection.

Enterprises should not have to compromise performance to receive the protection they need. Security features will need to be built in. This includes features like secure sockets layer (SSL) and transport layer security (TLS) encrypted traffic inspection. In other words, SD-WAN solutions need to examine all traffic to ensure malware and other cyberthreats don't get through defenses.

Integrated Security.

It might be tempting to turn to standalone security solutions to protect SD-WAN devices. Unfortunately, this option is not optimized for the wide array of connectivity environments created by a dispersed workforce. The more effective solution will be to integrate security into each SD-WAN device. This allows networking, connectivity, and security functions to work cohesively, even in dynamic conditions.

Comprehensive Analytics.

A more secure SD-WAN solution must assist organizations in viewing the performance of their network and application in real-time and historically. To help facilitate this, SD-WAN technologies need to provide a single management console for networking and security. This will allow organizations to adjust their cybersecurity systems to improve the end experience for users and employees.
Keep in mind, these are just a few of the solutions IT professionals will need to focus on to make this transition as efficient and secure as possible. As with any emerging technology, the most important feature is flexibility.
Conclusion
SD-WAN is quickly becoming a critical piece of the enterprise networking puzzle as businesses strive to improve their employee productivity and agility. However, there are still ways SD-WAN can improve. To make sure SD-WAN solutions reach their full potential, IT professionals will need to adapt to the growing needs of enterprises and the increasing demand for cybersecurity.
Next Steps: Curious about what your business can do right now to make the most of your hybrid workforce? Download our Cloud Security Tech Brief to learn more about how you can improve the efficiency of your team.