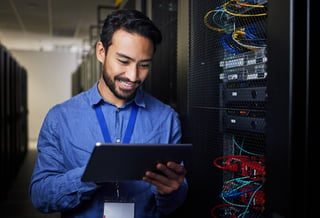 Enterprises are facing a growing skills IT gap that is threatening their abilities to effectively manage and modernize their existing IT infrastructures. While mainframe computing and COBOL-based applications continue to be phased out in favor of cloud-based infrastructure, many enterprises still rely on these sunset technologies to support their large operations. Even enterprises that are migrating from these legacy environments to modern deployments need IT professionals capable of supporting their full IT stacks.
Yet, hiring and retaining IT professionals with this diverse skill set is a rising challenge for IT leaders. The reality is, a growing number of experienced IT professionals are retiring every day, and next-generation IT talent is entering the workforce without the necessary knowledge to support legacy infrastructure as higher education institutions no longer prioritize these still-in-demand competencies. The result is a shrinking talent pipeline and serious skills gap that jeopardizes enterprises' abilities to successfully support legacy technology and complete digital transformations that drive business results. This leaves IT leaders straining to find new talent with legacy skills sets to replace their aging workforces.
WEI, an innovative technology solutions provider, offers a compelling solution that addresses this disparity. Read on to discover how the WEI Technical Apprenticeship For Diverse Candidates can help your organization bridge the widening skills gap.
The WEI Technical Apprenticeship for Diverse Candidates
WEI's innovative service helps IT leaders hire and develop early-career IT talent to bridge the skills and diversity gaps. Our four-pronged approach delivers a highly customized process that is aligned with your specific business objectives, IT needs, and corporate culture.
Step 1: Identify the Apprenticeship Plan and Your Expectations
Our team works closely with you to understand the role you need to fill, your technology stack, and your unique requirements. From there, we will design best-in-class training focused on both technical and soft skills.
Step 2: Hire the Apprentice
WEI's apprenticeship program identifies diverse, qualified individuals with strong theoretical backgrounds to create a talent pool for our clients. To help narrow the field of potential apprentices, all candidates are assessed against job suitability criteria specific to your business to ensure they align with your needs. Top candidates are presented to you, allowing your team to make the final decision.
Step 3: Deliver the Development Plan
WEI's specialized engineers work directly with the chosen apprentice over a series of months, offering in-depth training and hands-on experience within your IT environment to help the apprentice acquire the necessary technical skills. Throughout the apprenticeship, you will also interact with the candidate, providing essential mentorship that will help the apprentice become a valuable asset to your organization.
Step 4: Transfer Apprentice to Full-time Employment
At the conclusion of the apprenticeship, you will have the opportunity to hire the apprentice full time. Your organization's engagement with the candidate during the apprenticeship period offers the insight necessary to help you confidently make this decision. But, the decision is yours. There is no obligation to hire the apprentice full time.
The Value of the WEI Apprenticeship Service
To help our customers navigate emerging technologies and address their evolving business challenges, we continually provide our internal IT team with technical learning opportunities. Through our apprentice program, we are able to transfer this knowledge to fresh IT talent to help solve your technical staffing challenges and support your continued success.
Managing Entry-level Talent
Developing and managing early technical career talent is time-consuming, and in today's fast-paced IT landscape—where resources are limited, and employees are asked to do more with less—managing performance is often overlooked. Our apprenticeship program takes this task off your hands, utilizing our seasoned engineers to train your future workforce.
Strengthening Organizational Diversity in Technical Functions
Diversity, equity, and inclusion (DEI) has emerged as a critical focus for enterprises. Yet, finding diverse candidates with the appropriate qualifications can be challenging. As a minority-owned business, WEI understands the importance of inclusion and diversity of thought, gender, and ethnicity. Our apprenticeship service was purposefully designed to introduce diversity across your technical team.
Controlling Recruiting Costs
By finding upcoming talent for your organization, WEI helps you avoid expensive recruiting campaigns and time-consuming candidate interviews. This allows your IT team to remain focused on their core competencies to drive business success.
Addressing Shifting Employee Demographics
As if the recruiting process was not difficult enough, COVID-19 added a new wrinkle, decentralizing workforces from key metropolitan markets to disparate locations. This geographic diversity makes finding local talent even more challenging. WEI apprenticeship tackles this issue for you.
Bolstering Engagement and Retention
Retaining talent amidst an IT skills shortage can be challenging. However, according to one report, 94% of employees would remain more loyal to a company that invested in their learning. By providing new talent with personalized attention, the WEI apprenticeship model helps individuals build a career pathway, while improving your retention rates.
Offering Upskilling Opportunities That Enrich the Existing Workforce
Technology evolves rapidly, making it difficult for IT professionals to keep pace. The WEI apprenticeship offers upskilling opportunities for the apprentice that can strengthen your entire workforce and keep your business on the cutting edge.
Final Thoughts
As your organization continues to modernize your existing infrastructure, trust the WEI Technical Apprenticeship for Diverse Candidates to find and develop next-generation talent that can support your full IT stack and continually deliver business value.
Are you ready to learn more about the WEI Technical Apprenticeship for Diverse Candidates? Contact our team today.