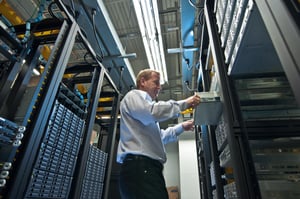 We all make mistakes. Some of them have consequences that are more lasting than others are. When it comes to choosing a data storage solution, you can make many common scale-out mistakes. These mistakes can turn your new data storage infrastructure into the gift that keeps on giving. One of the biggest challenges when purchasing data storage is predicting how much storage capacity you really need. It is the most fundamental of considerations. Failing to account for future data growth will leave you scrambling to purchase additional storage sooner than you want to. However, it is just as detrimental to pay for more storage than you need in the near term, especially if that extra space is never used. Overpaying for storage today ties up capital that can be better utilized investing in current opportunities that can return value to your organization.
Scale-up vs Scale-out storage
One of the reasons that people make the mistake of paying for far more storage than they need is that they do not understand the difference between scale-up and scale-out storage. Most IT admins are familiar with the concept of scale-up storage even if they do not recognize the term. Also referred to as vertical scaling, it has served as the traditional architecture for block and file storage platforms. The typical system consists of a pair of redundant controllers that manage multiple shelves of disks. As your storage needs grow, you simply purchase more shelves. The concept sounds simple. While purchasing additional shelves does provide access to new disk technology and price efficiencies, your I/O performance remains throttled by the technology and resources of the stagnant controllers. And there is the fact there is a hard limit to how many shelves the controllers can manage. Once that shelf threshold is reached, you must purchase a new complete controller/shelf package. Then, there comes the day when you must upgrade the system. That is when you bring in the forklift and migrate all of your data to the newer system.
Scale-out storage is known as horizontal scaling and utilizes network-attached storage architecture. Rather than utilizing a series of controller-based shelves, scale-out storage consists of a series of interdependent appliances with each one serving as a complete system by itself. At the same time, you can configure these modules to act as a single cluster. Much like hyperconverged infrastructure, you can add additional storage appliances like Lego blocks. Capacity of the cluster is automatically then expanded and new data is distributed. There is no need for separate controllers however as all of the required resources reside in the module itself. This means you get more than just added capacity. Additional RAM, CPU and networking resources can be leveraged to improve overall performance of the cluster.
Dell EMC Isilon
If the concept of scale-out storage sounds interesting, then you should become familiar with Dell EMC Storage. That is because according to IDC, Dell EMC Isilon is the industry's #1 family of scale-out network-attached storage systems according to IDC in 2019. Some of the available choice in the Isilon family include the following:
For those who want the high performance of an all flash array (AFA) there are the Isilon F800 and F810 models that feature up to 250K IOPS and up to 924 TB capacity per chassis
Those who want the agility of a hybrid architecture will want to learn more about the Isilon H series that offers both SSD and SATA drives within a dense chassis design that can save you 75 percent in rack space
For those seeking an archiving solution there is the Isilon A200 and A2000 units that are designed to safeguard data with encryption, data protection and efficiency at a lower cost
The right storage solution
Dell EMC has other storage architectures as well. If the need for speed is imperative, then Dell's SCM persistent storage class memory line of primary storage solutions may be perfect. The PowerMax 8000 holds the title of the fastest storage array and delivers end-to-end NVMe storage class memory. It features 4 PB of effective storage capacity and a blazing 350GB per second bandwidth. For those seeking a simple next generation midrange storage solution there is the Dell EMC Unity XT family, built from the ground up to deliver unified storage speed and efficiency. Next generation means that it is built for a multi-cloud world and comes in both AFA and hybrid architecture. In fact, Dell has a solution for just about every storage need, of any organization. What's more, Dell EMC has solutions specifically designed for industries such as healthcare and media as well as defined workloads such as SAP and AI.
Connections Matter
Your data storage arrays do not work in isolation however. Your arrays can have the fastest I/O speeds available but without the equitable network infrastructure connecting them, your system cannot achieve optimum performance. It is a common mistake. Cheap connections can breed performance problems. If you currently depend on SANs for your storage needs, then consider the line of Dell EMC Connectrix Directors and Switches. Connectrix directors and switches are designed to bring the best performance and scalability to your storage networks. Ensure high availability and support for Fibre Channel, FICON, FCiP and NVMe over Fabrics.
How WEI can help
Dell EMC has the storage solution to accommodate nearly any data strategy. Chances are that data strategy has changed quite a bit over the years and it may be time to revisit that strategy. Talk to the WEI data storage experts to ensure your data strategy and its supporting architecture will help drive your desired business outcomes. Storage can be complicated, confusing, and costly without the right strategy in place.
NEXT STEPS: Learn about these six scale-out storage mistakes to avoid in our video below.