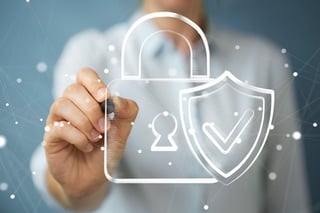 IT professionals understand the significance of a secure IT infrastructure, and one of WEI's longtime partners continues doing their part to help clients with cybersecurity. Dell's next-generation PowerEdge servers implement a seven-pillar approach to cyber resiliency, meeting the U.S. Department of Defense standards for Zero Trust. This ensures thorough verification of every aspect of your IT environment, providing cyber resiliency and safeguarding data against malicious attacks, offering peace of mind for not only your IT team, but the entire organization it supports.
What Is A Zero Trust Approach?
The Zero Trust model enables, well, a zero trust strategy to boost cyber resiliency. It is a more effective approach that presumes all network activity both inside and outside the company to be suspect, thus requiring verification. This represents a significant shift away from traditional security models that focused on the perimeter of the network and access within its walls.
A Seven-Pillar Approach To Cyber Resiliency
To ensure enterprises are cyber-secure with Zero Trust, Dell and Intel have integrated a seven-pillar cyber resiliency approach to their PowerEdge servers.
1. Device Security
This step requires securing all network access devices, including laptops, smartphones, and servers. The PowerEdge server lineup is equipped with silicon-based hardware secured component verification (SCV) that has cryptographically signed inventory and certificates to ensure secure self-verification. This guarantees hardware integrity during transit to your business's data center.
2. User Trust
The second pillar provides IT administrators with a secure way to deploy, update, and monitor servers using the Integrated Dell Remote Access Controller (iDRAC). iDRAC also offers multiple security enhancements, such as multi-factor authentication using RSA SecurID, integration with Active Directory and LDAP for single sign-on (SSO), and role-based access control and auditing.
3. Transport And Session Trust
The PowerEdge BMC (iDRAC) comes with a dedicated network module and options for SSH/TLS encryption and authentication of data between servers and iDRAC web user interface. iDRAC then facilitates remote management and monitors critical events using onboard sensors; when parameters go beyond their limits, the system sends alerts and log events in the dashboard.
4. Software Trust
Each server prioritizes software trust through proactive validation and security testing across the software lifecycle to minimize malware and coding vulnerabilities. The end-to-end verified boot ensures only authorized code runs on PowerEdge servers, while other features such as drift detection, secure UEFI boot capabilities and recovery for BIOS and operating systems.
5. Data Trust
Dell PowerEdge servers utilize self-encrypting drives for hardware-based encryption, central key management and protection against unauthorized access to lost or stolen systems. Each server can be combined with various technologies such as VMware® vSANTM encryption on VxRail which can be added to provide adequate data protection. Heightened protection is also achieved through the integration of data-at-rest encryption, Intel's Confidential Compute and Software Guard Extensions, and scalable key management.
6. Visibility And Analytics
Dell and Intel recognize the importance of data-based decision making and a system health assessment for your organization. This is why PowerEdge servers are ideal for IT professionals who desire real-time insights on firmware health through firmware drift detection, including unauthorized changes. Any detected changes allow the system to revert to a known secure state, while automated logging and alerts track change events for auditing and analysis.
7. Automation And Orchestration
Offering a comprehensive solution to businesses, Dell PowerEdge servers are equipped with OpenManage Enterprise, an application for managing and monitoring servers. This platform offers a holistic view of servers, storage, and other parts to fix misconfigurations for consistent security.
Final Thoughts
Automated security checks and continuous server monitoring offer additional protection against advanced threats to organizations. Dell's PowerEdge servers are an ideal choice for businesses due to their scalability, which allows them to adapt to changing demands.
If your organization's goal is cyber resiliency, WEI provides assistance and advice through the implementation of Dell PowerEdge servers. By working together with Dell, WEI provides businesses peace of mind knowing they have the most powerful and scalable security tools available to secure their IT infrastructure. Get in touch if you are ready to prioritize cyber resiliency.
Next Steps: Discover more about refreshing your servers and enhancing digital transformation by downloading our Dell tech brief, Accelerating IT Modernization With Server Refresh.