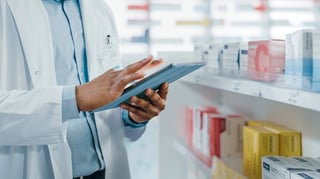 Due to no staffing, our pharmacy will be closed on Thursday, December 21, 2022.
For months, signs reading like this have been a frequent occurrence at retail pharmacies across the country. Amid a national shortage of pharmacists and technicians, pharmacy closures and reduced hours have become the new norm. As a result, pharmacies have extended wait times to fill prescriptions, had less availability for vaccines and patient consults, and have seen growing customer dissatisfaction.
The sad reality is that the shortage is likely to worsen. But technology can help retail pharmacies weather the talent shortage.
According to the Bureau of Labor Statistics, the U.S. will see at least a 2 percent decline in pharmacists over the next ten years. Fewer workers and the upsurge in online retailers and tech-enabled startups entering the healthcare delivery space will make competition for qualified talent fierce.
Can Technology Help Retail Pharmacies Weather the Talent Shortage?
The short answer is yes. While there is no one perfect solution to overcome a worker shortage, implementing new technologies can alleviate many issues created by a lack of employees. For example, the manufacturing industry has struggled to fill jobs for more than a decade due to the "great retirement" of baby boomers exiting the industry and a lack of interest among younger workers to enter the sector. In response, manufacturers have invested heavily in Robotic Process Automation (RPA) to reduce human involvement in repetitive and physically demanding tasks. The impact has been greater efficiencies, fewer injuries, and less quality issues on production lines.
While the pandemic ushered in many technology changes for retail pharmacies, more opportunities remain available.
According to a survey by Surescripts, nearly half of pharmacists (48%) reported an increase in technology use in the 18 months following the pandemic. The survey concluded, however, that "there still appears to be plenty of room for technology to improve everyday workflows and frustrating processes."
Five Areas Technology Can Make the Biggest Impact on Retail Pharmacies
Technology leaders feel a growing pressure to find technology solutions to combat their retail pharmacy's staffing issues. Digital transformation initiatives may be considered across the company, but which ones can significantly impact labor-related issues? WEI has implemented solutions to tackle five of retail pharmacies' most pressing needs, resulting in reduced capitalized costs, shortened time to market, minimized operational expenses, and an improved customer experience.
Reduce Prescription Fulfillment Delays
Prescription verification is a critical last step in the filling process that requires a pharmacist's sign-off. When faced with a shortage of pharmacists, stores may be forced to delay filling patient prescriptions for hours or even days—worsening patient dissatisfaction.
Fortunately, new virtual verification technologies can alleviate this issue. A pharmacist working miles away can be sent a high-resolution image of the medication to verify the prescription remotely. The highly secure technology solution complies with state laws and is a game changer for retail stores, helping prevent delays and gain efficiencies with existing staff.
Eliminate Medication Dispensing Errors
A technician (or a pharmacist if technicians are in short supply) spends considerable time manually processing hundreds of prescriptions daily. Unfortunately, as with many manual processes, human errors occur—a study in Patient Safety News reported that 68% of medication errors occur during administration.
With the introduction of digital drug dispensing systems (DDS), pharmacies have experienced zero errors and accelerated prescription processing. Per a study published in Innovations in Pharmacy, manual processing generated an average of 2.73 errors per month, while the DDS yielded zero errors. In addition, the digital system filled more prescriptions per month than staff members did by hand.
Such systems, which involve medication management software and medication dispensing machines, provide a dependable approach to medication management across locations. And these systems free up pharmacists to spend more time on profitable offerings, such as point-of-care testing, medication adherence services, and personal consultations.
Improve Medication Inventory Visibility
Another area ripe for improvement is medication inventory management. The timely availability of medications for patients directly impacts patient safety, satisfaction, and outcomes. Unfortunately, many stores rely on manual, error-prone methods, such as "eyeballing the bottle," to capture inventory levels—methods that can cost companies millions of dollars annually.
For pharmacies to successfully manage real-time prescription medication inventory and monitor prescription expirations, planning teams need the right tools and technology. Automated systems, including wireless digital scales that communicate with a company's inventory management system, are being utilized to support chain-wide inventory counts, forecasting, and replenishment.
Eliminate Manual Monitoring Activities
Pharmacists and pharmacy technicians have enough day-to-day tasks to attend to without the added responsibility of checking refrigeration temperatures. But to ensure a pharmacy remains CDC, VFC, and FDA compliant, these checks are required.
The introduction of cloud-based wireless temperature sensors enables remote temperature monitoring of vaccine and medication storage units and automated validation and data backups for compliance managers. Such systems are easily scalable to ensure compliance across multiple locations.
Streamlines Processes and Clerical Tasks
As noted above, pharmacists are spending more time handling paperwork and other clerical tasks. The widespread use of mobile technologies has created new opportunities for pharmacies to digitize many paper-based processes. This assistance is vital for teams that may be shorthanded or are busy retraining green personnel.
Retail Pharmacies Turn to Technology Partners to Support Digital Initiatives
Developing and implementing the right solutions is a massive undertaking for most in-house retail technology teams. By partnering with WEI, nationwide pharmacy retailers have a knowledgeable technology advisor who proves solutions work and delivers efficiently and accurately to go to market quicker. Our tailored solutions can:
Reduce capitalized costs: We standardize across locations by combining best-of-breed technology and award-winning expertise.
Shorten time to market: By providing effective material planning and inventory stocking strategies we enable fast rollouts. Our integrated logistics drive efficiency and accuracy.
Minimize operational expenses: Our solutions reduce in-store installation efforts and generate savings via custom integration, fulfillment, and delivery programs.
Improve customer experience: With innovative, scalable, agile response to evolving in-store technology.
Next Steps: Would any of the above-mentioned technologies help your nationwide pharmacy retailer locations? Let's talk. We have developed technology solutions that can be quickly implemented to solve these pressing challenges. Complete the form below to request a call from a member of our technology team.