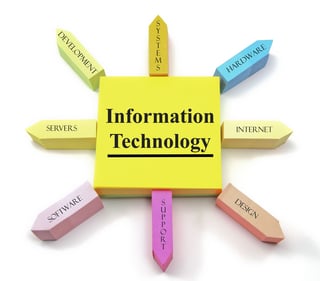 If you could start your company's IT strategy from scratch, is there anything you would do differently? We'd bet that if most organizations asked themselves this question, hybrid IT would be part of the ideal setup. Here are some of the ways your existing IT would benefit from an overhaul, if given the opportunity:
A clear vision for the role that business IT services would play in your organization
A focus on aligning IT innovation and expenditures with business objectives
Less reliance on proprietary hardware and software
The ability to host as many digital services in the cloud as possible
Fortunately, there is an inventive approach called hybrid IT. In fact, Gartner predicts that by 2020, hybrid infrastructure will be used by 90 percent of organizations. So what is it about hybrid IT that has captured the attention of business leaders today? Here are five reasons why your IT strategy should be hybrid.
Why Hybrid IT? Here are 5 Reasons
1. The Right Environment for Your Workload
Hybrid IT is made up of two worlds, one being the traditional on premise data center, and the other is comprised of one or more cloud vendor environments. Hybrid IT is also about choice; it is about examining the required resources, security requirements and performance needs of a designated workload in order to determine which world is a better fit.
Not all applications can function in the cloud and some resources must reside on premise due to security concerns or compliancy requirements. In other cases, mobile computing and IoT require services be hosted at the far edge of the enterprise within the cloud. Having the ability to deploy two separate environments for your workloads brings great flexibility to your enterprise.
2. Lower Cost Expenditures
Many times the cloud can host workloads at a lower cost than internal IT; by approaching all available options for new services in an impartial manner, you can find the best solution at the right price. Garter reports that hybrid IT technologies will play a key role in IT cost savings, reducing IT department costs by 25 percent between now and 2020. However, there may still be instances in which you will find that traditional IT may offer lower costs, so be sure to investigate all options.
3. Stronger Internal Security
If you're like most enterprises, security is a main concern with cloud computing. Large cloud vendors can offer security tools and infrastructure, but they may be unaffordable for many businesses. Hybrid IT can help with this and works to discourage shadow IT, the process in which business units within the company pursue IT alternatives from outside sources without formal approval from Internal IT; this opens up security vulnerabilities. By conveying to your users that corporate IT is open to solutions both inside and outside of the company, users will buy in, allowing internal IT to ensure that security and compliancy concerns are addressed.
4. Greater Innovation to Find the Best Solution
In order to succeed in today's globally competitive environment, leaders in both business and IT must be able to constantly innovate and develop ideas for their companies. Hybrid IT accomplishes this in two ways:
Solutions are not just limited to those within the organization. Instead, solutions are sought wherever necessary in order to find the most innovative solution.
IT professionals now serve as IT brokers rather than simply support technicians, working out the best solution for the business objective at hand.
5. Greater Data Center Resiliency and Dependability
Using hybrid IT, legacy applications can continue to reside on premise where they function best, while resources and services hosted in the cloud can enjoy unprecedented levels of failover and redundancy. Backups and disaster recovery possibilities are endless in the cloud, where physical geography is meaningless. Business IT services can be diverted between on premise and public cloud resources using simple unified interfaces.
Whether it is the digital transformation that is taking place across the globe or the ominous threat of unforeseen disruptors bringing down established companies and industries, business dynamics today demand a fresh approach to how we implement IT. Established companies may not be able to simply start over, but they can refocus their efforts and incorporate hybrid IT. Let WEI, a custom it solutions provider, assist you in your IT journey. For more information, download our white paper, "An Introduction to the New IT Approach Called Hybrid IT."