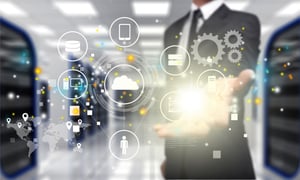 Hybrid IT and flash storage are an impressive match. With hybrid IT's structure combining a mixture of on and off premise resources, it delivers services in a more optimized, balanced and automated fashion, while flash storage has the ability to offer agility and impressive backup and disaster recovery capabilities. The two together can provide:
IT as a service (ITaaS)
Efficient use cloud applications
Mobility, virtualization, and infrastructure modernization
Lower costs and risk
When considering a flash storage solution to join with your
hybrid IT
, here are five reasons why HPE's Nimble Storage is what you're looking for.
5 Reasons to Choose Nimble for Your Hybrid IT
Flexibility and Hybrid Storage. When HPE purchased Nimble Storage, they didn't just acquire all-flash tech. Part of the acquisition also included Nimble hybrid storage, a predictive hybrid flash array. By using predictive analytics combined with hybrid flash performance, scalability, and availability, the Nimble Adaptive Flash array operates at an all-flash service level and storage system. It also has the ability to balance high performance at an "auto flash" service level while at the same time operating at a "minimal flash" service level, which gives your enterprise better optimization.
No Disruptions as You Scale and Grow. One of the beautiful aspects of Nimble architecture is its ability to scale-up seamlessly to grow the performance and capacity of an array without putting a halt on your enterprise. Attaching additional storage shelves allows Nimble to grow the capacity of a running system, while upgrades to the array's controller modules scale the overall performance. Nimble also has the ability to scale-out in one managed cluster without disrupting processes. It joins together up to four arrays to build a scale-out cluster, which achieves both linear performance and capacity scaling.
Backup and Secondary Workloads. If your enterprise is looking for a solution that allows you to put your backup data to use, Nimble provides you that option. As a single device that is optimized for secondary storage tasks such as backup and disaster recovery, its flash performance also allows you to do real work with the secondary data sets. The solution instantly backs up and recovers data from any primary storage, and it saves time and space with always-on duplication. Flash performance also allows data protection administrators to perform instant restores, validate backups and more.
Data Security and Disaster Recovery. With more data being used with less infrastructure, thanks to the ability to manage large workloads with optimized consolidation, it is extremely important secure that data from external threats. HPE's ability to mitigate risk in a hybrid IT environment is a major strength of its flash storage offerings. With its integrated data protection, risk is minimized in a hybrid IT environment through fully redundant hardware architecture and by using the speed of flash to protect workloads in case of a disaster.
Cloud Integration. Nimble Storage offers a range of "Predictive Flash" storage which offers simplicity and reliable performance, as well as cloud Essentially, it serves as a "flash fabric" across primary flash, secondary flash, and multi-cloud storage. The physical systems, together with public cloud storage service, provides a convenient way to establish and run the flexible data storage required by hybrid IT. This allows a free flow of data between onsite arrays and the cloud.
As tech continues to grow and evolve, the flexibility, adaptability, and optimization that flash storage solutions (such as Nimble) provide is going to be a necessity to keep up. Hybrid IT is about using a mixture of elements that work for your enterprise, an infrastructure solution that will no doubt be prominent for the foreseeable future. For these reasons, including the five listed above, hybrid and flash storage are a perfect match!
Still not sure you should invest in HPE's Nimble Storage Solution? Contact WEI today for a personalized look at your enterprise's hybrid IT strategy to find out how HPE Nimble can be used to your advantage.
Are you implementing a hybrid IT strategy? Are you running into challenges?
Check out our white paper, Overcoming the Challenges of Implementing a Hybrid IT Model, to best prepare for any unforeseen challenges.