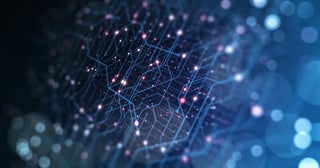 Ethernet VPN-Virtual Extensible LAN (EVPN-VXLAN) is a network virtualization technology that supports large enterprise and multi-tenant environments. While single-vendor, chassis-based technologies may suffice for most traditional campus network architectures, they are not agile enough to support the scalability and expanding needs of today's modern enterprises. EVPN-VXLAN/IP enables businesses to virtually connect geographically dispersed locations using Layer 2 (L2) bridging. It is ideal for data center interconnections, large campus environments, cloud-ready networks, and environments required to support substantially large numbers of endpoint devices.
What is EVPN-VXLAN?
Just as TCP/IP is a suite composed of the TCP and IP protocols, EVPN and VXLAN are separate components in themselves. EVPN serves as the control plane, using BPG extensions to transmit MAC address information. By moving the MAC learning process to the control plane, it avoids the flooding that is characteristic of traditional L2 networks in which the MAC tables must be constantly updated. It serves as a unifying overlay that accommodates resources from different data centers in much the same way that application containers float across virtual host servers.
VXLAN is an industry standard virtualization overlay protocol that expands the L2 network address space from 4,000 separate identities to 16 million. It is vendor neutral and switches that support it encapsulate L2 frames into L3 packets. VXLAN networks utilize spine-leaf switch architectures. Spine layer switches are used to pass traffic through leaf switches and are not VXLAN aware. On the other hand, leaf layer switches perform the VXLAN functionality and interconnect the spine to the array of endpoints. This dual layer topology is better suited for east-west traffic flows and provides increased redundancy as every leaf switch connects to every spine switch. It also negates the need for the Spanning Tree Protocol (STP) configuration while still preventing loops.
Advantages of EVPN-VXLAN

A network overlay approach is essential in the era of computer mobility. This sense of mobility isn't just present amongst client devices, but applications as well. Today's applications are deployed onto virtual machines or containers that can stretch across multiple locations. This necessitates the need for a seamless mobility model that is flexible enough to continually support communications between application endpoints. This is regardless of where they are at the time. Pertinent advantages of EVPN/VXLAN/IP include:
Scalability

:

EVPN/VXLAN/IP makes it easy to add core, distribution, and access

switches to the network without redesigning the underlaying network, allowing a campus fabric to significantly scale out to accommodate the influx of additional endpoints and traffic.

Flexibility

: The open standards-based architecture of

EVPN/VXLAN/IP ensures backwards and forwards interoperability, This makes it is easy to integrate into multiple networks.
Greater Security

: Granular network segmentation of devices along with the ability to create group-based security policies provide greater control of end-user traffic while limiting the attack radius of suspicious traffic.
Improved Performance and Resiliency

: Latency is reduced as every destination within the spine-leaf topology is never more than two hops away. Due to multiple active-active redundant links, the failure of a single spine or leaf will not disrupt the network.
Simplicity

: Operational complexity is reduced as IT can easily configure the same VLANs across multiple buildings and sites.
Juniper Apstra Automated Data Center Migration Service

Planning a migration to a large enterprise environment that utilizes EVPN-VXLAN/IP is a mammoth endeavor and implementing one for the first time instills a substantial learning curve. The good news is that Juniper Apstra Automated Data Center Deployment Service can make it easier regardless of your experience with network overlays. The service gives your IT team access to data center deployment experts who employ proven, best practice implementation methodologies and tools. The result is faster completion times, reduced deployment risks, and reduced costs. The Juniper Apstra service supports multiple migration scenarios:
Move an existing Juniper EVPN-VXLAN/IP fabric data center network to one that is managed with Juniper Apstra.
Upgrade from an existing legacy Juniper non-IP fabric data center to an EVPN-VXLAN/IP fabric data center managed with Juniper Apstra.
Transition an existing non-Juniper fabric production data center to a Juniper EVPN-VXLAN/IP fabric data center managed with Juniper.

Harnessing this level of expertise in your next project also ensures that your future network environment remains aligned with assigned priorities such as minimal downtime and secure but efficient traffic flows.
Conclusion
In the same way that EVPN/VXLAN/IP segments and simplifies even the largest of networks, Juniper Apstra breaks down your next fabric data center project into distinct phases that make help ensure that your project is completed in an orderly fashion. Because Juniper Apstra is an intent-based networking solution, your next data center is sure to align with the business objectives of your organization. Learn how Juniper and EVPN/VXLAN/IP can add scalability, simplicity, and security to your next data center fabric.
Next Steps: Whether you are responding to evolving workloads and performance needs or changing scalability and resiliency requirements, chances are your enterprise will undergo a data center migration at some point. Download our white paper, Simplifying Your Data Center Deployment And Management Strategy and learn:
The challenges of inevitable data center migrations
How to incrementally build and validate blueprints
How Juniper Apstra executes your intent
Apstra automated data center deployment service