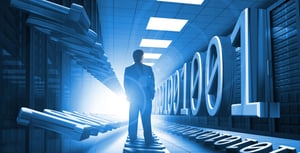 In order to prevail in the globally competitive economy today, companies are continually examining their processes, operations, and infrastructure to find areas which add little or no value to the business. For enterprises today, one of those areas is data protection. Think about your backups. Yes, they can potentially "save the day" in the event of a failed server, ransomware attack, or natural disaster. The problem of course is that your backups just sits there idle, indolently waiting for a bad day to occur. Your backups are part of an expensive insurance policy that consumes a lot of resources.
According to Gartner's 2017 Roadmap for Storage, it predicts that more than 80 percent of enterprise data will be stored in scale-out storage systems in enterprise and cloud data centers by 2021. This is a big increase from the 30 percent level of today. Just as the cloud has provided the necessary agility to so many facets of the datacenter today, it only makes sense that the cloud enabled data protection will be part of the digital transformation process.
What if your backups were productive?
Your backups contain your data, and your data has value. So what if you could extract that value and put it to use. This is one of the ideas behind Cohesity. Cohesity believes you should be able to utilize all of your data in productive ways, even data residing in backup form. With their Cohesity DataPlatform solution, you can utilize your protected data for such purposes as testing and development without having to restore it first. This includes data that resides both on premise and in the cloud. With Cohesity, your backups don't have to be dormant any longer.
#1 Solves secondary data problems with secondary storage solutions
Many companies have enough challenges managing their primary data, but what about secondary data? Secondary data consists of logs, analytics, system backups and archiving, file shares and media. Since it's not mission critical data, not a lot of emphasis is placed on the management of it. Often times, companies don't know what secondary data they have, only that they have a lot of it. In fact, secondary data can comprise up to 80 percent of today's enterprise storage needs. Designated secondary storage solutions, often consist of bulky background storage appliances that are fragmented throughout and typically inefficient. Cohesity sets out to transform secondary storage by consolidating these disjointed storage silos into a single hyperconverged, web-scale data platform that can be condensed into a unified view, giving you total control and visibility.
#2 Backups combat ransomware

Organizations that have experienced ransomware attacks know first hand that a backup system can be the last line of defense. Many a company has evaded this malware extortion by restoring its data back to it encrypted state. This is why cybercriminals often slow the encryption process in order to infect the backups as well and derail restore efforts. This is possible because traditional backup methodologies utilize simple changed block tracking. If a storage block is modified, so is the backup, and yes, encryption is an included modification. Cohesity recently built in ransomware protection into their latest DataPlatform. Not only does its system allow you to restore files and virtual machines at any point in time, its integrated security denies change requests from unauthorized accounts. It can also utilize multifactor authentication to confirm access attempts. Your initial snaps can also be saved in a read-only format which is then written to a separate file when additional data is backed up.
#3 Simplifies backup infrastructure
We toss the word 'legacy" around a lot in the IT industry today, but is there anything more legacy like than the typical backup infrastructure today? When you look under the hood of most datacenters, you find scattered data silos backed up my multiple point solutions supported by a variety of vendors. We inclusively refer to it as storage, but it is actually a patchwork of disparate functions that includes backup servers, tape archives, and media servers. All of this adds undue complexity to something that is supposed to be simple. These legacy systems dilute the benefits of cloud adaption and lifecycle upgrades disrupt day-to-day operations.
Cohesity simplifies enterprise data protection by converging backup, recovery, archiving, long term retention, replication and disaster recovery into a single, cloud–native platform. With Cohesity, the chains of proprietary hardware and dependency are broken as it utilizes software-defined architecture that delivers the speed and agility you seek in a modernized backup solution to help drive your digital transformation.
Experience total flexibility
The Cohesity Platform includes multi-hypervisor support and provisions for both physical and virtual server environments. It works with the major cloud solutions and integrates with Primary NAS vendors such as Isilon, NetApp, Pure Storage, Dell EMC, and others. It protects server workloads for VMware, Nutanix AHV, and Office 365. Whether it's physical, VMs, NAS, or clouds, Cohesity can be what you need it to be when it comes to your data protection needs. With Cohesity, you have more than just an insurance policy. You have a solution that adds value to organization.
Next Steps: Download our white paper, "Enterprise Storage Checkup," to see how to get the most value from your storage investment.