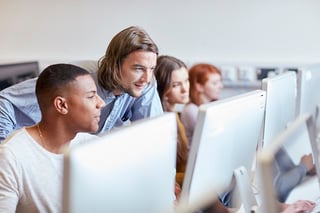 Back in 2016, Georgia State University decided to address the annual phenomenon known as "summer melt" in which a sizable number of students enrolled during the summer session would fail to enroll in the fall. The school implemented a chatbot project called Pounce that was designed to regularly connect with incoming students. This practice, commonly referred to as nudge technology by Gartner, reminds students of upcoming meetings and deadlines. Additionally, and in the interest of this blog article, nudge technology also uses AI to answer frequently asked questions that incoming students often have.
In its first four months, Pounce exchanged nearly 200,000 messages with students, a volume of work that equates to 10 full-time workers. Later, Pounce began monitoring student records to identify potential opportunities or issues that may impact their scholastic journey or educational performance. The project proved a resounding success as the dreaded summer melt was reduced by 21 percent. As an added bonus, first-generation students receiving the messages earned final grades about 11 points higher than their peers.
Colleges Competing For Fewer Students
According to the World Economic Forum, four million fewer Americans in 2022 enrolled in college compared to 2012. Colleges are also losing too many students who have already started their academic journey. A 2022 report showed that 32.9% of undergraduates fail to complete their degree program. But initiatives such as Pounce are working to reverse this trend, ensuring that students remain in school and earn their degree.
Students Value Technology-Driven Colleges
While technology can be used to effectively retain existing students, it can also be a great way to recruit new students. The desire for a personalized experience is as strong as ever. Two-year students enrolled in the 2021 fall semester desired more flexible learning options:
70% wanted more online courses.

57% desired hybrid course options.

63% wanted more digital materials and digital resources utilized in their courses.

59% wanted more technology for fully in-person courses.
Students Desire More Integrated Technology Options
Students want more than just digital curriculum resources. According to the 2021 Juniper Remote Workplace and Public Spaces Consumer Survey, 95% of surveyed consumers said they'd prefer to attend schools and public places that offer connected experiences over places that do not. In the Juniper Networks study, student age adults were asked about what digital experiences they valued:
40-45% were more likely to go congregate in public places that offer new wireless conveniences using their mobile devices.

45% much preferred the ability to automatically check-in without stopping at a check-in desk.

41% highly valued the ability to use contactless payment services at the register.
Whether its booking a computer in the library, getting a cup of coffee at the campus barista, or streaming a favorite movie in their dorm room, college students expect a seamless digital experience that stems from prior engagements with digital giants such as Meta, Netflix, and Google Maps.
How Juniper Networks Helps Higher Educational Institutions
To seamlessly connect your entire college campus and ensure that students benefit from the digital experience, a high-caliber IT network is required. To achieve this, many colleges and universities are turning to Juniper Network's location-enabled network solutions that utilize intelligent automation for easy management and greater resilience. Recent examples include the following:
The

University of Illinois Urbana-Champaign

is the #15 top public university in the country accord

ing to

S. News and World Report's America's Best Colleges

.

The school turned to Juniper to architect an ultra-fast agile network that would efficiently meet the exponential bandwidth needs of its campus. Juniper gave them the ability to automate routing configurations and validation tasks that improved reliability and network performance.
The

University of South Carolina

wanted to augment their network to achieve their new directives and business objectives. Juniper delivered a tenfold increase in network capacity that gave them the agility to move workloads between their on-prem location and the cloud. Juniper also delivered Wi-Fi infrastructure that blanketed their entire campus including high traffic public spaces.
The

University of New Haven

was saddled with a legacy layer 2 network that was unreliable and was no longer able to support their expanding academic programs. Juniper refreshed its connectivity for all 35 campus buildings as well as its data center without interruption while also simplifying their network management processes.
Juniper has dedicated a lot of resources to learning about the challenges of higher educational institutions and provide solutions to overcome them. These solutions include SND-enabled universal routing platforms and low latency 100Gbe switches that feature modular designs and automation.
These solutions are also backed by Marvis, the Juniper virtual assistant that utilizes natural language processing along with natural language understanding that allow it to communicate and empower human IT support teams. Juniper has the technology, the innovation, and the understanding of high education to help your organization meet the stringent demands of students and customers alike now, and into the future.
Next Steps: This white paper by WEI identifies how Juniper Networks' location-based networking helps higher education institutes overcome complex technology challenges. Readers will better identify:
Concerns of higher education IT professionals

Why network infrastructure is a differentiator

Challenge of improving remote experiences

Value of a virtual network assistant
Click to read Higher Education: Overcoming Technology Challenges With Location-based Networking Solutions