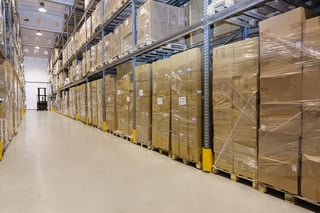 There seems to be a lot of hype these days within the IT industry. IT manufacturers herald "this time it's different," with every new generation of products. Each subsequent generation of products boasts the same claims such as lower support and maintenance costs, reduced TCO and greater ROI, and greater agility, flexibility and scalability in deployments and management. Newly introduced generational products in the IT industry often do deliver these promised benefits to some extent. However, the overwhelming amount of industry buzz often times makes it hard to sift through accurate claims concerning enterprise equipment. This is especially true concerning enterprise data storage.
Enterprise Data Storage Anxiety
The insatiable appetite for enterprise storage is clearly continuing as total capacity shipments were up 16.5% in the second quarter of 2017, resulting in a total of 65.3 exabytes according to IDC. Companies not only need more storage, but they need to access it faster. This trend is supported by the fact that the All Flash Array (AGA) market grew by 37.6% year over year within the same quarter, making it a $1.4 billion industry. Yet, as critical as your data is to your business, your storage infrastructure must still meet the TCO and ROI rules and requirements of business. IT managers are accustomed to product lifecycles of around 3-5 years. As a result, IT managers purchasing data center storage infrastructure worry about purchasing a product line that will be replaced in such a short product lifecycle, requiring a new costly generational upgrade and data migration.
What If:
What if someone could expand that lifecycle to 10 years, substantially increasing ROI?
What if your data storage infrastructure could grow in step with your fast growing business without the high cost of change adaption?
What if the software behind your storage solution was so simple to use it could eliminate costly steep learning curves?
What if you could leverage your purchased hardware for a decade, eliminating the threat of self-obsolescence?
Pure Storage is a Solution that Actually Gets Better with Age
When you buy a new car, its glory days start to fade as quickly as that new car smell, which is a main reason why its value drops as soon as you drive it off the lot. In similar fashion, the glory day performance ability of data storage architecture diminishes with time as well. While capacity may be increased, the maximum performance potential of the unit does not. What was once considered lightning fast eventually becomes associated with latency and diminished performance until it no longer meets enterprise requirements. At that point, another anxious decision is made for an all-new platform and the process begins yet again in order to regain that performance edge they once enjoyed.
Pure Storage is aiming to change the course of this perpetual process with their Evergreen Storage solution. The premise behind this new revolutionary approach to data storage acquisition is simple. Every three years, Pure Storage sends their customers a new set of data center controllers at no additional charge other than a three-year maintenance and support renewal. In doing so, Pure Storage is integrating the idea of SaaS cloud-like updating into on-premises hardware so that your data experience improves with age. On-premises hardware does not have to be rigid any longer and the implications of this new model are clearly evident.
Customers are no longer locked into the limitations of yesterday's technology, instead they have access to new advancements.
While your controllers perpetually upgrade every three years, your arrays remain the same, eliminating the need for time-consuming data migrations just to achieve better performance.
Customers enjoy technology refreshes without having to repurchase capacity
Lifecycle investment protection translates into greater ROI
With Evergreen Storage, innovation no longer has be disruptive. Uninterrupted innovation translates into uninterrupted value of your investment dollars. Of course, an extended lifecycle is not the reason you choose a data storage solution. You do so for resiliency, dependability, simplicity and performance. Forbes Magazine in a recent article stated that storage matters in 2018 more than in any recent year and that all flash arrays becoming mainstream are putting new players like Pure Storage on the map. Gartner recognizes their technology, naming them as a leader in their magic quadrant for four years running. In the end, you implement Pure Storage for its innovative technologies. The even better news is that with Evergreen Storage, you don't have to buy it over and over again. Maybe this time, it really is different.
Download the white paper Enterprise Storage Checkup
Get the most value from your enterprise storage investment with these common storage symptoms and diagnoses.