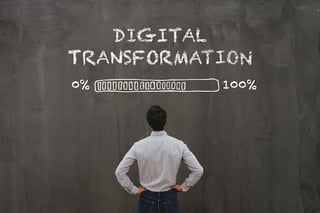 In 2018, our IT trends survey found slightly over half (53%) of companies had taken some type of action to support digital transformation (e.g., process, operational and/or technology changes). In 2021, we found 70% of companies had embarked on a digital transformation journey.
Given the events of 2020, the jump comes as no surprise. Most businesses across all industries quickly responded to a need to support a remote workforce and make in-person interactions safer. This often meant implementing new technologies on the fly and adapting far faster than ever before. Now that the dust has settled somewhat, businesses are grappling with new challenges and the need to improve processes and architectures that were hastily thrown together.
Cyberattacks and Hybrid Work Models Driving Initiatives
In response to growing cyberthreats and a shift toward long-term hybrid work models, companies are scrambling to update outdated security architectures and put more measures in place to secure data and systems.
In our latest IT Leaders Digital Transformation survey, we found that infrastructure demands was the top driver for investing more in digital transformation, followed by security/compliance concerns. Some of these initiatives will include adapting to zero-trust networks, strengthening backup/disaster recovery settings, and embracing cloud technology. To learn more, download the full report here.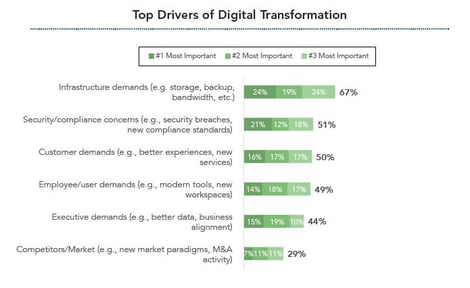 Source: IT Leaders Digital Transformation Update, 2021
Digital Transformation is a Mandate, Not a Choice
While the number of companies engaged in digital transformation has noticeably grown since our 2018 survey, nearly a third indicate having no digital-driven activities. Additionally, 13% admit they have no formal digital transformation plans. While we see laggards in some industries, particularly in B2B, those holdouts cannot hold out for long. Technology and business performance are now too tightly intertwined. To remain competitive and profitable in today's digital world, companies can no longer think of digital transformation as a strategic "yes/no" decision.

Getting started can be daunting. You may focus on incremental changes that are more achievable, such as initiatives to gain internal efficiencies, improve the customer experience or to optimize your products and services. However, focusing on point problems does not achieve the bigger gains that come by embedding technology into every aspect of the business.

Among IT leaders already on their transformation journeys, our survey revealed they consider hybrid cloud, artificial intelligence (AI) and Internet of Things (IoT) technologies most crucial to their digital technology strategy. Leaders were also asked how they will leverage these technologies and what challenges they expect. Details can be found in our free report.
Companies Turn to IT Solutions Providers for Support
An issue that may hinder some organizations from greater technology adoption is a lack of skilled IT staff. Faced with a persistent shortage of IT talent, particularly in the areas of cybersecurity, automation and cloud computing, companies have found it extremely difficult, if not impossible, to acquire and retain highly skilled employees.

In response, many are supplementing their IT staff with full- and part-time contract employees. When asked how their IT initiatives over the next two years would be handled, leaders reported that nearly half (43%) of their IT workloads would be handled externally by a vendor or consultant. A majority (70%) also indicated that augmenting their staff with outside help was very important to their organizations.

While respondents sought to gain expertise in security, cloud and other emerging technologies by using an IT solutions provider, they also indicated a need for help with key challenges. Top on the list was IT cost management, up 11 points from 2018.

Next Steps: Access to skilled IT staff, assistance with digital strategies and technology assessments, and implementation support are just a few of the ways that providers like WEI help support IT cost management initiatives. Is IT cost management an area you need help with? Contact us today to start a discussion.