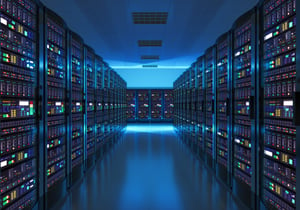 IDC completed a web survey involving 83 end users that have purchased and deployed Hewlett Packard Enterprise (HPE) SimpliVity solutions in their organizations. IDC also gathered qualitative data by conducting in-depth phone interviews with three customers using SimpliVity in production environments. This post aims to share the results of those surveys to show you what customers are saying first hand.
A history of data center costs
As with many technology changes, the primary motivation for upgrading a system is financially-based. Twenty years ago, IDC estimated that every dollar spent on physical servers would incur five cents of additional payment towards power, cooling, and general management. Ten years ago, those costs ballooned to nearly four dollars. Not surprisingly, the increase in operational spending began pushing companies to rethink long-standing practices associated with the purchasing and management of data center assets.
It's now been more than five years since organizations began looking into converged systems to help deal with important and transformational data center changes. The first generation of converged systems represent a consolidation of data center technologies that can be handled as though they were a single entity. While it cut the fat from data centers, the recent emergence of hyperconverged systems delivers the same benefits through a clustered, scale-out architecture built on x86-based servers that eliminate shared, networked storage systems and further converge storage and compute resources.
Who uses HPE SimpliVity?
Customers currently use HPE Simplivity to run approximately 71% of their workloads, which is a significant increase from just one year ago when it was only being used to run 59% of workloads.
Organizations with more than 500 employees use HPE Simplivity for 64% of their workloads, whereas organizations with less than 500 employees use it for approximately 81% of their workloads. This difference is understandable since smaller organizations typically have a smaller IT budget and have to be more selective when improving their IT strategies. Those numbers are expected to grow again over the next 12 months, but at a more moderate rate.
Do customers use HPE SimpliVity as part of their data security strategy?
Indeed, while enterprises are seeing realized improvements across all the areas the IDC survey asked about, the biggest rate of improvement occurred within backup and recovery or disaster recovery. 94 percent of customers use the built-in security features and 55 percent of HPE SimpliVity customers were able to retire the third-party software they previously used. Respondents reported HPE SimpliVity improved their backup and recovery or disaster recovery by an average of 55 percent when compared with their previous environment.
Noted improvements driven by HPE SimpliVity
Customers using HPE SimpliVity have noted several improvements in their organizational operations since adopting the technology. Those improvements include the following:
Improvements in backup and recovery/disaster recovery
Improved storage utilization
Faster infrastructure and application provisioning
Ability to easily scale
Reduced downtime and improved application availability
Improved utilization of compute resources
Improved IT staff productivity/reduced training required
Improved application performance
Reduced cost of data center facilities, power, and cooling
Fewer technology refresh cycles
Reduced capital spending
Faster time to market
How much time savings did customers experience?
HPE SimpliVity customers were asked how much time IT administrator and operations staffs spent on given tasks before and after deploying SimpliVity. By using SimpliVity, customers noticed their IT teams spent less time on:
Monitoring, troubleshooting and remediation
New service request and approval
Provisioning, patching, and configuration management
Backup recovery and disaster recovery
Vendor and internal meetings
IT Teams spent less time on nearly every task except for one: IT teams were able to double the amount of time they spend on innovation and new projects with HPE SimpliVity deployed.
Customer case studies
Throughout this study, three customers were interviewed that adopted HPE SimpliVity.
The first organization is a hospitality company in the United States that operates more than 10 resorts. For this company, investing in this technology resulted in significant benefits to backup processes and staff efficiency, with time spent on managing infrastructure reduced by 25%. They are now trying to convert to solely using SimpliVity for all backup needs,
The second company interviewed was a nonprofit biomedical research institution.
"We are overworked and understaffed, so how can we find a way for the staff to get more done? I see HCI as a way to do that. HPE SimpliVity is driving real operational simplicity."
- IDC Survey respondent from biomedical research institution
This organization previously had many specialists, but can now operate storage, ESXi, network, and other segments directly from vCenter. This customer noted that HPE SimpliVity allowed its developers to move into an agile workflow to better meet deadlines.
The third company interviewed was an insurance provider based in South Africa. This company was able to improve the time it spent on deploying infrastructure, configuring networking, provisioning storage, managing storage, and scaling resources by 40%. This customer also noted that the organization they work for experienced a 50-60% performance improvement in the development environment and a 30-40% performance improvement in the production environment.
Next steps:
IT departments must react quickly to new business initiatives that are designed to drive bottom-line improvements and generate new revenue streams. The HPE SimpliVity customers surveyed by IDC for this white paper align with this trend.
Dive deeper into customer experiences with HPE SimpliVity by downloading the full copy of this IDC white paper, "Datacenters Leverage HPE SimpliVity to Drive Operational Simplicity, Improved Performance, and other Critical Datacenter Benefits."