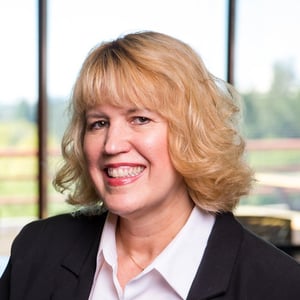 Wendy Pfeiffer routinely lands on lists of "The Most Powerful Women in Tech," and is currently the Chief Information Officer (CIO) of Nutanix, where she leads the global Information Technology team and functions that support the company's business operations and employees.
Prior to Nutanix, Pfeiffer led technology teams for industry-makers like GoPro, Yahoo!, Cisco Systems, Exodus Communications and Robert Half. She has more than two decades of playing a key role in envisioning and delivering business technologies for some of the largest companies in the tech sector.
In the press release announcing her hiring, Pfeiffer said, "Joining Nutanix is the culmination of my highest IT aspirations. I look forward to operating IT infrastructure at a thriving public company and to personally use Nutanix's revolutionary technologies on a day-to-day basis. My team and I are focused on ensuring Nutanix retains the nimble, responsive and boundless culture of a startup while keeping business operations and company data stable and secure. I am honored to join a company that values my contribution and look forward to helping mold the company's culture."
Building A Career
In this interview with Medium last year, Pfeiffer talked about developing a love for STEM (Science, Technology, Engineering and Math) as a junior in high school when, as a contest winner, she earned a place working for NASA one day each week. Her parents were so concerned that following the road toward a career in math or science would be a dead end, that she agreed to take secretarial classes on the side as something to fall back on.
As her career progressed into the '90s, Pfeiffer was at ground zero for the Silicon Valley tech boom, working with Cisco Systems and later Yahoo!, helping these companies to bring innovative technologies to market.
Supporting Women In Tech
Outside of her role as CIO at Nutanix, Pfeiffer also recently joined the board of directors of Girls In Tech (GIT), a global non-profit that works to put an end to gender inequality in high-tech industries and startups. GIT works towards this goal by educating and empowering women who are passionate about technology. They offer everything from coding courses and bootcamps to hackathons and startup competitions for all girls and women of all ages and professions.
A report released by LinkedIn earlier this year showed that women are less likely to apply for jobs, but more likely to receive a job offer. When asked about this fact by a reporter for The Enterprisers Project, Pfeiffer encouraged women in tech to aim as high as they can. "Apply to a job you don't think you can get. You never know when you'll be uniquely qualified for an opportunity, even if you don't perfectly fit the job description."
Pfeiffer, in particular, says she likes to hire outside the box. "I'll take a bet on a hire who might add something unique to my team that's not necessarily listed as a 'must have' in the description."
Pfeiffer also advises her fellow women in tech to stop thinking that imitation will lead to success. "As women, sometimes we think we must act like a man in order to get ahead. However, women have advantages in terms of their ability to multitask and operate on multiple levels. Women should be their authentic selves and use their own unique skills in order to achieve success."
Recently, for her role at Nutanix, Pfeiffer was nominated as a finalist for the 2019 Bay Area CIO of the year ORBIE award, competing against the CIOs from NIO, Lumentum, PureStorage and Dropbox. We'll be watching closely as the winners are announced in late September.
About Nutanix
Nutanix is a global leader in cloud software and hyperconverged infrastructure solutions, making infrastructure invisible so that IT can focus on the applications and services that power their business. Companies around the world use Nutanix Enterprise Cloud OS software to bring one-click application management and mobility across public, private and distributed edge clouds so they can run any application at any scale with a dramatically lower total cost of ownership. The result is organizations that can rapidly deliver a high-performance IT environment on demand, giving application owners a true cloud-like experience.
Ask WEI About Custom Cloud Solutions
If your enterprise is considering making the leap to the cloud, let the experts at WEI help. When it comes to delivering or obtaining the right set of cloud services, WEI routinely pairs industry best practices with top-flight technologies and its own brand of innovation. The result? The right cloud-based solution at just the right time for any enterprise. Contact us today to get started.