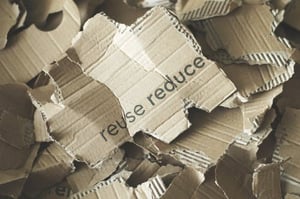 Over 50 million plastic bottles are thrown away every day in the United States and have truly become a staple in our everyday lives. But you don'y have to throw these plastic bottles away! Our number one recommendation would be to recycle those bottles, but have you thought about ways to reuse them? There are actually many different ways you can reuse and recycle the ordinary items you find in your household, and each time you do that is one less piece of plastic in your local landfill.
At WEI, we recognize our role as a social responsible company to reduce our carbon footprint, and all of our employees understand that we can each play a critical role in protecting the health of our planet. In observance of Earth Day, and in hopes that our ideas can spark new behaviors, we've provided some creative and useful ways to reduce, reuse, and recycle everyday household products.
Recycled Plastic Bottle Supply Cups

When you're done drinking a soda, juice, or water, don't throw away those bottles. Instead, cut them in half and store pencils, pens, crayons, markers, and so much more. You can jazz them up to bring to work, school, or just to keep at home by painting the bottles. You can even make the bottle into an on the go pencil case. This is an easy and beneficial way to help save the planet!


DIY Watering Can

It's true what they say: April showers do bring May flowers, but sometimes mother nature needs some help watering the plants. You can help by taking an empty large plastic jug and cutting multiple holes in the top and filling the jug up with water and voila! There you have it, your very own upcycled watering can.

Reuse your old 2 liter soda bottles by poking holes on one side of the bottle, and attaching the mouth of the bottle with a hose to have an instant cool down with your DIY sprinkler perfect for those hot summer days.

Old Wine Bottle Lights/Painted Vase

Turn your old wine bottles into beautiful light up décor by adding plain or colored holiday lights into any empty wine bottle. Check out the video below to learn how. Another idea for your empty wine bottles is to paint the bottle any way desired and use the bottle as a vase for all of your seasonal flowers or plants. Think about creating something for each holiday and/or gifting the decorated wine bottle for those hard-to-shop-for individuals.

DIY Bird Feeder
So many useful ways to recycle your old plastic bottles, so little time! Turn any size plastic bottle into a bird feeder by cutting several holes in the bottle to stick a wooden spool through so birds can land and feed from your feeder. Next, add bird feed into the top of the plastic bottle, then cover the top with the bottle cap. Lastly, add twine to the top of the bottle cap and hang wherever you get the most bird traffic in your yard!
Curious to know how WEI helps out the environment? Here are just a few of the ways WEI contributes…
Environment WEI shows its commitment to the environment through more than just the reduction in energy use.
Green Areas—WEI's CRS plan includes a commitment to designate 50% of its total property as Green Space. There are groomed areas established for employee use, and natural areas set aside for wetlands and conservation. Current usage ratios exceed goal plans as WEI's green areas comprise 72% of available space.
Packaging and Materials—WEI utilizes "green" packaging materials whenever possible. This includes using recycled rolled packing paper instead of Styrofoam products which are bad for the environment both through production and as a waste product. Additionally all cardboard and paper products are reused or recycled. WEI offers removal and recycling of cardboard products to our customers during the delivery process.
Recycling—WEI employees recycle all plastic, glass, and paper products utilizing local single stream recyclers. Single stream recycling has been shown to more than double recycling adoption.
Next Steps: To learn more about WEI's dedication to being environmentally friendly and other goals and visions, head over to our corporate responsibility page. You can also contact us to learn more about how to join HPE's Circular Economy and take advantage of their pre-owned solutions.