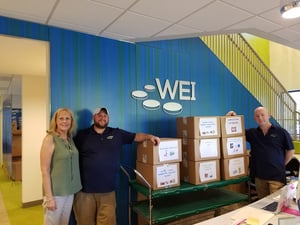 WEI prides itself on giving back to the community, and recognizes that the community service opportunities our employees and their families participate in are a vital part of being a successful business.
At the end of every summer, WEI helps prepare the students of Bellesini Academy to succeed in the classroom with our Back-To-School Drive. This annual event is dedicated to collecting supplies to make sure all students have the proper tools needed to achieve their full potential in the classroom. This year WEI collected and packed up over 17,000 items including:
Loose leaf and graph paper
Notebooks and notecards
Pens and Pencils
Calculators, compasses, protractors, and rulers
Art supplies
Scissors
Tissues and disinfection wipes
Our team was also proud to donate 8 boxes of books from the student's Amazon Wish List, further supporting their ambitions to grow, learn, and develop good reading habits as young readers.
WEI works closely with Bellesini Academy to help meet student needs throughout the year. Each winter we run a clothing drive for boots, hats, and mittens; and our employees jump at the opportunity to volunteer as a judge for the academy's annual science fair. WEI also collectively makes financial contributions for college scholarships for qualifying students.
About Bellesini Academy
Bellesini Academy is a Catholic middle school committed to providing quality scholarship education to young men and women of limited financial means living in Lawrence, Massachusetts. The academy's name honors Stephen Bellesini, a 19th century friar who devoted many years to the education of young boys from disadvantaged families in Italy.
The academy prides itself on breaking the cycle of poverty by providing at-risk and inner-city students with the same advantages they might benefit from at suburban schools including:
Challenging academic curriculum taught in small classes by highly qualified teachers
A safe and secure school environment
After-school activities that help students develop non-academic talents and interests
A supervised study environment in which to complete homework
Quality summer programs that help maintain academic gains in a fun, camp-like environment
The academy places 100 percent of its graduates in private college preparatory high schools on scholarships and continues to support graduates through their high school and college careers to ensure their continued success. Although just 51 percent of low-income students enroll in a two or four-year college, 88 percent of Bellesini alumni have gone on to attend college – a rate comparable with that of high-income students.
WEI's Dedication To Community Service
WEI StepsUP is the official name of our Corporate Responsibility and Sustainability program, which is dedicated to community service and supports many charities. For more than 30 years various charities have been supported including those fighting diseases, hunger, and poverty. WEI annually conducts a winter food drive, which provides more than 3,000 meals for a the Lazarus House Soup Kitchen and Shelter. We further support the youth in our community by participating in the End 68 Hours of Hunger Food Drive to fight food insecurity for the children of Salem, NH. as well as hundreds of dollars in gift cards. Additionally, this summer's "Carepacks for Soldiers" barbecue with the Pease Greeters saw volunteers packing over 80 care packages with non-perishable snacks and personal care items. Each carepack also included a handmade card from the children of our employees personally thanking the soldiers for their service.
Do You Have A Community Service Project For WEI?
WEI is always looking for new and interesting ways to get involved in our community. If you or your organization have an upcoming community service project that needs volunteers, reach out today . We believe that when you invest your time in the community, you invest in a happier, healthier, brighter future for the whole community.