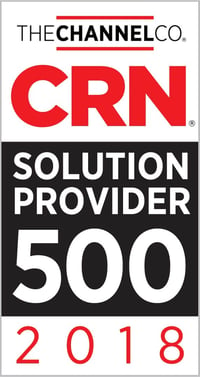 As an IT solutions provider dedicated to innovation and solving our clients' technology challenges, we are pleased to announce our recent recognition by CRN on the 2018 Solution Provider 500 (SP500) list; WEI was ranked at #109 on the prestigious list.
The Solution Provider 500 is CRN's predominant channel partner award list, serving as the industry standard for recognition of the most successful solution provider companies in the channel since 1995. The complete list will be published on CRN.com, making it readily available to vendors seeking out top solution providers to partner with.
"We are honored to be named to CRN's distinguished list of 500 solution providers," said WEI President Belisario Rosas. "To make this list is an impressive accomplishment and one which I attribute to my dedicated team members and to the success and trust of our valued clients and customers."
"CRN's Solution Provider 500 list spotlights the North American IT channel partner organizations that have earned the highest revenue over the past year, providing a valuable resource to vendors looking for top solution providers to partner with," said Bob Skelley, CEO of The Channel Company. "The companies on this year's list represent an incredible, combined revenue of $320 billion, a sum that attests to their success in staying ahead of rapidly changing market demands. We extend our sincerest congratulations to each of these top-performing solution providers and look forward to their future pursuits and successes."
Our placement on the Solution Provider 500 list also qualifies us for future awards like the CRN Triple Crown Award, which The complete 2018 Solution Provider 500 list will be available online at www.crn.com/sp500 and a sample of the list is featured in the June issue of CRN Magazine.
As an expert in business technology improvement, we help our clients optimize their IT infrastructure and work more efficiently. Our sales and technical teams remain focused on providing unwavering support to your enterprise throughout all steps of an IT project. For more information about our solutions, please visit www.WEI.com. To learn more about The Channel Company, visit www.TheChannelCo.com.
Next Steps: Read the press release about this honor.