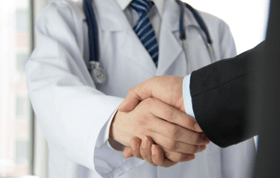 At WEI, we pride ourselves on fostering strong client partnerships and truly believe that their success is our success. Our company was recently featured in an article by CVS Health, a longtime partner of WEI, for our assistance with the CVS Health and Target integration. We began working with CVS Health more than five years ago, when we were hired to replace keyboards and memory DIMMS in all of their 7,000 pharmacies.
Now, we are a trusted primary partner and vendor, and our relationship has evolved into several new collaborative and custom IT solutions. The article, written by Tanya Isley, details why WEI, Target and CVS Health make such a great team and how the partnership has benefited all parties. Read the article here.
Retail Data Center in a Box
Get a behind the scenes look at this monumental project in this WEI and CVS Health success story video below.
"We took the time to really understand how these keyboards were used in the stores, how the pharmacists were interacting with their application and some of the special key functions that were involved," said Dave Fafel, our chief architect. "We were able to come up with a unique solution that CVS Health adopted. It not only reduced costs tremendously but actually enhanced the way that pharmacists used their keyboards to interact with their application."
According to Lynda Egan, Senior Manager, IT Strategic Sourcing and Supplier Management for CVS Health, "We selected WEI because the company continues to deliver meaningful cost savings to the company, as well as innovative solutions that move our business forward. They rolled out tablets to all the stores, which is another example of the contributions they have made recently. Now, with the Target integration, WEI continues to deliver great work, on time, on budget and with flawless execution."
This isn't the first time CVS Health has honored WEI for our excellent work developing custom IT solutions; they recently named us the 2015 Innovator of the Year.
Thank you to CVS Health for recognizing our hard work! We are honored to be your partner and look forward to an ongoing relationship fueled by innovation and creative problem solving. For more information about our work with CVS Health and the Innovator of the Year award, see the video below! If you'd like to learn more about our custom IT solutions, please contact us today.
A Partnership Built on Innovation and Collaboration
A WEI and CVS Health story