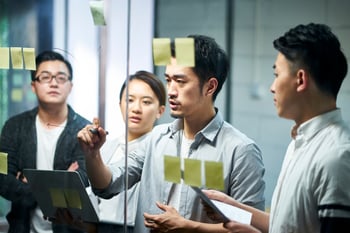 At WEI, we are passionate about solving technology challenges. Through developing custom procurement solutions, we empower your organization to unlock new data and make business decisions that encourage innovation. To ensure all items and services are properly acquired so they can be implemented successfully and efficiently, it's important to have solidified procurement processes.
We recently partnered with the University of Massachusetts (UMASS) to develop a procurement solution that standardizes processes, technology, and procedures across the Lowell campus. In this article, we discuss the challenges UMASS faced, how we supported them, and the outcome of the solution.
The Situation
The UMASS mission is "to provide an affordable and accessible education of high quality and to conduct programs of research and public service that advance knowledge and improve the lives of the people of the Commonwealth, the nation and the world." In support of their mission, WEI and UMASS partnered to unify procurement drive change "unlock value beyond price," specifically to identify and secure devices being used by students, faculty, and staff at the Lowell campus.
Previously, WEI worked with the UMASS Boston campus to create a Unified Procurement Team to standardize costs, contracts with vendors, and the entire UMASS IT system. Wanting to further adhere to their mission of becoming a digital and data-driven organization, leveraging technology on its Lowell campus was the obvious decision for UMASS.
The newly appointed CPO for UMASS, David Cho, wanted to unite the university's procurement function and processes under the Unified Procurement Services Team, and enact a new strategy to work more closely with suppliers and extract more value, a philosophy that aligns with WEI. Our partnership with UMASS was strengthened by creating another procurement organization for the Lowell campus.
How WEI Helped
At WEI, we're more than an IT solution supplier. When it comes to leveraging technology, we believe in empowering organizations with new standardized procedures. In the partnership with UMASS, we established a procurement organization across the Lowell campus that unlocks technology and data through a new uniform process.
WEI's VP of Technology Solutions, Greg LaBrie, stated: "The process allows students and faculty to go from campus to campus and still benefit from the same technology. This makes a big difference to their people, and it also provides data to go back to the procurement organization about the devices, people, and how they're leveraging the environment."
We make sure the procurement organization meets regularly to discuss UMASS' vision and solutions, and WEI provides consultation to ensure the best outcome, as well as address the changing needs in the organization, guaranteeing business initiatives, goals, and budgets are being met. Todd Grubbs, COO at WEI, stated: "We've created a regular cadence to meet with the procurement team and have a vision going forward. Now we're discussing price, lead times, strategy, and vision, all at the same time, and that's how UMASS is going to acquire the technology solutions they're looking for."
Procurement Solutions Improve Business Decisions
WEI welcomes opportunities to create and establish an efficient procurement organization for your enterprise. Our partnership with UMASS allows us to grow our understanding of how unlocking value like data and implementing processes are needed for your organization. We believe through procurement team organization you are given the tools you need to make successful and efficient business decisions that drive your enterprise forward.
WEI has welcomed opportunities like this on other occasions to find the perfect solution to solve our customers' business challenges. Watch the video in the link below to learn more about how WEI worked to create a customized solution to unify procurement and drive real change for the university.