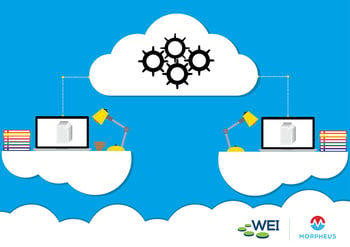 So, what is the key? In one word – Morpheus. In Greco-Roman mythology, Morpheus is one of the sons of Hypnos, the god of sleep and dreams. In the era of the hybrid cloud in which business never sleeps, there is a new Morpheus—Morpheus Data. Morpheus Data is a next-generation hybrid cloud management and application infrastructure automation engine. It's a completely agnostic cloud management platform which really means it provides you the tools to get internal IT over the finish line in your quest to attain greater agility, control, efficiency and most of all speed across your entire IT estate.
The Need for Automation
IT touches nearly every department and aspect of the organization today. While IT has brought rampant innovation, it often times remains a bottleneck as legacy approaches can't keep up with demand for digital services. As a result, many IT departments find themselves contending with Shadow IT as internal business units seek other alternatives to get the job done faster. While the objective of speedier deployments may be achieved in the short term, shadow IT reduces visibility and control for internal IT, not to mention the potential security holes and cost overruns it tends to create.
In a recent Gartner survey involving nearly 2,000 CIOs, 76 percent said that the demand for new digital products and services increased in 2020. The kicker was that 83 percent project it will increase in 2021. Said one survey respondent, "There is no going back to the way business used to be." This means that businesses must further scale their IT infrastructure and Operations so that new services can be deployed across any platform within their hybrid architectures as quickly as possible. This can only be achieved by eliminating manual tasks and vastly reducing the number of hand-offs across the workstream that adds unnecessary deadtime to new releases.
These lofty goals can only be achieved through new automation practices and the utilization of self-service provisioning for DevOps and IT engineers. In our recent Tech Brief titled, "How to Future-Proof your Hybrid Cloud Strategy," we explain how these new methodologies can ensure you fulfill the next step of your company's digital evolution. We also discuss the rapid speed at which companies are embracing these new approaches, as well as the reasons why so many will fail in the end without the right tools and skills.
Morpheus Automation
Gartner describes the shared self-service platform as a "digital toolbox" of Infrastructure and Operations capabilities. According to a recent report by Gartner concerning Agile Infrastructure Platforms, 75 percent of large enterprises will build self-service infrastructure platforms to enable rapid product innovation. Now consider that only 15 percent of large enterprises utilized them in 2020. How will organizations possibly achieve these dreams?
Morpheus Data may not be the god of dreams, but it provides the tools to make dreams of automation and self-service provisioning become a reality. With Morpheus, internal IT can enable a self-service provisioning portal in the course of an hour and put it into service within a day. Admins can provision even complex hybrid cloud applications with the click of a mouse or a single line of code. One way in which Morpheus is able to accelerate deployments in rapid fashion is through the use of an instance catalog that provides on-demand delivery of operating systems, databases, web servers, virtual machines, containers and even bare metal.
In fact, Morpheus integrates with over 90 different third-party products right out of the box. It also provides a library builder for customers to add virtual images as custom instance types to the existing provisioning catalog. Morpheus also accommodates container environments in order to increase the portability of your applications amongst your multiple cloud platforms. It can make Kubernetes as easy to deploy and manage as VMware. The end result is the ability to provision services into virtually any private or public cloud without waiting on IT. By eliminating wait times and handoff, organizations can now speed up application deployments by 150x!
Speed doesn't have to cost more, however. Morpheus can lower your cloud costs by up to 30 percent. The Morpheus cloud cost analytics engine compares utilization and costs across available clouds to help you make decisions on where workloads should be provisioned. It then provides rightsizing guidance for resource and cost optimization in terms of CPU, RAM, storage, sizing and power state. Morpheus can then project visible cost trends and detailed performance and cost metrics.
Governance doesn't have to be sacrificed for speed, either. Morpheus can help you organize your clouds into groups to give you greater control and manageability concerning access and governance. It not only gives you the ability to share multi-tenant resources but can even add multi-tenant sharing to typically single-tenant platforms like VMware ESXi and Nutanix. You can assign permissions to networks, data stores, resource pools and folders as well as compliance policies. Besides automating deployments, Morpheus also automates compliance checking, vulnerability management and security measurement.
Start accelerating hybrid cloud deployment today
The year 2020 showed us how speed is of the essence when reacting and adapting to ever changing environments and challenges. Morpheus Data is the next generation cloud management solution that can give you the speed to react to whatever unknown challenges lie ahead.
A couple of next steps...
1. If you're ready to take a closer look at Morpheus Data, we're here to help. Contact us here to start a conversation or see a demo. (or both!)
2. Get our FREE Checklist to help you maximize your hybrid cloud performance. Click below to start reading.