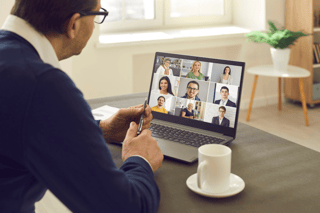 Hybrid work is quickly becoming the predominant model for many organizations. Its popularity stems from the fact people can work from home, the office, or anywhere else. Approximately 59% of employees in the U.S. prefer a hybrid work environment compared to fully remote or fully on-site. This creates the essential need for office networks to accommodate increased bandwidth and other adaptations. In this article, we cover the importance of a flexible wireless architecture and five strategies to help enterprises meet their needs with hybrid workforce solutions.
Why A Flexible Wireless Architecture Is Important
Flexibility is a relative term when it comes to wireless architecture. Having easy and efficient scalability is necessary to deal with unexpected increases in network traffic along with demands for new services. A flexible wireless architecture is also vital for Wi-Fi security. Your network should be able to support newer technologies like Wi-Fi 6 and Wi-Fi 6E, along with security frameworks such as zero trust, SASE, and network segmentation.
Flexible wireless networks can help organizations meet unexpected performance demands. As employees work online and switch from their laptops to their tablets or mobile devices, a flexible wireless architecture helps with the transportation of media from both on-premises and cloud environments. Here are five strategies that can help companies achieve these benefits and adapt their Wi-Fi networks to handle the constant change in hybrid work technologies.
Ensure a consistent and secure experience for a hybrid workforce.
Hybrid workers need consistent network performance and user experience to be able to work efficiently from any location. Wireless network security is also an extremely important aspect of hybrid workforce solutions. It should not only match the measures of protection that employees would have in the office, but your system should be able to secure personal data and cloud services across remote Wi-Fi networks.
Luckily, there are improved remote work solutions specifically designed to enhance user experience for a hybrid workforce. According to TechTarget, "The ESG study found that 44% of enterprises have worked to deliver corporate Wi-Fi to home offices as a direct result of the pandemic."
Adopt unified cloud-based management solutions.
Over 90% of enterprises have adopted at least one cloud-based application to deliver business services. Naturally, cloud-based network management solutions are the ideal architecture for almost any company. A flexible wireless architecture engineered for cloud-based network management has many benefits including:
Efficiency in operations.

Allowing remote IT staff to access a centralized cloud management portal.

End-to-end management of multiple locations such as the office, home, and branch locations.

Consolidating and anonymizing data sources to increase the speed of AI and machine learning integration.
Refresh, upgrade, or modernize campus Wi-Fi networks to address accumulated technical debt.
The pandemic brought a new surge in demand for Wi-Fi networks. It became necessary to innovate hybrid workforce solutions, such as making sure networks can accommodate heavy video and voice traffic without affecting network performance, scalability, security, and manageability.
It is recommended organizations upgrade their infrastructure to Wi-Fi 6 and 6E. This upgrade can deliver greater bandwidth that can help your network support IoT and edge computing solutions.
Implement a smart recommendations engine.
Distributed environments have made the job of manually resolving network issues exceedingly complex. Integrating artificial intelligence and machine learning with hybrid workforce solutions is necessary for optimized network performance and quicker problem resolutions, especially in an always-on environment.
Extend security models from campus to remote work.
When organizations have such a highly distributed environment, a larger attack surface is created. Having consistent and tightly incorporated security across all Wi-Fi environments, including on campus or in the homes of employees, should be a top priority for enterprises with a hybrid workforce. Instead of hiring new security professionals, organizations should deploy integrated capabilities to their Wi-Fi networks to support zero trust and SASE environments.
Hybrid Workforce Solutions
Many hybrid workforce solutions can truly enhance a flexible wireless architecture such as Aruba Network's Edge Service Platform (ESP). This innovative cloud-native architecture provides automated network management, edge-to-cloud security, and AI-powered insights necessary for hybrid workspaces.
To cope with the massive amounts of data businesses acquire, it's clear that today's network architecture needs to be flexible to accommodate AI-powered and predictive tools. Aruba ESP is highly scalable and can help accomplish those needs as well as improve business agility and optimization. This platform can identify and fix problems at the network edge before they impact devices or applications. It is also an ideal solution for those working from multiple locations. With Aruba ESP, IT teams can see what is connected to the network no matter where they are working, ultimately giving enterprises the ability to do cloud-managed networking at a large scale.
Hybrid work will continue to evolve, and hybrid workforce solutions like Aruba ESP can provide more flexibility and freedom for people to work more efficiently from anywhere. To learn more about Aruba ESP and what a flexible wireless architecture can do for your organization, contact WEI today.
Next Steps: See why enterprises are catching on to the latest "as-a-Service" trend in our fresh whitepaper titled, "Why Aruba NaaS is the Next Big Thing and Why You Need It."