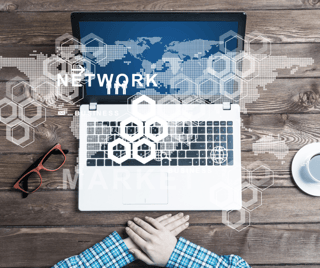 In the competitive world of technology, one of the biggest challenges for IT leaders is adapting to evolving tactics and changes in network connectivity. This is similar to professional sports, as offensive and defensive schemes often change during a season due to trending playbook wrinkles. Team leaders that deploy dated scheming eventually fall behind in on-field play and their win-loss record will reflect this. In the world of IT, outdated network architectures and middleware lead to more serious burdens with hindered device management and security. As a result, many enterprises can't fully enjoy the benefits of cloud technologies and digital transformation.
Just as there are sports teams behind the curve, there are companies falling behind in the era of multi-cloud networks and hybrid architectures. These enterprises still rely on legacy network topologies, technologies, and middleware that served them well for more than a decade. Consequently, they are unable to fully exploit the benefits of their acquired cloud technologies. For instance, many organizations still rely on legacy hub-and-spoke networks that cannot accommodate the dynamic workloads and diverse data flows that dominate the modern enterprise.
Other IT leaders are still relying on scattered VPN tunnels that are highly inflexible and reduce application performance. Many are also burdened with middleboxes, in the form of routers, firewalls, VPN appliances, etc. These elements require individual configurations and maintenance, adding to the workload of overwhelmed IT teams.
A New Game
IT leaders are searching for a new way of doing things. This includes routing traffic and robust security that doesn't disrupt business operations. In this era of multi-cloud networks and hybrid architectures, Juniper's Session Smart Network provides a game-changing solution. The integrated service presents an entirely software-based platform to seamlessly merge with your existing setup, eliminating the need for complex and expensive forklift upgrades.
The Need For A Session Smart Network
With Juniper's solution, your network becomes responsive and efficient, enabling seamless communication and data flow in your organization. This empowers your business to embrace cloud technologies, modernize your network infrastructure, and adapt to evolving challenges effortlessly.
Juniper Session Smart SD-WAN brings a plethora of benefits that can revolutionize your business and propel you ahead toward digital transformation. Here are some of the trending benefits that stood out for us:
Reduced Operational Expenses: Juniper Session Smart SD-WAN streamlines operations by minimizing labor-intensive tasks like manual configurations. As a result, companies enjoy significant cost savings.
Enhanced Network Structure: The platform facilitates easy access to SaaS-based applications through its efficient and effective network structure. Enterprises can then enjoy smoother and faster access to cloud-based services, enhancing overall productivity and user experience.
Streamlined Network Design: Juniper Session Smart SD-WAN offers an optimized solution for utilizing SaaS-based applications, ensuring data flows seamlessly and elevating the overall network performance. This opens the door to smoother and faster access to cloud-based services, improving efficiency and productivity across your entire network infrastructure.
Effortless Onboarding: The implementation process is quick and cost-effective. With zero-touch provisioning and an onboard process that automatically configures itself, your organization can seamlessly adapt to a new network setup.
Simplified Management: Network management is effortless with Juniper's comprehensive LAN/WAN/SD-WAN solution, and the best part is all of it can be found in a single cloud platform. Their streamlined Wi-Fi points, switches, and SD-WAN gateway devices optimize resource allocation and empower your organization to focus on more strategic initiatives.
Juniper Session Smart takes routing to a new level by intelligently aligning workloads with session policies and network status, resulting in a 50% improvement in bandwidth utilization. Session Smart SD-WAN's tunnel-free architecture ensures service-centered performance, simplified operations, and zero-trust security.
AI-Powered Network Assurance
Juniper AI WAN Assurance, powered by Mist AI, is an extensive solution that brings real-time analytics, proactive anomaly identification, and swift issue resolution to your network.
Through continuous telemetry data collection and event correlation, Juniper SD-WAN directs sessions with performance and security SLAs in mind. This approach enhances network efficiency for an optimal user experience, making your business operations more productive and responsive.
Data from multiple sources, including Juniper Mist Access Points, Switches, Session Smart Routers, and Firewalls, provides end-to-end insight into user experiences. These devices work with Mist AI to optimize user experiences from client-to-cloud, covering tasks such as:
Automated event correlation
Root cause identification

Self-Driving Network™

operations
Network assurance
Proactive anomaly detection
Additionally, Marvis – Juniper's AI-driven virtual network assistant – empowers your team with deep insights and fast remediation for network teams. With Juniper AI WAN Assurance and Marvis' assistance, your network gains real-time analytics. That way, your team can maximize network performance and address challenges proactively.
Final Thoughts
If your network is suffering from sluggishness and unresponsiveness due to outdated legacy architecture, it's time for a game-changing move. With Juniper's innovative solutions at your fingertips, you can bid farewell to the limitations of legacy systems and unlock the true potential of modern networking. Embrace Juniper's Session Smart SD-WAN to revamp your network performance and ensure seamless responsiveness.
Speak with one of our experts at WEI to learn more about the power of Juniper's Session Smart Network and AI-driven network assurance. We can provide valuable advice to empower your business with a more efficient and cost-effective network structure. Don't let your network hold you back. Take charge and propel your business to new heights with Juniper's Session Smart SD-WAN.
Next Steps: This white paper by WEI identifies how Juniper Networks' location-based networking helps higher education institutes overcome complex technology challenges. Readers will better identify:
Concerns of higher education IT professionals

Why network infrastructure is a differentiator

Challenge of improving remote experiences

Value of a virtual network assistant