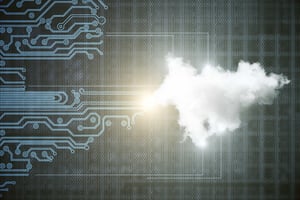 For the majority of IT organizations, hybrid cloud is the preferred solution for delivering cost and agility benefits. While each additional cloud environment does increase the complexity of management, the benefits vastly outweigh the alternative – especially with a little help from VMware.
What's driving enterprise hybrid cloud adoption?
The hybrid approach provides a range of benefits for both traditional and modernized IT.
Hybrid Cloud Benefits for Traditional IT:
Achieve higher levels of resource utilization and move applications off aging infrastructure
Scale on demand for disaster recovery, capacity expansion, and to address seasonal spikes in resource needs
Find the best-fit environments for apps based on performance, cost, data sovereignty, and cloud service offerings
Hybrid Cloud Benefits for Modernized IT
Shift from infrastructure focus, to application and IT consumer focus
Migrate and modernize applications to the best-fit environment and best-fit technology
Adopt new hybrid IT service delivery models that better support business needs
Support cloud-native and DevOps initiatives, with more automation for both traditional and containerized application architectures
Automate, optimize, and secure with VMware Cloud Foundation
As operational responsibilities are moved beyond the data center, IT organizations need to expand their capabilities to a full set of hybrid cloud operations. With VMware Cloud Foundation, teams can simplify operations in three ways.
Automate infrastructure and workload deployment processes, and risky, error-prone IT tasks. This allows fast and consistent IT service delivery – in any environment – enabling you to:
Manage your full portfolio of infrastructure resources
Migrate and modernize workloads to address business needs
Deliver a native developer experience for all types of applications
Automate workload deployment via self-service and DevOps integration


Optimize performance and capacity use, and leverage predictive analytics with fullstack visibility. This enables organizations to monitor health and quickly troubleshoot issues, allowing them to:
Access full visibility of cost and resource utilization in all environments
Deliver end-to-end network visibility
Troubleshoot and monitor infrastructure and application health


Secure your OS with a common vSphere operating model and use artificial intelligence (AI) and machine learning (ML) to continuously monitor your infrastructure and applications, enabling you to:
Ensure business continuity with disaster recovery and backup across a consistent hybrid infrastructure
Meet security and governance guidelines with consistent policy application across environments
[Featured Video]
Comparing Cloud Solutions: Why Hybrid Cloud is the Best Model
Four Hybrid Cloud Use Cases
The key to finding success with hybrid cloud isn't simply building infrastructure, but improving environment management to ensure it delivers what your business needs. Here are four powerful ways you can realize the benefits of a simplified, agile, hybrid-cloud operations strategy.
Scale on Demand
Previously, inconsistencies between on-premises and cloud environments created silos that made it risky and costly to set up mechanisms for unplanned fallover. Often, organizations had to invest in excess reserve capacity that was expensive to build and maintain in order to meet temporary spikes in demand.

However, with the same tools and processes automating on top of software-defined infrastructure resources you now have the ability to access a unified pool of resources and scale whenever the need arises. This makes it easier to create temporary development and test environments, to scale production during spikes in demand, and to maintain uninterrupted service quality during disaster recovery scenarios.


Migrate Seamlessly
With hybrid cloud, IT organizations can easily manage a portfolio of applications and deploy or move workloads to the best-fit environment based on cost, performance, service quality, and geographic factors.

In the past, inconsistencies between on-premises and cloud environments made migration costly and time consuming. IT organizations had to refactor applications to fit the target cloud deployment environment. It was simply too hard for most organizations to migrate en masse across incompatible environments.

However, with consistent infrastructure, operations, and automation across environments, you can move single workloads or groups of applications without refactoring, and move virtual machines without converting image types. This means you can migrate with little or no downtime and build a cloud strategy that optimizes the cost, location, service and consumption model for legacy and cloud-native applications.


Support Modern Apps
With hybrid cloud, IT organization can easily support a changing mix of application types and technologies – from existing mutli-tier applications to modern microservice architectures. In the past, inconsistencies between on-premises and cloud environments limited the types of applications organizations could deploy in each environment. Today, developers are building a far more diverse range of applications, including cloud-native applications that utilize microservice architectures and containers. Organizations often use the de facto orchestration system Kubernetes to automate deployment, scalability and management of these applications.

With consistent infrastructure and operations from on-premises to cloud and edge, organizations can keep up with shifting developer demand and enhance IT service delivery. Now, IT organizations can deliver Kubernetes and VM-based services in both data center and cloud environments.


Modernize Your Data Center
With hybrid cloud, IT organizations can easily modernize the data center to deliver automated, on-demand services in the same way cloud services are delivered.

In the past, many IT organizations used virtualization to simplify compute tasks but, due to inconsistencies between environments these organizations still lacked virtualized storage and network capabilities. As a result, many turned to time-consuming help desk services, manual processes and specialists to deliver the capabilities they needed. Slow, manual service delivery on-premises has often caused delays to the delivery of critical infrastructure and applications – giving IT a bad reputation – in contrast to the performance of cloud services, which are automated, on-demand and provide self-service for rapid deployment.
With consistent infrastructure, operations and automation across a hybrid cloud, organizations can now deliver infrastructure and application services – consistently and predictably across every environment.
Adopt VMware's Hybrid Cloud Strategy today
VMware hybrid cloud solutions are designed to deliver consistent infrastructure and consistent operations across private cloud, public cloud, and edge environments, delivering significant value while minimizing the risk of the cloud journey.
The vast scope of the VMware partner ecosystem means you can get VMware Cloud Foundation everywhere you deploy and manage workloads. It is fully integrated with all six major cloud hyperscalers: Amazon, Microsoft, Google, IBM, Alibaba and Oracle. Contact WEI today to learn more.