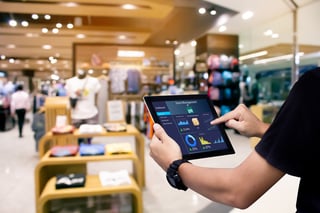 Some secrets are worth keeping, but we're here to spill the beans on reliable, secure network connectivity for fixed retail locations. Overall, the retail industry has some of the most advanced data centers and hybrid cloud networks within today's IT landscape. But the corporate center is not where the majority of business operations take place as many retail transactions occur at the outer edge. Some of these edge locations are more remote than others, yet they still rely on the same level of network connectivity. Overall, retail edge locations face unique connectivity challenges that urban, metro, and suburban locations simply do not. These challenges include:
A lack of traditional network connectivity options
Limited IT support in the area
Higher rates of IT literacy amongst staff
Disaster recovery and business connectivity
Despite these inherent challenges, retail vendors must satisfy consumer markets because customers are mobile and expect the same experience regardless of location. This means that retail vendors must have networks that are just as mobile as their customers. They also need networks that can be implemented quickly enough to respond to emerging and shifting trends, and unexpected events. Clearly, the next phase of retail digital transformation is taking place at the edge.
The Challenge of New Store Locations
In many ways, the opening of a new retail location is like a Broadway opening. Store openings must meet strict deadlines to satisfy revenue and business goals, and the show must go on without a hitch, ensuring that new store patrons have an optimized customer experience. These coordinated store openings do not have time to wait on unknown local vendors to install the wired lines required for network connectivity.
Launching a new retail location is a tumultuous task on all fronts that must be completed in a highly compressed window. Openings are often handled by specialized teams that streamline the process. The network solution must be ready to go out of the box and duplicated repeatedly, regardless of location. The out-of-the-box experience is incredibly important because, in many instances, retail locations lack on-site technical professionals.
And then there is the challenge of temporary or seasonal retail businesses whose peak activity and operations fluctuate across the calendar year. These sites need temporary networks that can be unboxed and deployed whenever and wherever needed. Yet, while network connectivity may be fleeting, they must still offer the same robust security posture that protects permanent fixed locations. Wherever the point of sale is, it must be secure, regardless of temporary nature.
The New Wireless WAN
You may be expecting this discussion to steer towards SD-WAN technology, but we are touching on the evolving solution of wireless WAN with Cradlepoint. To be clear, this isn't just any wireless WAN that relies on fiber connectivity. Instead, this is a cellular wireless solution, built on LTE and 5G technologies that provide the low latency, high bandwidth capacity that retail business requires. Only cellular wireless has the agility and reliability to service retail storefronts residing at the edge or temporary pop-up locations with a defined service window. This is wireless WAN built to service-day connectivity and outdoor operations without the aid of on-site IT professionals.
A Full-Service Network
Retail locations at the outer edge need more than just network connectivity and wireless access. They require all the basics such as firewall protection, threat detection, access control, content filtering and security policy protection. That is what Cradlepoint's cloud-managed, all-in-one branch routers deliver. Cradlepoint has wireless edge networking solutions that can provide your outer edge point-of-sale location with all network services needed to ensure that every sales transaction goes through predictably and securely. Cradlepoint enterprise-class cellular routers include features such as:
End-to-end encryption to protect every sales transaction

Cloaked private address spaces

Integrated security measures to meet most business or government requirements

Application-aware firewalls and threat management capabilities

VPN access to corporate or regional offices when necessary

Policy-based routing that is centrally configured by your corporate IT team or solution provider to separate and prioritize traffic according to your needs.
Predictability
Cradlepoint wireless edge networking solutions help safeguard predictability. Its zero-touch deployment means that you're not dependent on physical infrastructure or local IT talent to set it up. The router is preconfigured ahead of time and shipped to the designated location. This makes deployments standardized so every implementation gets completed as planned and on schedule. If you want to ensure predictable performance in the event of a device path failure, simply add a redundant router, with each router linked to a different carrier or cell tower.
Predictability isn't just limited to hardware. A cellular wireless solution from Cradlepoint allows for standardized and consistent WAN pricing as you can use the same cellular providers across wide expansive geographical areas. No longer are you bound by the rates of each localized ISP. Now you can leverage your hundreds of locations to negotiate the best price across the board. The simplicity of Cradlepoint's inclusive cellular wireless package means that there are fewer vendors, fewer devices, and fewer configurations, all contributing to the predictable nature of this easy to deploy, easy to manage solution.
Conclusion
Now, fixed and temporary retail locations have access to enterprise-class reliability, manageability, and security at the converged LTE or 5G edge. And with Cradlepoint, your edge locations can operate on a level playing field with your other retail location and provide customers a secure place to make transactions. WEI can guide you every step of the way with Cradlepoint's next-generation WAN solution.
Next Steps: Watch our video to learn even more on why wireless WAN is the next step to replacing legacy WAN solutions for your fixed retail location.