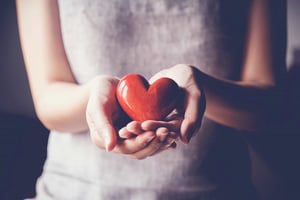 In our 30+ years of business WEI has been fortunate to be able to share our success with those in our local communities. In fact, as a successful business headquartered in Salem, NH, we feel we have an important role to play in supporting the wellbeing of our local communities. It's been part of our corporate mission since the company's inception; however our employees are what takes our commitment to community to the next level.
WEI employees leading the way
Where there is a need you will often find a WEI employee lending their support. As the COVID-19 pandemic emerged, WEI employees didn't hesitate and were quick to recognize opportunities to help their family, friends, and neighbors. With the elderly being the most vulnerable during this crisis, our WEI employees have been shopping and delivering food, pet food, and cleaning products to their elderly neighbors.
Other WEI employees answered the call when we learned our local hospitals were in desperate need of PPE equipment. Our integration team has been utilizing 3-D printers to create parts for masks and other PPE gear for nurses and healthcare workers on the front line in Southern NH. A group of employees are sewing handmade protective masks as well. They are making 4 different sized masks with fabric they have on hand, including some fun super hero styles—which is extremely fitting for our local heroes!
In an additional effort to support the front-line healthcare workers of our community, employees have participated in meal donation programs with local restaurants who provide contactless deliveries to healthcare workers for breakfast, lunch, and dinner.
We're proud of the contributions our employees have made, and their humility to take action when the community needs it most.
Supporting the children of our community
April is the time of year where our employees band together for one of our favorite WEI StepsUp activities – the annual food drive to support the Salem, NH chapter of non-profit End 68 Hours of Hunger. Their mission is to provide meals outside of school for children suffering from food insecurity, where the 68 hours represents the time between a child's last meal at school on Fridays to the first meal each Monday. Over the years, WEI has donated over 40,000 items as a result of this annual food drive.
This year is a little different, however. In the wake of schools closing to at least May 4th, children of our community need our support more than ever. WEI donated funds directly to the local chapter to ensure they could supply children with nutritious food throughout this time. It's heartwarming to support students in our community suffering from food insecurity. This national non-profit has chapters all over the country. To learn how you can get involved visit https://www.end68hoursofhunger.org/.
Supporting our customers that support the community
A large portion of our customers are considered essential service providers in the New England region. WEI has been prioritizing community health and ensuring our healthcare/hospital customers have our full support. Without delay, WEI donated large amounts of technical equipment, along with technology expertise, time and labor through staff augmentation to hospitals and other healthcare facilities to help them fulfill the needs of their local community. Donations are approaching nearly $500k and we take pride in knowing we are helping these organizations keep up with the pace of their business. Whether it's ensuring they have the right infrastructure in place to support an increase in remote workers and Wi-Fi connectivity, or supplying mobile devices, hardware and equipment their employees rely on to do their job in the field.
These companies need solutions to work right away, and we've been there to answer the call for whatever they need. Beyond supporting our healthcare provider customers, we're actively engaged with pharmacies, grocery stores, higher ed, and financial institutions that are considered essential businesses serving our community during this time of uncertainty.
We do more. We go further.
The WEI executive team has gone above and beyond to support their employees by putting their health and safety above all else. Just as your employees are the backbone of your business, ours are as well and they drive our business forward. The WEI team outfitted all of our remote workers with all the technical gear they need to establish a comfortable, productive work setting at home, including monitors, keyboards, laptops, tablets, HDMI cables, and more. But as always, WEI did more. All of our employees have access to household necessities that are in high demand. Items that are essential to the health and wellness of our employee's families, from cleaning supplies to toilet paper. We've even donated items to our employees to ensure they have a high-functioning remote learning environment as they adapt to this new normal with their children.
We're in IT together
As time goes on, WEI is committed to staying ahead of the curve—anticipating the needs of our employees, customers and community organizations by delivering what they need when they need it. It takes a team of dedicated individuals to develop a strong support system that makes an impact, and together with our employees we are dedicated to supporting the health and well being of our local communities.